Owning a house might be the American dream, but it also comes with a lot of responsibilities. If the fridge goes on the fritz, it's up to you to get it repaired. If the water pipes burst, then you're on the hook for the bill.
It's not just the interior that you need to care for. The exterior of a house comes with its own set of responsibilities. If you want to make sure it stays in good shape, then there are proactive steps you can take that'll save you a lot of heartaches later down the line.
Read on to learn about caring for your home's exterior.
Refresh the Paint
Did you know that the paint on your home serves as more than a simple aesthetic choice?
Exterior paint actually serves as a boundary between the outside elements and the wood and plaster it covers. It helps keep water from seeping into your home's exterior and causing extensive water damage.
The only downside to paint is that it doesn't last forever. Depending on the climate where your home is located, you can expect the paint on your home to last between five and seven years. You'll know that your house needs to be repainted if you notice that the paint has faded or is peeling away from the walls.
If it's time for a paint refresh, make sure to use paint that's made for the exterior of a home. Even better, consider hiring a professional to do the job, especially if your home is more than one story. It might cost a little more upfront, but you'll end up with a quality paint job that'll stand the test of time.
Consider a Coating
Whether the outside of your home is covered in siding or brick, applying a coating to the exterior of your house is a solid investment. Coatings were traditionally only used on high-rise buildings that required long-lasting paint applications, but they're used on all types of residential and commercial buildings today.
When professionally applied, coatings provide a tough layer of protection against inclement weather and even hurricane-force winds. For this reason, coatings are a great solution for homeowners who live in areas that are prone to inclement weather.
Check Your Roof
When you think of caring for the exterior of your house, you might not stop to think about your roof. However, it's one of the most important places on your home's exterior to check.
Most asphalt-based roofs last for about 20 years, but that doesn't mean you shouldn't be checking up on them if your roof isn't that old. There are many hazards that can damage even the most durable of roofs. Have your roof inspected if your area recently received stormy weather with strong or straight-line winds or hail.
It's also important to check the roof if you've had large tree limbs come down.
Conducting routine roof inspections and patching damaged shingles will keep your roof and home in good shape for years to come.
Keep Foliage in Check
Foliage is quite beneficial to homeowners. Large trees, bushes, and other greenery provide shade and add curb appeal to your home. However, if left unchecked, foliage can actually cause damage to your home.
As a good rule of thumb, you shouldn't have any bushes or trees touching the walls of your house. Limbs can scrape and damage the exterior, and if they retain moisture, it can cause water damage. They can also make it easier for pests to get inside your home.
Clean the Gutters
Gutters provide a critical function for your home. They trap water and direct it to a safe place.
They need routine maintenance, however. Allowing gutters to get clogged and dirty can actually lead to extensive damage to your home. Clogged gutters impede the flow of water, and they make a nice breeding ground for pests and rodents.
They can damage your home's foundation as well because water will no longer be flowing away from those critical areas. If you notice a lot of buildup in your gutters, or if you think your gutters might be damaged, then it's important to schedule an appointment with one of your local gutter repair companies.
Pressure Wash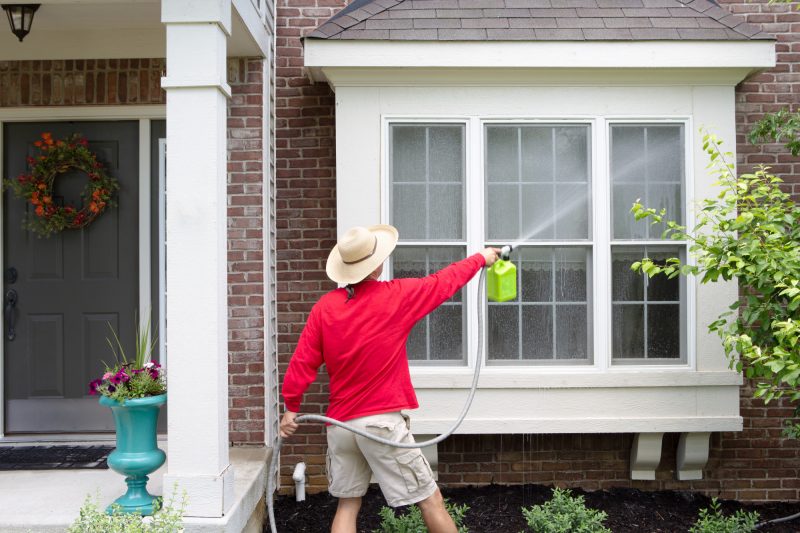 Have you noticed that your home's exterior is looking a little grimy? Maybe the colors on your home just don't pop like they used to.
Over time, rain, salt deposits, and dust build up on the outside of your home and the sidewalks. This buildup can actually cause damage and reduce the effectiveness of your paint. Routine pressure washing can alleviate those worries, though.
Hiring pressure washing professionals is an inexpensive way to keep your home's exterior looking great and in good shape for a long time.
Install New Siding
As with all things in life, the siding on your home has a lifespan. If yours is looking a little worn out, then it might be time for you to take the plunge and replace it.
How do you know when it's time to replace the siding? You might notice that your home's siding is starting to sag or the paint is peeling away. It may even be missing a few pieces.
There are many different types of siding you can use for your home, including some that will provide superior protection than the existing siding.
Hire A Renovation Contractor
Renovation contractors offer expert home exterior design, installation, and repair services. Whether your exterior walls need cleaning, a new coat of paint, or a siding installation, you can rely on the excellent services of a reputable renovation contractor. Choose a contractor that boasts an excellent portfolio and extensive experience.
Although you can revamp your home on your own, it'll be better to avail of professionals' services. Here's why:
Saved Time And Effort: Painting your home's exterior may seem like an easy task. But this job is actually tedious and time-consuming. If you're a busy person, hiring a contractor will be a practical decision since it'll help you save time and effort. Renovations can be costly too if you've done a poor job or bought excess materials because of overestimation. So, leaving it to professionals will help you save money.
Good-Quality Output: Because renovation contractors use state-of-the-art tools and equipment, they can create the best look for your home's exterior. They know the most effective ways to properly install structures for greater durability and aesthetic quality.
Expert Advice: A professional installer, a repair man, or a service contractor can share helpful advice on how you can lengthen the lifespan of your home's exterior fixtures or structures, including the roof, siding, and walls, which will help you save money over time.
Protecting the Exterior of a House Is Critical
Caring for the exterior of a house and everything that goes inside of it is a big responsibility. Still, there's nothing better than coming home to your own space and knowing that you're taking good care of your investment. Plus, being proactive in caring for your house's exterior will save you a lot of money in the long run.
Life as a homeowner is a huge combination of excitement, pride, and responsibility. You're bound to have many questions as you encounter new issues from time to time. Check out the rest of our blog for answers to all of your questions about being a homeowner.