Building a new home is an incredibly exciting endeavor! But there's so much to consider and it can be overwhelming. Many Ohio locals are choosing to build a home these days rather than purchase an existing one.
And we don't blame them! Building a home from the ground up means you get to make all of the design choices, from the floorplan to the fixtures. But before you break ground on your new home build, there are a few things you need to know. Here's a look at what you should keep in mind before building a home in Ohio!
Building VS Buying A Home In Ohio
Wheather you buy or build a home, you'll get full home ownership but there are some differences between them that you must consider before making your final decision.
When you build a new home, you'll be working with a builder to create your dream house from scratch. This process can take anywhere from several months to over a year, depending on the size and complexity of your home.
On the other hand, buying an existing home means you'll be moving into a property that's already been built. This is often the quicker and easier option, but it may not give you the same level of customization as building your own home.
Many people these days are opting for building a home vs buying as it gives them the opportunity to get exactly what they're looking for!
When you work with a builder, you get to choose exterior finishes, inside materials, appliances, floor plans, literally every aspect of your house will be hand-picked by you! Do you want that open floor plan?
You got it! Always dreamed of a spa-like master bath? No problem! When you're building a house, you get to pick and choose what you want to splurge on and where you'd like to save a few pennies. It's completely up to you!
Things You Should Know Before Building A Home In Ohio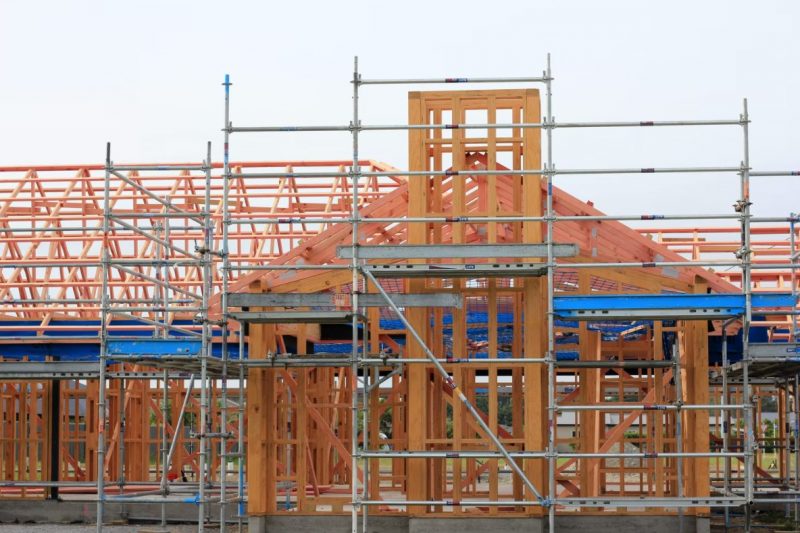 There's so much that goes into building a house–open floor plans, standard features vs upgrades, landscaping, permits, and so much more!
But before all of that, you have to find the perfect piece of land to build your dream home on and find someone to build your home. Here are a few things you should keep in mind before building a home in Ohio:
Be Mindful of Zoning Laws
Before you start building your dream home in Ohio, it is important to be aware of the state and local zoning laws. These laws can dictate where you can build your home, how big your home can be, and what type of home you can build.
Zoning laws are put in place to manage growth and development in communities. They are also intended to protect the environment and public safety.
Choose the Right Builder
When you are ready to start building your home, it's important to choose a reputable and experienced builder. A good builder will be able to help you navigate the building process, obtain the necessary permits, and stay within your budget.
It is also a good idea to get quotes from multiple builders before making a final decision. This will allow you to compare prices and find the best deal.
Get the Necessary Permits
Before you start any construction, it is important to obtain the necessary permits from your local government. Failure to do so could result in a stop work order, fines, or even demolition of your home.
Permits are required for a variety of different construction projects, including but not limited to:
adding an addition to your home
building a deck or porch
finishing a basement
installing a fence
installing a pool
Don't Forget About the Home Inspection
Just because you've built a brand new home, doesn't mean you don't need to worry about the home inspection. In fact, it's even more important to have a new home inspected to ensure that there are no hidden defects.
A home inspection is an examination of the condition of a home. It is typically performed by a licensed professional who will look for any potential problems with the home, such as structural issues, electrical problems, or plumbing issues.
Keep to Your Budget
Building a home can be an expensive endeavor. It's important to set a budget and stick to it. There are a variety of ways to save money when building a home, such as using recycled materials, choosing energy-efficient appliances, or doing some of the work yourself.
Here are just a few of the things you'll need to factor into your budget:
the price of land
materials and contractors
permit fees
professional landscaping
Building your own home can be a daunting task, but it is also an incredibly rewarding experience. By being mindful of the factors we've mentioned in this article, you can take a slightly overwhelming experience and turn it into an exciting journey!
Constructing a new home in Ohio takes a lot of time and planning, but is definitely the best way to achieve your dream home!