When it comes to kitchen and bathroom renovations, choosing timeless designs will never be a mistake. While sometimes it's tempting to go along with trends—and of course you want to try new things!—sticking to the classics will always make for sleek, gorgeous rooms.
Custom kitchen cabinets and vanities will enhance your home and also increase its value and by choosing timeless designs, your home will never be out of style. Keep reading to learn more about some of our favorite classic designs!
Mismatched Colors & Textures
While this is sometimes referred to as a trend, and it will have a resurgence in popularity every now and then, having mismatched colors for both kitchen and bathroom cabinets is pretty classic. It's a design element that looks good in any era, and it can really help you show off your personality.
Having wall cabinets a different color than the cabinets on your kitchen island or under your counters creates more depth in a room. Typically, a more pigmented color will be applied to the bottom cabinets, and a more neutral color will be applied to the top; for example a deep green and a creamy white.
The same concept applies to textures. You can have smooth cabinets up top, but then play around with a more rustic style of wood food cabinets on the bottom. If you have space for a kitchen island, treat it like the centerpiece that it is and play around with bold hues, or take advantage of its natural textures by highlighting them with a wood stain.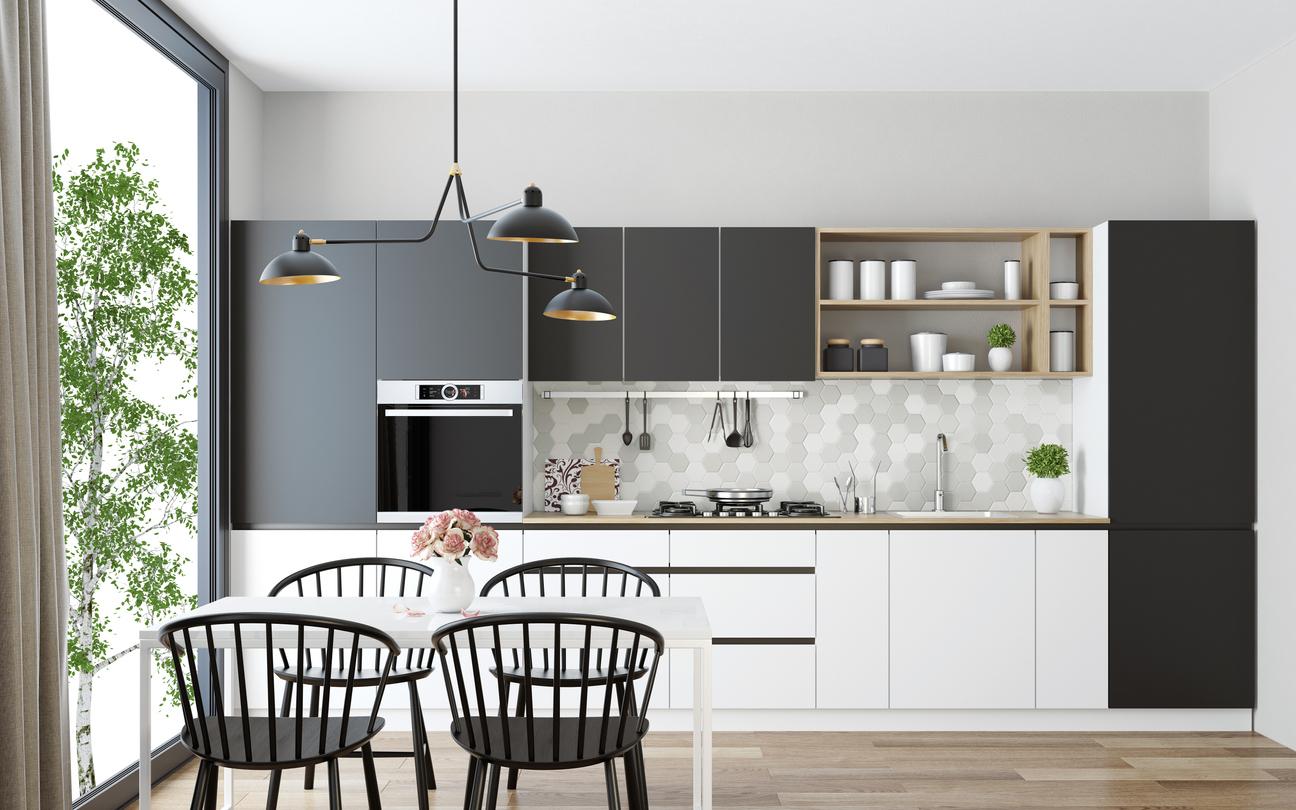 Open-Concept Cabinets
Considered a Scandinavian design element, open-concept shelving is a classic addition to both kitchens and bathrooms. It's minimalistic, it's easy on the eyes, and it can help you display some of your most prized possessions like fine China or serving platters.
Open-concept cabinets can be done in a few different ways. The most common way is to have them completely open, meaning there is nothing obstructing the views to the inside of the cabinet. Plates, dishes, linens or towels are all on display. This is a classic way to go, however, you have to make sure that you keep the areas organized.
The other way to benefit from open cabinets is to have them semi-covered, either with wooden slats or panels. You can also experiment with wire, or even natural materials like bamboo or rattan.
Instead of the solid wood panel, the door is covered with these materials, so you can still see through into the cabinets, but the view is a bit obstructed. You can also have long cabinets where half are left open, and the others are covered with panels, creating more depth.
In the bathroom, having open shelving is a great way to make the space brighter, especially if you have a small space. Not only is it functional, it can mimic what one might see in a spa, with towels neatly folded on shelves and toiletries displayed out in the open.
The Subtle Details
What makes kitchen cabinets and bathroom vanities timeless really comes down to the details. Having custom features in place that improve your day-to-day, for example, will always be important especially if they are custom designed for your home. If you are looking to buy custom rta kitchen cabinets from a trusted dealer. you can browse oppeincabinetry.ca.
Awkward angles, small spaces, unique storage ideas: these are all elements that will make cabinets timeless for your unique home. This is important to think about when you're working with your builder as they can advise you on certain areas that might not work with pre-built cabinets.
Apart from the practical side of small details, they can also enhance the overall look and feel. Small differences can make a huge impact, like the hardware you pick out, the materials you choose, and the layout of the cabinets themselves.
For hardware, it's best to go with something that contrasts with the cabinets themselves. For example, if you have white cabinets, choosing iron handles and pulls are going to create a balance that you wouldn't find by trying to be too matchy.
The layout also makes a huge difference. Timeless kitchen cabinets and ready to assemble bathroom vanities are usually timeless because they've been designed specifically with a space in mind. Purchasing ready-to-use cabinets and vanities is fine, but that's really where you might end up in a trap.
If something is specifically designed to fit a space and aid in the functionality of the space, it will rarely go out of style. So when you're thinking about the materials that you're going to use and the colors you're going to go with, also consider the layout, as that's just as important.
Speak with Professionals
As with fashion, custom designed pieces rarely go out of style and always tend to look good. Timeless doesn't have to mean boring or plain, it just means that you're investing in your space!
Going against the trends will leave you with pieces that you can enjoy for years to come, and you don't have to worry about doing renovations after a few years when the tides change.
Custom kitchen cabinets and bathroom vanities are one way to achieve timeless interior design because you get to decide how they look and they will be fitted for your unique space. It's one of the best investments you can make in your home as they will elevate the value of your property and they will also enhance your day-to-day living.
If you're ready to get started on your next home renovation, or you're looking to connect with custom vanity or cabinet builders, reach out to Builders Cabinet for a free cost estimate.