For most homeowners, cleaning the house often means cleaning the interiors. Although tidying up your home's interior is essential, you shouldn't forget about your exterior.
After all, your home's exterior is what visitors and passersby see every day. Likewise, the exposure of your home's exterior to different weather elements leads to the accumulation of more dirt than your interior.
Thus, while you may not polish it as often as you do with the inside of your home, keeping your exterior clean can keep your house looking new.
That said, here are some top exterior cleaning tips to get you started:
Do Some Preparation
Preparation is a key factor if you want any project, including exterior cleaning, to succeed. Besides, an exterior cleaning project is not something you jump into any day without preparations. So, to maximize your effort, you need to make necessary preparations to avoid frustrations and obstacles in the middle of your cleaning session.
You can start by picking the right day to start working. You wouldn't want to clean outside during severe weather conditions. Moreover, even without rain or snow, you can't clean outside easily. Forces like a gentle breeze can make cleaning outside a challenging task.
So, consider picking a warm, dry day without wind. With the right weather, you can save yourself from a cleaning nightmare.
Now, if you're preparing for a deep exterior cleaning, you need to ensure that areas around your home are safe and secure. Close and seal all windows and doors. Then, cover vents, plants, lights, and outlets with plastic sheets. Meanwhile, move outdoor decorations and furniture out of the way.
Lastly, inspect your home's exterior to get your tasks in order and prioritize those with more pressing issues or damages.
Get A Pressure Washer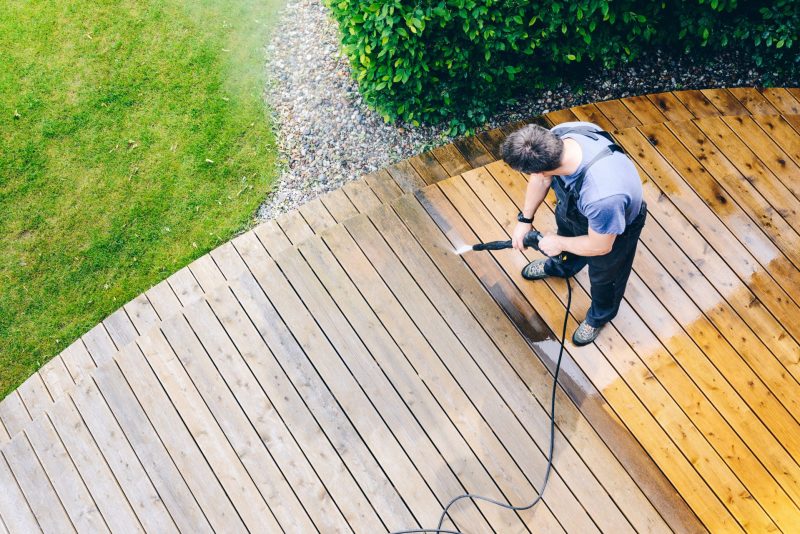 A pressure washer is one of the best tools you'll need for exterior cleaning.
However, you don't necessarily have to buy one as you can rent them from local businesses. You may also hire local companies that offer professional pressure washing services. You may check out pressurewashnc.com and other similar sites to know more about their services.
No matter which choice you make, using a pressure washer allows you to clean away stubborn dirt and grime buildup on most exterior surfaces, including pavements, driveways, patios, and even sidings. If you're going the DIY route, ensure you learn the proper techniques to prevent damage to your property.
Check Your Gutters
Most people tend to forget their gutters because they're out of sight and can be hard to reach. However, the accumulation of leaves and other debris in your gutter can block the water flow and cause significant damage to your pipes.
Regular gutter cleaning and maintenance ensures that all debris is cleared and identifies structural issues before they become problematic and costly.
Ideally, you should clean and inspect your gutters once a year to identify any potential issues that can be prevented and repaired.
Wipe Your Windows And Lighting Fixtures
Your windows and outdoor lights are also prone to accumulating dust and grime. This makes them look fuller and murkier than usual.
It's easy to clean your window and lighting fixtures to restore their radiance. You can use soapy water and microfiber clothing to remove grime for window cleaning. Then, using a hose, you can rinse your window and wipe dry with a clean cloth.
Meanwhile, use a slightly wet microfiber cloth to wipe away dirt and dust buildup for outdoor lighting. You must also change the bulbs to ensure brightness at night. If you want, you can also modernize your outdoor space by installing new lighting fixtures.
Don't Forget Your Lawn And Garden
Even a beautiful house looks shabby if the garden and lawn are in poor shape. Whether you have a spacious lawn or a small garden, you can make it look better with a few simple chores:
Weeding
Pruning trees and shrubs
Cleaning of dead leaves and plant debris
Raking dormant lawn grass to give it a boost
Aeration and fertilization of plants
Takeaway
Your home's exterior serves as a reflection of your personality. By taking care of it and making it look presentable, you can make a better impression on guests, neighbors, and potential buyers should you decide to put it up for sale.
Furthermore, if you're planning outdoor activities during the warm season, a fresh, clean exterior makes the conduct of any event more enjoyable and relaxing. So, are you now ready for some action? Ensure you follow the tips discussed here to freshen up your home's exterior right away.