Renovating a kitchen is not easy. You need to hire the best kitchen remodeler or contractor for it. A kitchen remodeling expert can re-design your kitchen and install additional or new hardware as per the latest trends.
You should renovate your kitchen in such a manner that it demonstrates styles, sophistication, and class. Choose a kitchen showroom in Denver, CO, to revamp your kitchen as per the latest style and trends of 2022.
Here are the top 8 trending kitchen remodeling tips that you can't ignore
Install An Under-mount sink
The sink is the most essential accessory in any kitchen. If you are revamping your kitchen designs, opt for an under-mount sink. A well-designed under-mount sink makes your kitchen look trendy and stylish.
The additional benefit of installing an under-mount sink is its durability. An under-mount porcelain sink can last long up to 15–16 years with regular maintenance.
Some homeowners also prefer using a large single bowl sink. These large single bowl sinks are versatile and can be used for multiple purposes. You can even place drying racks near them to get access to various kitchen appliances right at the time of cooking.
Make use of the color scheme
Choosing a new color scheme for your kitchen can rejuvenate your mood. All that you need to make your kitchen more appealing is a fresh coat of paint in attractive colors.
Choose a beautiful shade for open shelving, flooring, and backsplashes. Coffee brown and gray colors are popular choices among homeowners for kitchen remodeling. You can also add a few metallic accent pieces to make your kitchen look luxurious and stylish.
The idea is to keep experimenting with ideas. For example, if your wall was white, paint it black and vice versa. As soon as the kitchen embraces a new color, it gets a premium look.
Exhibit Your Glass Accessories
Glass is a beautiful material famous for its multiple functions and intrinsic beauty. You can add a stunning sliding glass door to your storage shelves for displaying your spectacular teacups and wine glasses.
Glass shelves also create additional space in your cooking area to make you feel comfy while cooking.
You can also put your photo frames on top of glass shelves to offer it a classy look.
Use of Large Countertop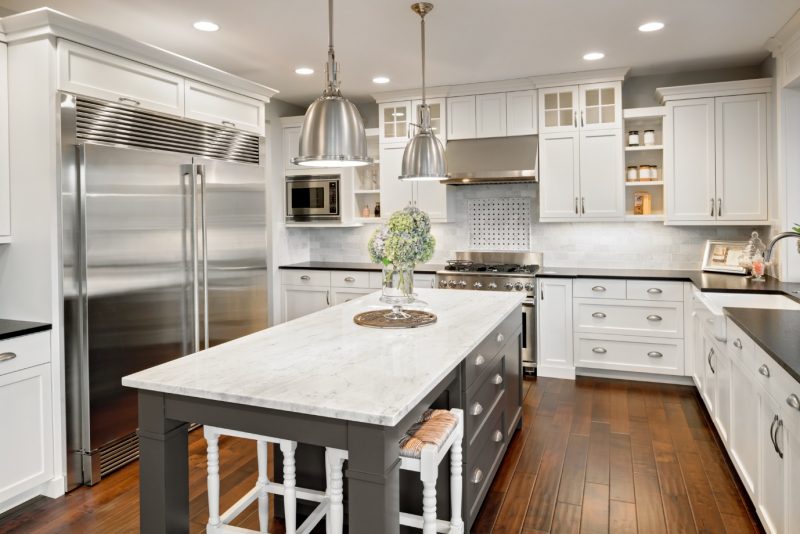 The use of a large countertop in a kitchen is trending these days. It offers you a large place to place your cookware and other kitchen items without making things messy.
Trend of Built-in Appliances
Kitchen remodeling is not all about installing costly fittings and fixtures. These days, several homeowners install built-in appliances in their kitchens for convenience.
You can opt for handle-less cabinets, preferably in black, for their everlasting charm and elegance. Dark colors always look good on any kitchen cabinet.
Sophisticated Kitchen Accessories
The use of sophisticated kitchen accessories makes your kitchen look smart. As far as possible, get the latest gadgets, sensors, and other advanced devices installed in your kitchen. It makes your cooking experience a fun-filled affair with lots of excitement intact.
For example, you can choose a motion-sensing faucet, which turns on automatically when you place your hand underneath it. Similarly, using a smart refrigerator can send an alert when you are running low on milk or green vegetables.
There are plenty of examples of smart gadgets that you can use in your kitchen. However, your electric settings must support such advanced and costly devices. Otherwise, you shouldn't buy or use these smart devices.
Installing Well-Designed Kitchen Cabinets
White cabinets are classy and elegant. But homeowners and designers have now started installing well-designed multi-color kitchen cabinets.
Some of the popular color choices when it comes to kitchen cabinets are blue, green, and black.
Focus on Entrance
A majority of homeowners focus on making their entrance to the kitchen a hassle-free affair. A kitchen remodeling expert always makes sure that the kitchen entrance is free from all obstacles.
Never put your fridge or any other kitchen appliance to the front entrance of a kitchen. In other words, the entrance should be free. You must not use it as a cooking area.
In Conclusion
Choosing an appropriate kitchen design can be a bit overwhelming. You have to consider a lot of factors while opting for kitchen remodeling.
However, a professional kitchen remodeler can understand your needs better. They can suggest appropriate kitchen showroom trends to give your kitchen a dazzling and elegant look in sync with the current contemporary trends.