Are you planning to hire a metal forging company? If yes, then this article will be of great help.
You must be aware that metal can be according to your unique needs by applying compressive forces. But, the definition of forging is not confined to that.
And, before you contact a metal forging company, it would be best to educate yourself about the types of forgings prevalent currently. Moreover, it will also give you an idea about which forging type will work for your application.
Namely, there are two types of forging, cold and hot. Let's decode them:
Cold forging
Cold forging is done at room temperatures. A metal is compressed between two dies to give it the desired shape in this process.
Techniques like rolling, pressing, drawing, heading, extruding, and spinning are used to give a final touch to the metal to make it usable. Most automotive parts are made using cold forging.
Benefits
There is minimal to no material wastage in cold forging as metals are already in near net shape.
There is no need for secondary heating before machining as the material is already annealed.
There is no change in the weightage of the material. Both the initial workpiece and final product are of equal weight.
Cold forging gives accurate dimensions to the material as desired.
Hot forging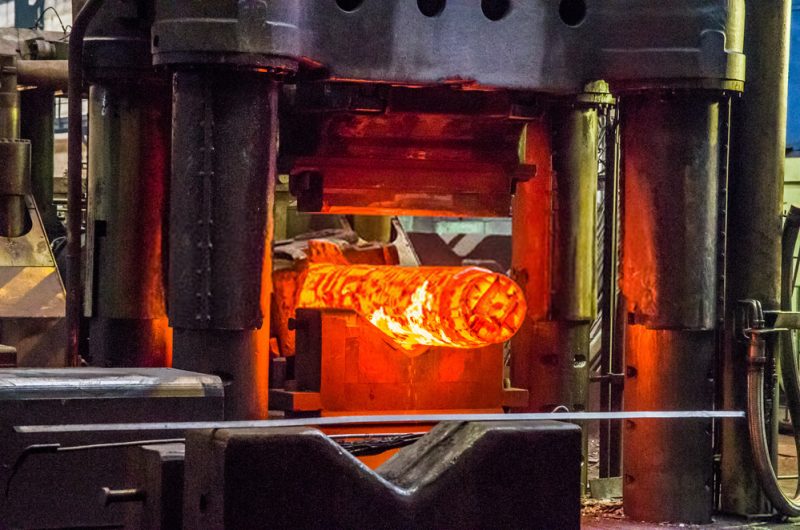 Hot forging is more of a delicate process because it requires heating materials at different temperatures.
For example, 360-520*C for al-alloys, 700-800*C for cu-alloys, and 1150*C for steel forgings.
The material is heated through stamping, where it is compressed between a die surface and a tool. Crankshafts, joints, and chassis parts are all made using hot forging.
Benefits
While going through hot forging, a metal gets deformed completely, allowing the manufacturer to shape it easily into complex products.
Hot forged products are highly ductile, which can be configured in different ways.
Hot forging is the preferred option for manufacturing delicate workpieces.
Hot forging provides an excellent surface quality allowing customers to get customized painting, polishing, and coating.
The cost
Now that you know both the processes, it is important to know the cost that you will incur.
While different metal forging companies charge differently, we can give you four main factors influencing the forging cost.
They are:
The cost of the material.
Cost of electricity, tools, and investments incurred.
Heat treatments after forging.
Quality control checks.
Both hot and cold forging can be cost-efficient using advanced technology, tools, and techniques.
Hot Vs. Cold forging- The difference
Cold forging focuses on strain hardening to improve mental strength, whereas hot forging focuses on making the metal more ductile while maintaining its strength.
So, a manufacturer may choose them based on the customer requirements. For example, if the material needs to be shaped delicately into a complex structure, they may go for hot forging.
But, if the weight and components of the material are to be maintained while shaping it, then cold forging would be a better option.
Final Thoughts
Both hot and cold forging methods are effective in their own ways. Cost too can influence a customer's decision while choosing them. Hot forging is your best bet if you are ready to pay a much higher price to obtain a customized final product.
While hot forging makes a product more configurable, cold forging allows it to retain its original hardness. So, it all comes down to your requirements. Choose an authentic forging company that can understand your requirements and serves you well.