Choosing the right kind of timber for decking most certainly depends on three factors, the location of your property, your budget, and the amount of effort you're willing to put into repair and maintenance. Once you figure this out, your next step would be to find a decking material that suits all your criteria.
Don't worry, we will make this process as simple for you as possible through this article.
You can get some insightful information on Australian and Merbau hardwood decking and their pros and cons. However, we strongly suggest you speak with a professional like your architect or builder before choosing your decking material.
Decks have been around for more than a century. But in the past, people had limited choices of materials to build a deck. With technological advancement, today's market is full of materials that can substitute traditional Australian hardwood, for instance, composite material, Merbau, or Pine.
People frequently choose the above options over Australian hardwood mostly because they are cost-effective. Australian hardwood nonetheless remains popular amongst people looking for purity, durability, and timeless appearance.
Australian Hardwood
The native Australian hardwood comes from the public forests in New South Wales, Queensland, Tasmania, Victoria, and Western Australia. This natural wood provides organic warmth, softness, and tactility that no other decking material can match. They exude natural beauty and can endure decades of use.
While there are half a dozen species of Australian hardwood, the most popular ones are Spotted Gum, Blackbutt, Jarrah, and Ironwood. Architects and designers love Spotted Gum timber for its beautiful texture and attractive markings. Its colour can vary from pale grey-browns and soft creams to rich chocolate red-brown.
This type of timber is tough and durable. According to many experts, Spotted Gum is an appropriate material to use in bushfire-prone areas. The other popular hardwood choice is Blackbutt. Blackbutt is strong and sturdy like Spotted Gum and, is easy to workaround.
Choosing the right kind of species of Australian hardwood for decking is very important as it forms a foundation for your outdoor.
If you want your indoor floor to seamlessly blend with the outdoor decking, use the same type of timber for both the indoor and the outdoor flooring. Doing this will visually expand the space giving your home a wider appearance.
Solid Australian hardwood has many advantages. It is natural, eco-friendly, durable, and aesthetically pleasing. One of the most significant advantages of investing in Australian natural timber is that it is grown locally and supports local labour.
The most common disadvantage of natural timber is that it can be expensive to purchase and maintain. As it grows naturally, the supply mainly depends upon the quantity and quality of the harvest. At times factors like surge in global demand or devastating bushfires adversely affect the stock thus, causing a shortage in supply.
Merbau Decking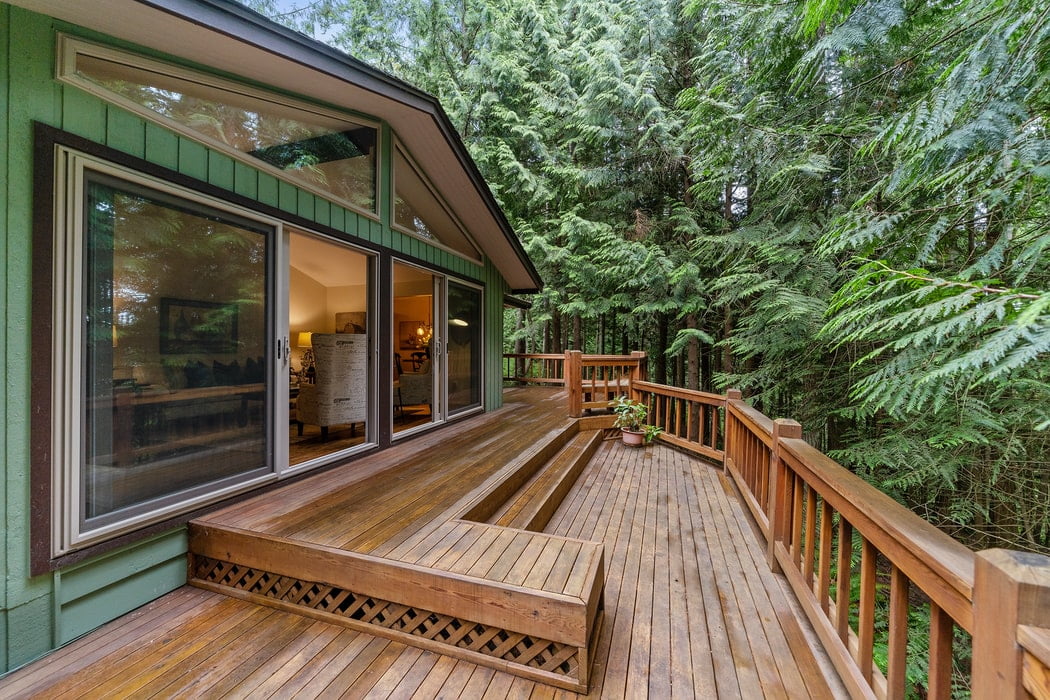 As opposed to Australian hardwood that is grown locally, Merbau is imported from south-east Asia. Therefore, it is cheaper in comparison and is easy to install and maintain.
While most timbers need to be meticulously treated and carefully installed, Merbau is easy to work with and provides a high level of strength. Most decking experts recommend Merbau over Australian hardwood for its appearance, workability, and cost-effectiveness.
One of the strengths of Merbau hardwood is its enticing orange-brown appearance which can be darkened with a decking/timber oil and can be lightened with an oxalic acid. This gives user the flexibility to experiment with colour shades and styles.
It is easy to be swayed by the positive characteristics of Merbau (I get it there are too many of them) but there are also a few disadvantages associated with it. It is questionable whether Merbau hardwood is recyclable or not.
Not only that, a recent surge in demand across the globe has driven unsustainable logging practices in Asia. As a result of this, timber has become expensive and has caused the deforestation of the rainforest.
Remember, your deck is the foundation of your home exterior and so choosing a material that looks elegant and cohesive at the same time is very important. We recommend you make a choice that is practical for you and suitable for your house.