Did you know that the average American spends roughly 90 percent of their time indoors? Since most workplaces and homes rely on heating and cooling systems, there is a growing concern about indoor air pollution, which unfortunately causes 3.8 million deaths each year.
If you own a home or business, hiring air duct cleaning services is one way you can improve your air quality. But, how can you decide whether you should have an air duct cleaning?
This post will help you understand air duct cleaning and three occasions where these services are necessary. Keep reading to find out!
What is Air Duct Cleaning?
Air duct cleaning involves purifying the components within your heating and cooling system, including:
Air ducts and registers
Grilles and diffusers
Heat exchangers and cooling coils
Condensate drain pans
Fan motors and housings
Air handling unit housing
Commercial companies have air duct cleaning tools that allow them to inspect and clean out the system thoroughly. As a result, they can remove any mold, vermin, dust, or debris in your ducts.
Of course, your air duct cleaning cost will be at least a couple hundred dollars, depending on the size of your system, its accessibility, and the level of contamination.
Moreover, if you decide to hire an air duct cleaning company, make sure you understand what services are included with the price. And, if you want all the components cleaned, be sure to state this before hiring the company.
Reasons to Use An Air Duct Cleaning Service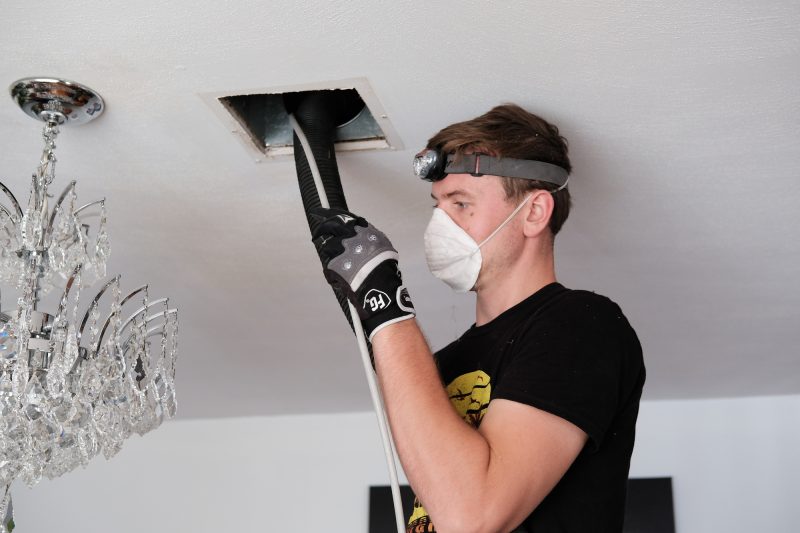 In recent years, people have started questioning the health benefits of air duct cleanings and whether they can effectively remove allergens and dust particles. Nevertheless, there are three situations in which duct cleaning can benefit your health.
Mold Growth
If you notice mold growth in any part of your heating and cooling system, you'll need to hire an air duct cleaning service to remove it all.
Of course, this is only the first step, as you will need to determine the cause of the mold. Often, condensation is the culprit, and your system will need to be insulated. So, be sure to ask your heating and cooling company if they offer this service to prevent reoccurring mold issues.
Infestation
Unfortunately, pests such as insects or even rodents can get into your ducts. Getting them out is the first step, and an air duct cleaning service can help you with this. Next, you will need to find out how these vermin entered your system so you can prevent a future infestation.
Dust Coming Out of Vents
Are dust particles flying out of the registers when the blower is on? If so, your system is full of debris and particulate matter. It is best to have a commercial air duct cleaning to get all the dust out of your system.
After you have your air ducts cleaned, remember to clean and replace your filters regularly. By doing so, you will prevent your heating and cooling system from becoming clogged up.
Hire Professional Air Duct Cleaning Services for a Healthier Home
As you can see, air duct cleaning services are crucial if you have dust build-up, infestation, or mold. Yet, you can also hire a cleaning service even before these warning signs appear. Doing so will give your home a clean feeling and reassure you that your air quality is top-notch!
So, what are you waiting for? Type "air duct cleaning near me" into your search engine to find professionals in your area.
Did this post help you understand the undeniable importance of air duct cleaning? If so, check out more of our home improvement and maintenance posts!