When was the last time you've done a do-it-yourself (DIY) home project?
Many homeowners prefer DIY when fixing their problems rather than calling in experts. Why? Because it's fun yet challenging. It opens opportunities to learn essential things about your home, from simple plumbing to roofing. However, it's important to understand that not all home projects are fit for DIY.
Some tasks are not as simple as fixing a leaky pipe, a damaged roof, or a squeaky cabinet. This is especially true when it comes to addressing electrical issues.
Electrical issues like grounding, overloading, and shocks can be dangerous, especially if they're not addressed accordingly. In fact, one of the most common causes of residential building fires is faulty electrical systems. If that's the case, your best option would be to ask expert electricians like Southside Electrics for help.
These professionals are well-equipped with skills and knowledge to help keep you and your family safe from potential electric-related incidents.
So, when should you call one? Below are some signs to tell you if there's a need to call for an electrician.
Sparks
How often do you see sparks when you plug into an outlet? Occasionally? Always?
If you usually notice sparks when connecting your appliances to a power source, it might be a sign of short-circuit issues. This means the device you want to use is no longer safe and may cause even bigger trouble.
Sparks can also mean faulty wiring. 'Failure to fix this issue properly can cause fires or burn your skin, especially if the sparks are big.' So, it's best to call an electrician in your area to address the problem. In addition, you might need to replace the device that causes sparks.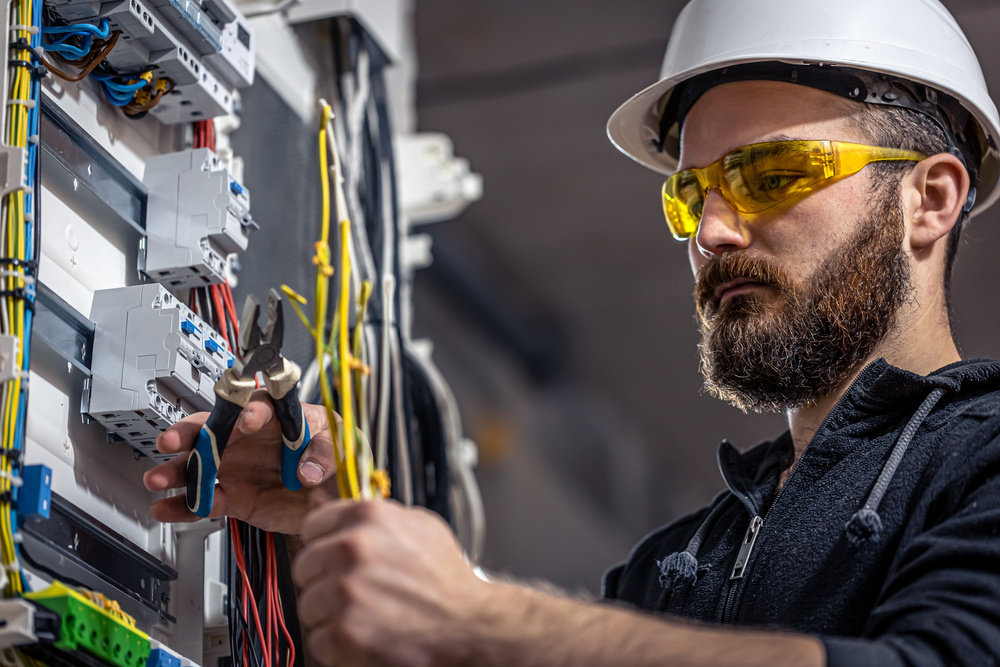 Flickering Lights
If you see your lamps flicker, what will you do? The first thing that would probably come to your mind is replacing the light bulbs with new ones. However, if they still flicker even after replacing them, your electrical wiring might be the problem.
The same diagnosis can also be made with dimming lights, especially if your switch has no options for dimming. So, if your lights tend to flicker or dim too much, it's time to inspect and call expert electricians for help.
Electrical Issues In Bathrooms And Kitchen
Bathrooms and kitchens are important parts of your home. Without them, you won't be able to cook great food and clean yourself properly. That's why maintaining them is crucial to prevent potentially dangerous electrical issues.
Keep in mind that these rooms are most exposed to water. Such locations have to be well-protected against moisture, particularly appliances, cable wires, and sockets. So, if you're planning to do some renovations, don't forget to electricians to ensure that all is safe and sound.
Water Damage
If your house suffers from major water damage, such as floods or excessive leakages, one of your top priorities should be your electrical system.
Unfortunately, many homeowners prioritize less important matters, putting their entire house at risk of fire. As you know, water and electricity mustn't be combined together. So, to ensure everything's safe, ask an electrician to see if the live wires are sitting in the water, causing short-circuit issues.
Long-term electrical damage can also happen, depending on the severity of the water damage. If that's the case, you might need to ask professional electricians to replace or rewire your switches and outlets.
Burnt Odor
Burnt odor is one of the most common ways to identify potentially-severe electrical issues. This could mean the wires and circuits inside are burning without you knowing.
If you suspect something's burning inside your electrical system, locate the area where the smell is coming from. Once you find it, turn off your main electric switch and call an electrician for help. Make sure not to do anything until they arrive.
If the burnt smell is from a socket, pull what's plugged in as soon as possible. But be careful not to get electrocuted. You may consider shutting down your main source to be safe.
Extremely High Electric Charges
Once a new electric bill has arrived, check if there's anything unusual, such as strange consumption and extremely high dues. Then, compare it to your previous bill to be sure.
If the new bill is oddly high compared to your last electric bill, you probably have issues regarding your electrical systems. Call your local electricians to help identify where that unusual surge of electricity is coming from.
Final Words
Calling an electrician is the best way when dealing with electrical issues at home. It's not advisable to address them alone because they can sometimes be complicated.
Even a single mistake can also lead to destructive consequences you'll never want to happen. So, save your DIY for leaky pipes and call an electrician to address electrical issues accordingly.