As a homeowner, it's normal to go through a few problems and repair works needed here and there. There's a lot to fix from time to time, and one of the most common is the roof.
Just imagine all the work a roof goes through. It gives more than just shelter – literally. It's also that part of a building or a home that's most exposed to all the harsh elements of the weather.
And for small roof problems, you may have gotten used to doing all the repairs yourself. It is expected, given how roofing problems also have the reputation of being costly to fix.
Notwithstanding that fact, however, there's no denying the unbeatable efficacy of hiring professional roofing contractors like Wallace Construction Company. It may cost more initially, but in the long run, you're giving your roof and your budget a huge favor.
If you need more convincing about the merits of hiring a professional roofer rather than going the, Do It Yourself (DIY) route, you've come to the right place. Below are the benefits of letting the professionals do the job:
1) They Have Proper Safety Training
If you have a ladder at home, and you've watched YouTube videos about a million times now on how to fix your roofing problem, maintain, or undergo a roof tune-up. You feel confident you can do it. Don't let that confidence get the best of actually prioritizing your safety.
Going up to the roof to fix it can be dangerous, especially when you don't have the proper safety training to do it right. It's one of the main reasons you should leave the task to the experts. They're not just trained and skilled to do the right roofing job needed, but they have proper safety training as well.
Moreover, beyond that safety training, professional roofers also have the right equipment and tools for the job. They have years of experience getting on and off the roof at different heights. Even with years of experience, this is still something extremely dangerous, so it pays to be certain of what you're doing.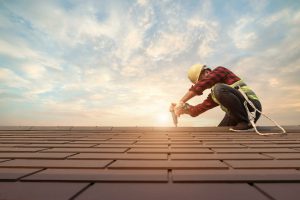 2) They May Be Able To Secure Better Warranties
Yes, you'll be paying for the services of your roofing contractor. But that payment also comes with an advantage: you'll have access to better warranties. Should anything go wrong within a specific period, you may be able to have it fixed without a fee.
This advantage may save you a lot of money in the long run. A general contractor who's as qualified as they are reputable will have manufacturer training. It means they can provide all the necessary – and best – warranties. The better the warranty, the safer your overall roof investment is.
3) They Have Superior Knowledge And Expertise
While many have learned through watching online videos, there's no beating the knowledge and expertise gained through formal training. It is something professional contractors have that you may not have. You can find useful knowledge online on replacing and repairing your roof online, but that still can't count as professional experience.
Likewise, remember your roof's importance. The last thing you'd want to do is to experiment with it. What may have been a small problem can now escalate into something bigger – requiring more work and expense.
Professional roofers carry a license to prove their experience and knowledge. This license is one of the best guarantees of quality work that you can have.
4) They Have Access To Top Quality Materials
When it comes to your roof, don't skimp on the repairs. Use nothing less than top-quality materials for your repair to be worth it. If not, you may find yourself the need to repair your roof again, sooner than you may have initially expected.
One of the main benefits of hiring professional roofers is that they have access to suppliers of quality materials. Even better yet, those materials may also be given to you at a lower rate, as professional roofing contractors will also be able to make better deals with suppliers.
Often, the cost may wind up cheaper than if you had to procure those yourself at a retail price.
5) They Offer Reliable Services
Because roofing contractors are experts at what they do, it's expected that they can offer reliable services. You can take their word for it, for the quality of services that your contractors can provide.
A roofing professional is more likely to be able to go right to the root of the problem to tackle the bottom line of the issue. It can reduce the chances of needing to have your roof fixed all too often.
Conclusion
While many property owners today still do their roofing repairs, you should better understand that this route isn't necessarily the best one to take. The list of benefits above is only a few of the many ways you can benefit from a professional roofing job.
Although you're paying for the contractor's professional services, you're also saving in the long run. Henceforth, the next time you find yourself having to deal with a faulty roof, don't hesitate to call the experts for it.