You don't have to give up on your old home just because it's not as modern as newer homes on the market. You can make your home feel brand new without breaking the bank with a few critical updates. Start by analyzing your home's layout and noting significant issues that require immediate attention.
Next, think of your needs, preferences, and future. If unable to decide on the updates to prioritize, get some help from an expert. Finally, establish a budget and timeline for the project. Here are five tips to help you with the project.
Prioritize Security
Old homes tend to have outdated security features, which make them more susceptible to break-ins. If your home doesn't have a security system, now is the time to install one. You should also consider additional locks to doors and windows and installing motion-sensor lights around the property.
Moreover, regularly check and maintain your security system to ensure it's in good working order. Check out Alarm Grid for modern, remote-controlled security systems that will give you peace of mind.
Besides this, create privacy by planting shrubs and bushes around the property line and adding window treatments to prevent people from looking into your home. The goal is to make it difficult for potential burglars to see inside your home and assess what valuable items you have.
Go for Updates That Increase the Property Value
As you modernize your old home, consider updates that increase the property value. These improvements have a long-term value that makes your property fetch a better price should you ever decide to sell.
Start with small projects like painting the interior and exterior of your home, refacing cabinets, and installing new countertops and floors. These projects make your home more attractive and increase its value.
If you have the budget, go for more significant tasks such as adding a deck, finishing the basement, or converting an attic into a bedroom.
Consider The Layout of Your Home
When modernizing your old home, consider the layout. If you have a small house, focus on making it more functional by utilizing every inch of space. For example, install floating shelves in the kitchen to store dishes and cookware or use under-bed storage containers to tuck away out-of-season clothes.
If you have a larger home, open up the floor plan or add an addition. These projects require more time and money, but they completely change the feel of your home. Also, consider the needs of your family when planning these updates. For instance, if you have young children, add a playroom or turn a spare bedroom into a home office.
Consider your future needs, too, such as adding a first-floor master bedroom if you plan to age in place. A home office and a gym are popular additions that can make your home more comfortable and functional. Other considerations are:
The Plumbing System
Before you start your project, ensure that the plumbing system can handle the new fixtures and appliances you plan to install. For instance, if you're adding a bathroom, increase the water pressure and ensure the sewage system can handle the additional waste.
Also, know the location of the pipes to avoid them when making changes. Let a professional plumber handle these projects to avoid costly repairs in the future.
The Electrical System
Interfering with the electrical system is dangerous and should only be done by a certified electrician. When planning significant changes requiring more power, such as adding or finishing the basement, you may need to upgrade your electrical panel.
When knocking down walls and making other changes to the layout, be careful not to damage any electrical wiring. Switch off the power supply before starting any demolition to avoid accidents.
Modernize The Outdoor Space
The outdoor layout is as important as the indoor one when modernizing your home. For example, you may want to create a private outdoor oasis with a deck, patio, or porch. Consider adding a swimming pool, hot tub, or garden if you have a large lot.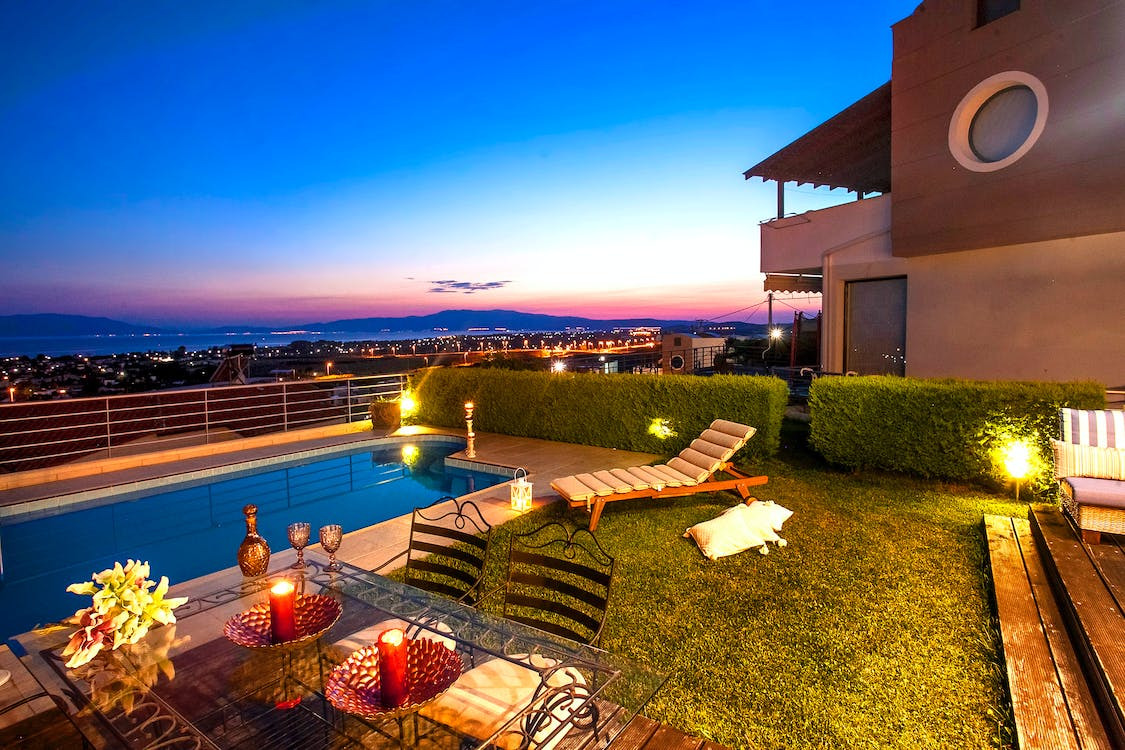 These features make your home more enjoyable and increase its value. However, they come with additional costs, such as maintenance and insurance. When planning outdoor projects, consider the climate in your area and the amount of space you have.
Work with What You Have
One of the keys to modernizing your old home is to work with what you have. Before making any changes, take an inventory of your belongings and eliminate anything you don't need or use. Decluttering helps you determine what pieces of furniture and decor you want to keep and which ones need replacing.
Once you've edited your belongings, focus on updating the remaining pieces. For example, if you have an old dresser, sand it down and repaint it. For a dated light fixture, spray paint or replace it with a new one. As you work with what you have:
Consider The Available Funds
The budget or available funds will determine the extent of the modernization project. Work within your means to avoid overspending or straining your finances. If low on funds, pause the project to accumulate more money or seek financial assistance from family and friends.
Hire A Professional
Hiring a professional is advisable even when low on funds or carrying out minor projects. Trained and experienced experts understand the ins and outs of home improvement. They have access to quality materials, tools, and equipment.
They also understand the regulations and set codes for different areas, so you avoid running into legal trouble. The results are often superior to a DIY job and save you time and money in the long run.
Never Compromise On Quality
Choose quality over quantity when selecting new materials and furniture for your home. In the long run, this saves you money as you won't have to keep replacing items due to wear and tear. It also increases the value of your home should you ever decide to sell.
Incorporate Technology
It's not possible to separate technology from modern designs. Technology has infiltrated every facet of today's lives, so it only makes sense to incorporate it into the home. Think of installing solar panels, a tankless water heater, or LED lighting. Key considerations when incorporating technology are:
Energy Efficiency
Every upgrade should aim to make your home more energy-efficient. It's not only good for the environment but your wallet too. For instance, upgrade the appliances with Energy Star-rated models or install a programmable thermostat. Other things to consider are upgrading to an energy-efficient roof, windows, and insulation.
Automation
Home automation is another area where technology has made great strides in recent years. You can remotely control many aspects of your home using a smartphone or tablet. You can turn on the lights, adjust the thermostat, or unlock the doors.
These automations are convenient and add an extra layer of security to your home. You can also use automation to monitor your home while you're away. Install security cameras and motion sensors to keep an eye on things when you're away.
Analyze How The Technology Integrates into Existing Systems
Consider how the technology you're installing will work together with other systems in your home. For example, if you're installing a new lighting system, ensure it's compatible with your home automation system. The last thing you want is to end up with a bunch of separate systems that don't work together.
Prioritize Planning
Modernizing an old home is not a one-day affair. It requires time, effort, and, most importantly, planning. Consult experts, set aside adequate time and finances, and you're well on your way to giving your home a much-needed facelift.
Also, don't forget to have fun along the way. Create a space that is uniquely you, and enjoy the process. After all, it's your home.