The basement is probably the most underutilized space in a house. It's usually dark, dank, and unfinished. But what if your basement could be a bright, welcoming area where the whole family wants to spend most of their time? You can transform it into a multi-functional living space with a bit of work and creativity.
To help you out, here are the most popular basement remodeling ideas:
Turn It Into Living Room
One of the best ways to utilize your basement space is to turn it into a cozy living room. Since basements are typically darker than the rest of the house, you'll want to add some light fixtures and use light colors on the walls to brighten things up. You can also use area rugs and furniture to define different spaces within the living room.
Such things as a TV area, reading nook, or game area will make your basement living room the ultimate hangout spot.
It's also essential to note that this job requires more than just cosmetic changes. Before you start decorating, you'll need to ensure your basement is properly insulated and has a good flooring foundation. In this case, a local basement remodel company services can help you with the planning and construction process.
Create A Home Office
If you work from home or need a quiet space to study, your basement is the perfect place for a home office. This area is ideal because it can be secluded from the rest of the house, helping you stay focused on work or school.
You'll want to ensure plenty of natural light when creating a basement office. But if your basement has no windows, you can install a skylight or add artificial lighting. You'll also need a comfortable chair, desk, and storage solutions for all of your office supplies. Just ensure you have enough space to move around and won't feel cramped in your new office.
In addition, you might also want to consider sound-proofing the space if you plan on making phone calls or recording videos. This will help to minimize any background noise that could interfere with your work or studies.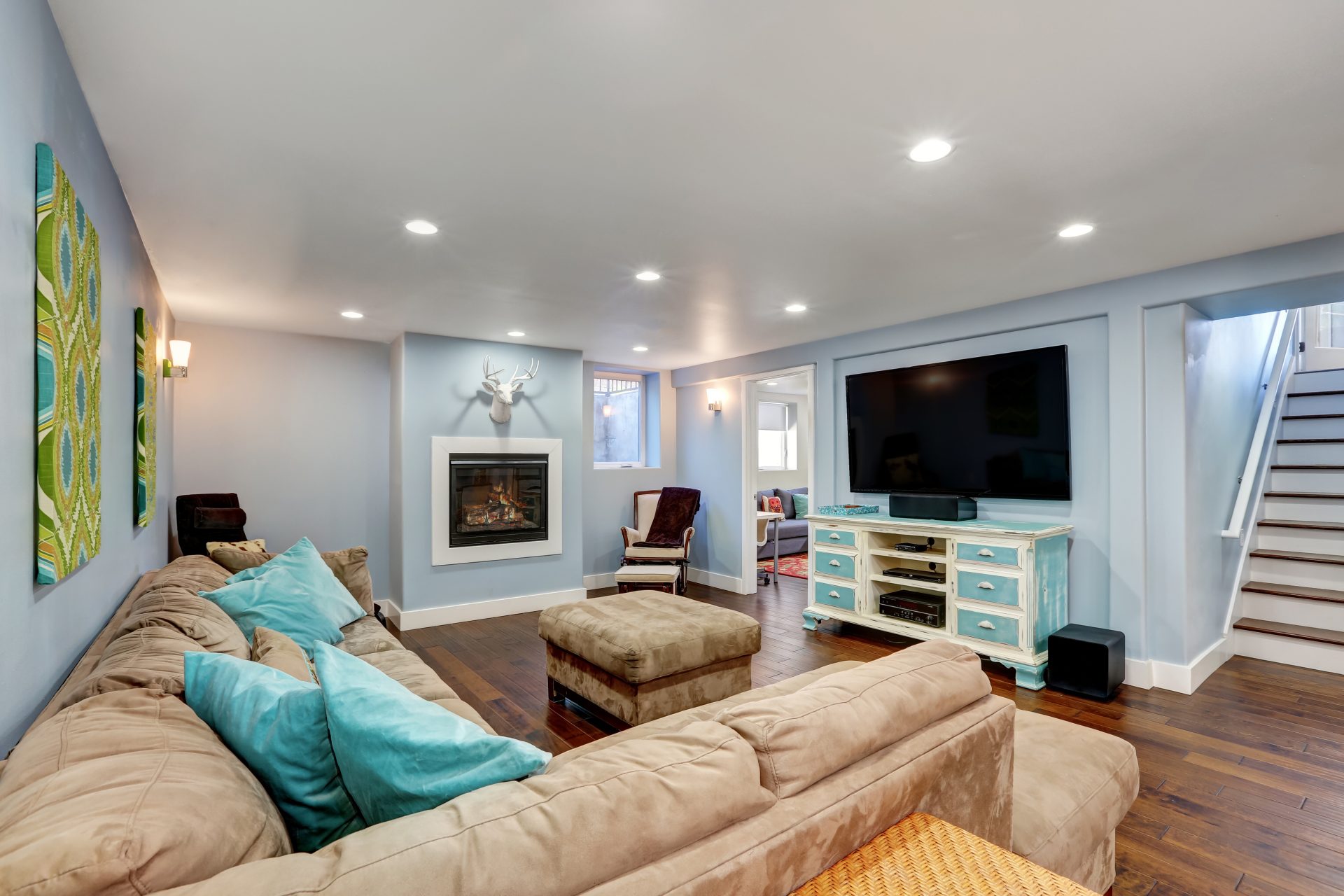 Add An Extra Bedroom
An extra bedroom is one of the most useful basement remodeling ideas. This is especially true if you have a growing family or frequent out-of-town guests. To turn your basement into a bedroom, you may add windows for ventilation and light and a closet for storage. You might also consider adding an ensuite bathroom if you have the space.
When decorating, stick with pleasant and relaxing colors that'll help your guests feel at home. You can also add personal touches, such as photographs or artwork, to make the space more inviting.
Set Up A Home Gym
It's no secret that going to the gym can be a hassle. You have to drive there, deal with the crowds, and then drive back home. If you're looking for a more convenient and practical workout solution, why not set up a home gym in your basement?
Depending on your exercise routine, you might need some free weights, yoga mats, an exercise bike, a treadmill, and other amenities you need. You can also add a TV or some music to make your workouts more enjoyable. Just make sure the space is well-ventilated to avoid any musty smells.
Build A Home Theater
This feature is becoming increasingly popular in basements, and it's not hard to see why. With a home theater, you can enjoy all the benefits of going to the movies without leaving your house.
To build a home theater, you'll need a large television or projector screen, comfortable seating, sound-proofing materials, and the right audio equipment.
You might also want to add special lighting effects to create a more immersive experience. Once everything is set up, you can invite your family or friends over for a movie night or watch your favorite shows in peace.
Also you can transfer your basement in to a game room. Choose the game table you want to install and enjoy.
Install A Mini Bar
A basement bar is an excellent addition if you love to entertain. This way, you can host friends and family without going upstairs whenever you need a drink.
Installing this type of bar is relatively simple. You can either buy a pre-made mini bar or create your own using a countertop, some cabinets, and a few other supplies.
Don't forget to stock it with all the necessary items, including glasses, liquor, mixers, and snacks. There's nothing better than having everything you need for a fun night in your basement.
Takeaway
There are endless possibilities when it comes to basement remodeling. Considering your needs and wants. You can quickly transform this space into a functional and enjoyable area for the whole family. Use the ideas listed above as you plan your next basement project. You're sure to end up with a space you'll love.