1 in 5 people who work with equipment throughout their life will develop some kind of hearing loss because of incorrect ear protection.
Whether you're using saws and drills or lawn mowers and weed wackers, continuous loud noises damage the inner ear – and after enough damage, the cells that allow you to hear will be killed off, leading to permanent hearing damage. Even noises that don't feel too loud can still cause lasting damage if your exposure to them is prolonged.
The best way to protect your hearing? It's simple — wear hearing protection. It seems obvious, but finding the best hearing protection for you and then consistently using it is the best way to protect your hearing for years to come.
There are lots of different types of hearing protection, all with different features, noise reduction ratings (NRR) and use cases. With so many options, it can be overwhelming to choose the best option, so we've compiled a list of our top picks for the best ear protection for loud machinery. When all is said and done, the best hearing protection is the one that you will wear – so find the right one for you and then wear it!
Types of Hearing Protection
There are two main styles of ear protection: over the head and in-ear. We'll give you a quick overview of each before getting into our product reviews.
Over the Head
Over the head ear protection, also called ear muffs or over-ear protection, is just like it sounds: it goes over your head and offers some kind of soft cup that goes over your ears. In general, over the head earmuffs offer a higher NRR, some people find them more comfortable. However, they also can be difficult to wear with other PPE (like safety glasses and hard hats, and a common concern is that the ear cups are uncomfortable when it is hot or humid outside.
In-Ear
In-Ear protection usually comes in the form of earplugs. This style of protection has a tip that is inserted into the ear. Commonly these are disposable foam plugs that expand within the ear canal to block sound.
In-ear hearing protection can be more comfortable to wear with other PPE since they have a small profile. Some people don't like in-ear protection because of how small they are, and because they have to put them in and take them out of their ear, which can be unpleasant if your work site has your hands dirty. Plus, they're small which means they can be easy to lose.
Our Top Picks
Based on our research, here are our top recommendations for ear protection for loud machinery, including both over-the-head and in-ear styles.
We've also included the NRR (noise reduction rating) of each piece of protection. The higher the NRR, the higher the level of protection. It's important to note that the NRR doesn't refer to exactly how many decibels that ear protection reduces – it's just the standardized measure of how much noise reduction each kind of ear protection offers.
1)DECITECH E1 by Defender Safety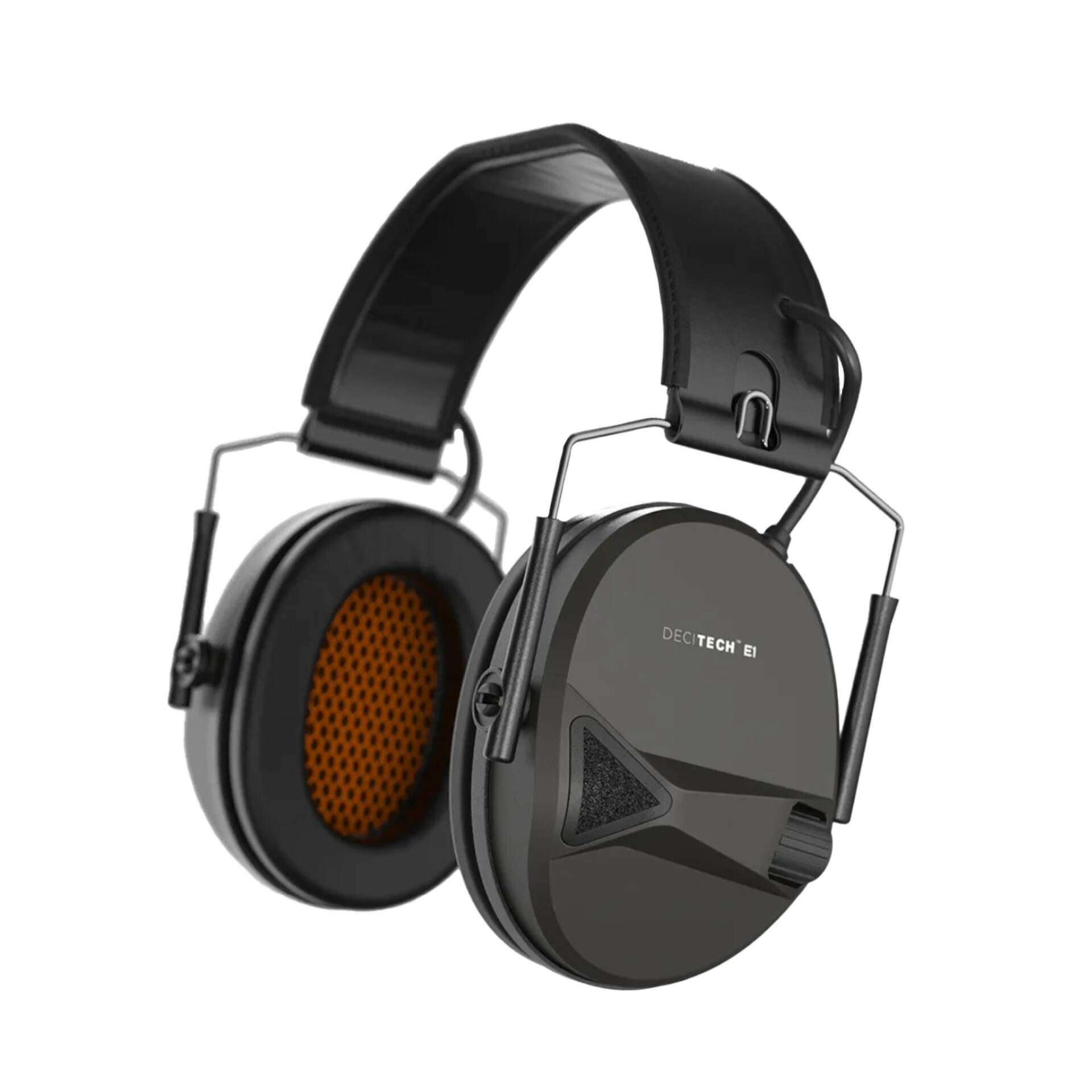 Defender Safety's DECITECH E1 is our top choice all around. One of the many things that makes these so great is that they're active hearing protection.
This means that they electronically manage the sound that you hear, protecting you from loud environments and blocking sudden loud noises (any sound over 82db is blocked within .5 ms), but that's not all they do.
They also use patented voice optimization technology and dual-directional microphones to amplify speech, so that you can hear conversation, safety instruction, and warnings without having to take your hearing protection off – plus the amplification of soft sounds seals the deal and helps you be aware of your surroundings while taking care of your hearing health.
The padded headband and deep ear pockets make them comfortable and breathable for all-day wear, and the slim design makes it easy to wear them with other PPE without interference.
One of our favorite details that sets these guys apart is the XL volume knob that's so easy to control even while wearing protective gloves – something that not all the options on this list have.
These are one of the most lightweight options on our list – weighing less than a pound, making it easy to bring them wherever you'll need them. Plus the collapsible headband makes them easy to pack along in a toolbox or bag without worrying about them being damaged.
Type: Over the Head, Active Protection
NRR: 24db
Features: Active Protection, Collapsible Headband, Lightweight
Price: ~ $40
2)Decibel Defense Safety Earmuff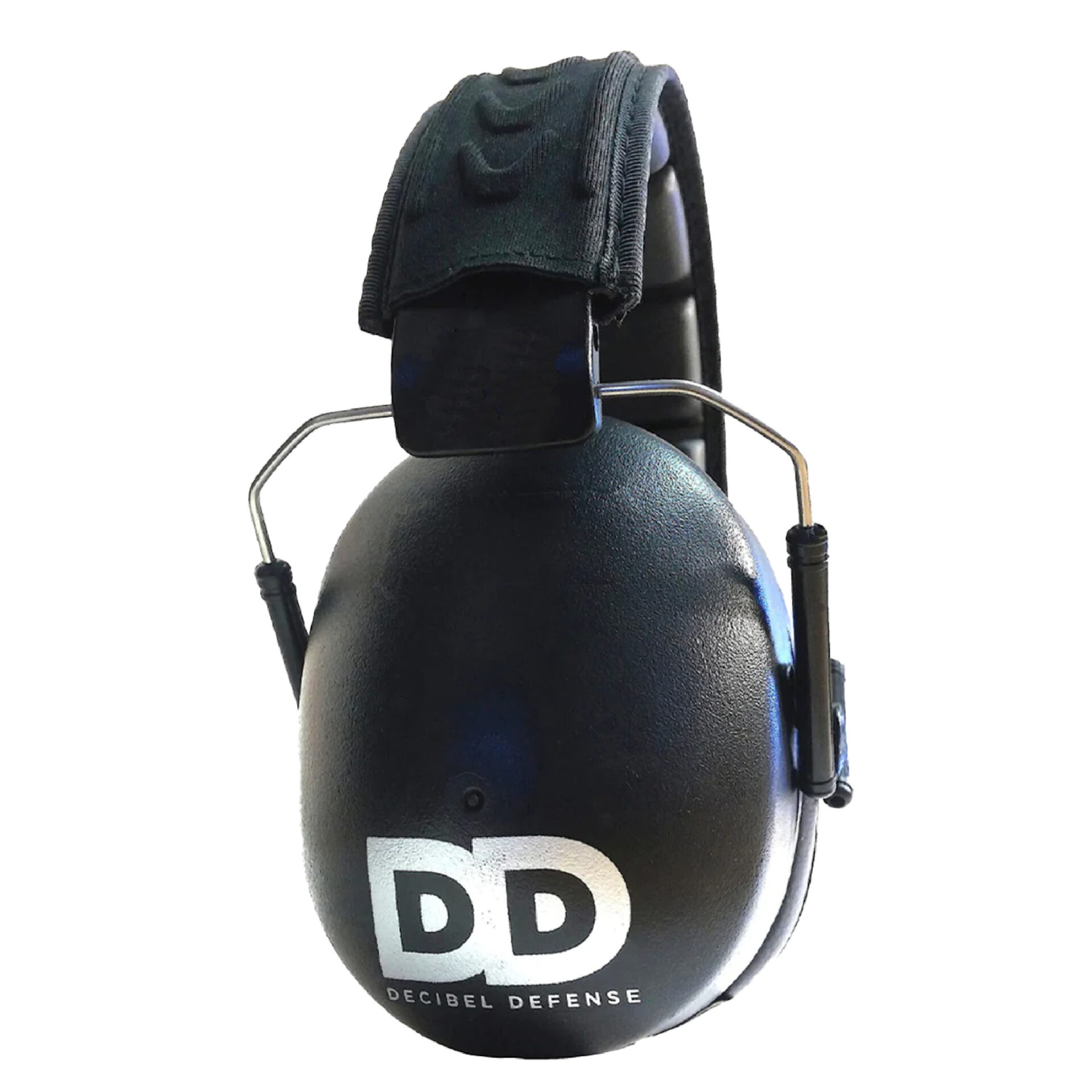 The Decibel Defense Safety Earmuff offers the highest NRR rating on the list – rivaling the higher protection of earplugs without the discomfort of putting earplugs in. They feature large ear cups that seal well around your ears, but the unique padding design still breathes well.
The padded headband has individual padded sections that make it breathable and comfortable for long term wear. They're lightweight, but sturdy enough for everything you'll put them through. The headband collapses for easy storage and carry.
Type: Over the Head
NRR: 37db
Features: Collapsible Headband
Price: ~ $40
3)3M Peltor X1A Over-the-Head Earmuffs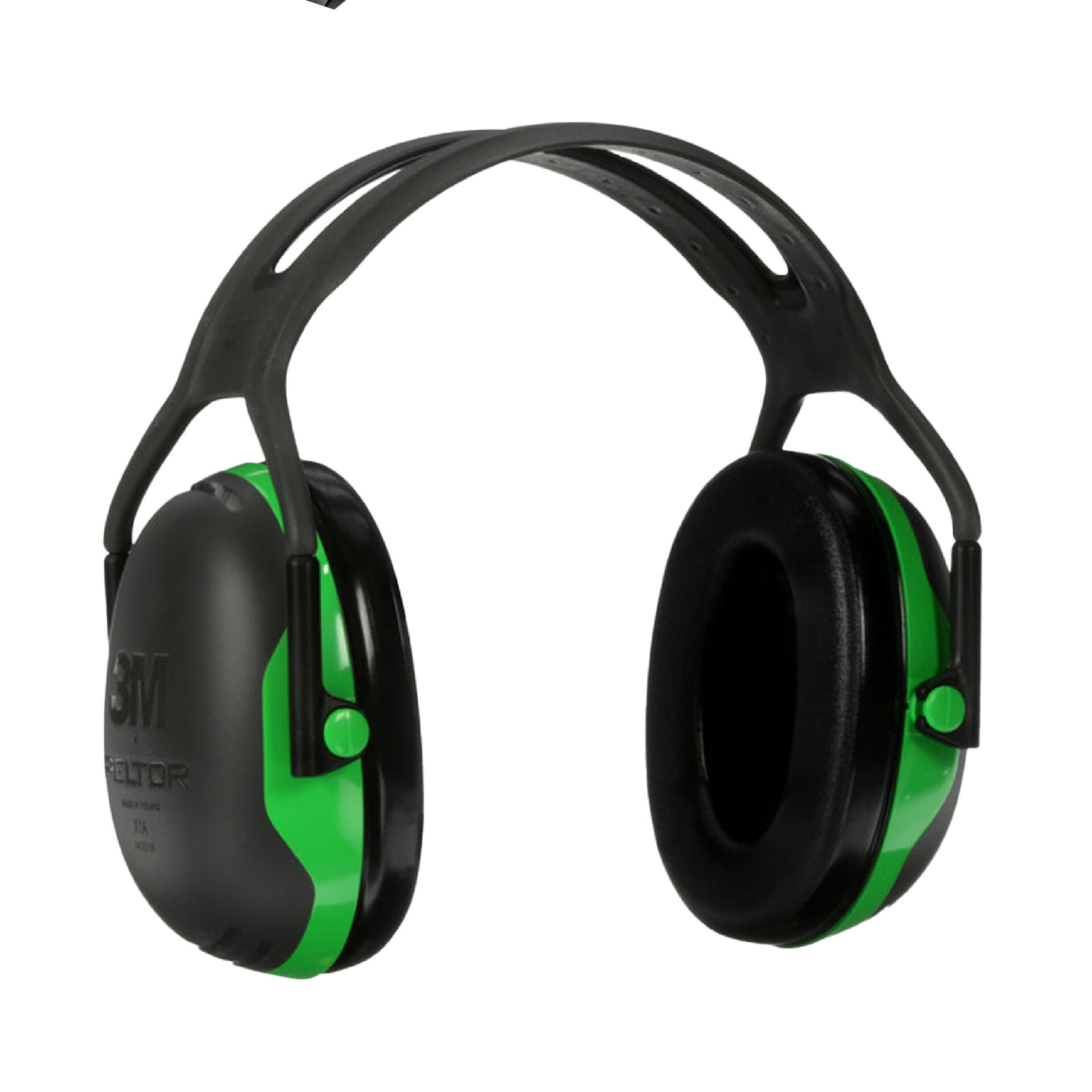 These Peltor Over-the-Head Muffs by 3M are a simple, straightforward ear protection. They feature a slightly lower NRR than some of the other options on the list, but are still suitable for construction environments and heavy machinery.
The unique split-headband design helps with ventilation, and is dielectric: electrically insulated to protect against electrical hazards. The wire material also reduces pressure on the head, but overall can be less comfortable than some of the padded headbands found in other options.
They are fairly slim, but they don't collapse as much as some others do.
Type: Over the Head
NRR: 22db
Features: Split Headband for Ventilation
Price: ~ $20
4)DECITECH E2 by Defender Safety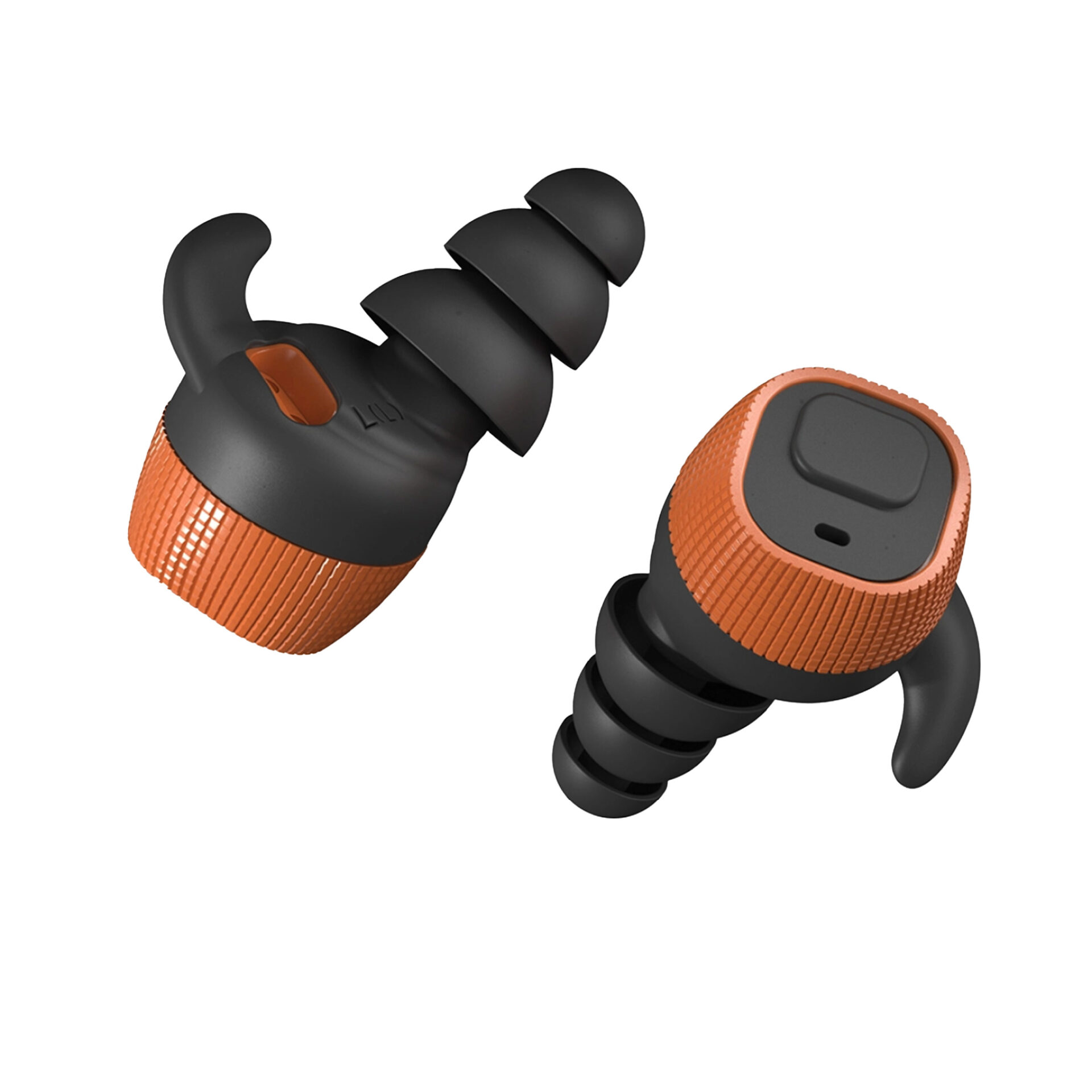 If you would rather use an in-ear earplug, then our top pick is the DECITECH E2 by Defender Safety. Earplugs in general are a great choice if you wear a lot of other PPE like hard hats and safety glasses because they don't interfere.
The active hearing protection in the DECITECH line is almost a non-negotiable for anyone working in a construction environment where hearing voices is important to your safety and the safety of those around you.
In addition to an NRR of 22db that reduces environmental noise, these earplugs nearly instantly protect your ears from sounds over 82db (the level where sound becomes dangerous) – one of the fastest reaction times of electronic hearing protection.
Like their over-the-head counterpart (the DECITECH E1), they also utilize patented technology to amplify quiet sounds and conversation so that you don't have to block out all noise in order to protect your hearing.
These earbuds are rechargeable and last for more than 8 hours of continuous use before needing to be recharged in their charging case. They're also designed to ergonomically fit in the ear canal, and come with a variety of tip options to fit your ear best, making them comfortable to wear all day long.
Type: In-Ear, Active Protection
NRR: 22db
Features: Rechargeable, Water Resistant, Adaptable
Price: ~ $85
5)3M WorkTunes Connect Wireless Hearing Protector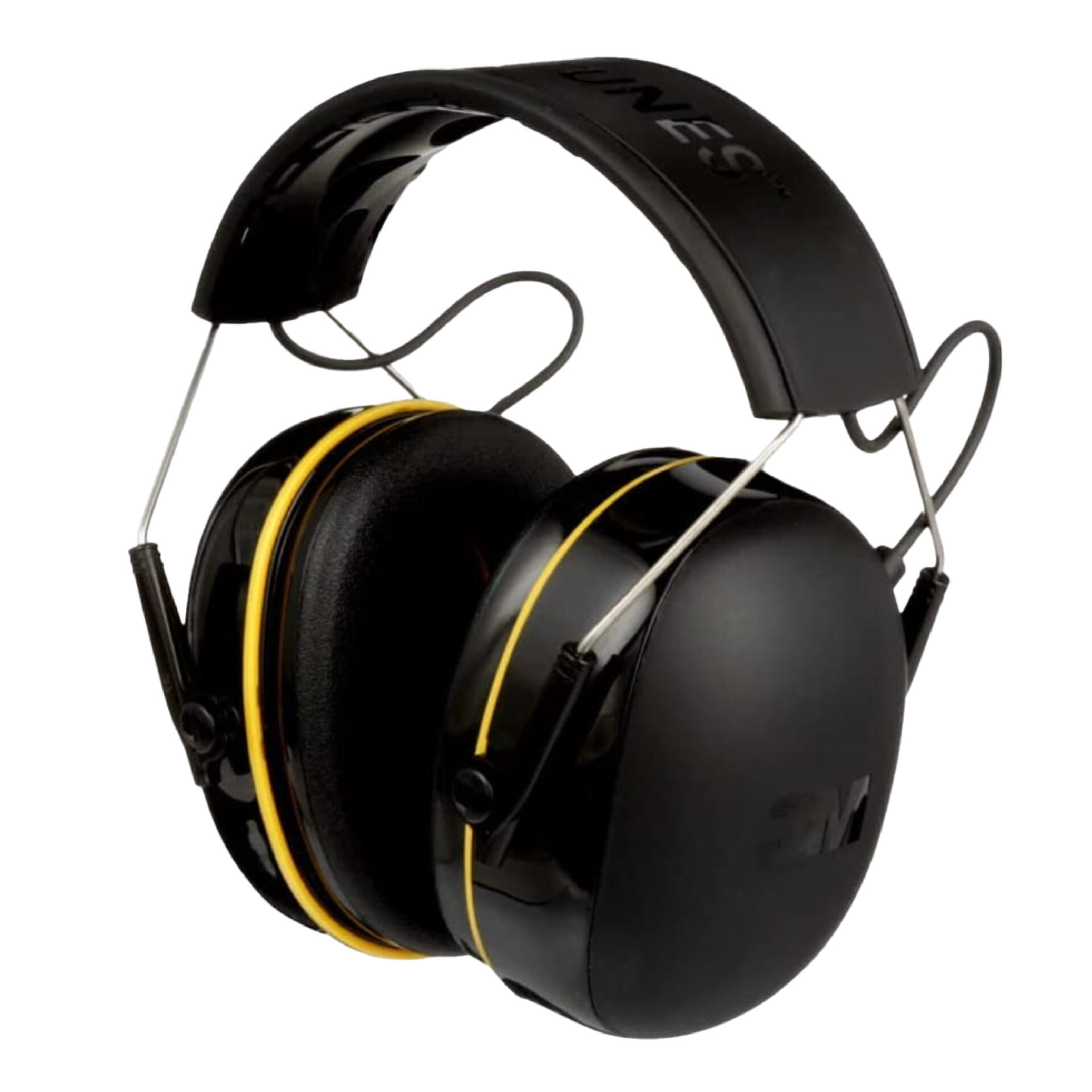 These over-the-head protection are unique because they allow you to wirelessly connect to a bluetooth device to listen to music, while maintaining their 24db NRR. The built in microphone lets you make calls without having to remove your hearing protection, which is a very handy feature!
They are rechargeable and will last for several days before needing to be recharged, but some people feel like it takes a long time to recharge. These are reasonably comfortable, but aren't optimized for all-day industrial comfort like our first choices are.
These are also one of the heaviest earmuffs on the list, so they're less suited for taking them between job sites or collapsing them for a toolbox. They're still a great option if you are doing shop or home work and want to pass the time in while listening to your tunes!
Type: Over the Head
NRR: 24db
Features: Bluetooth Connectivity
Price: ~ $50
6)Howard Leight by Honeywell Laser Lite Disposable Foam Earplug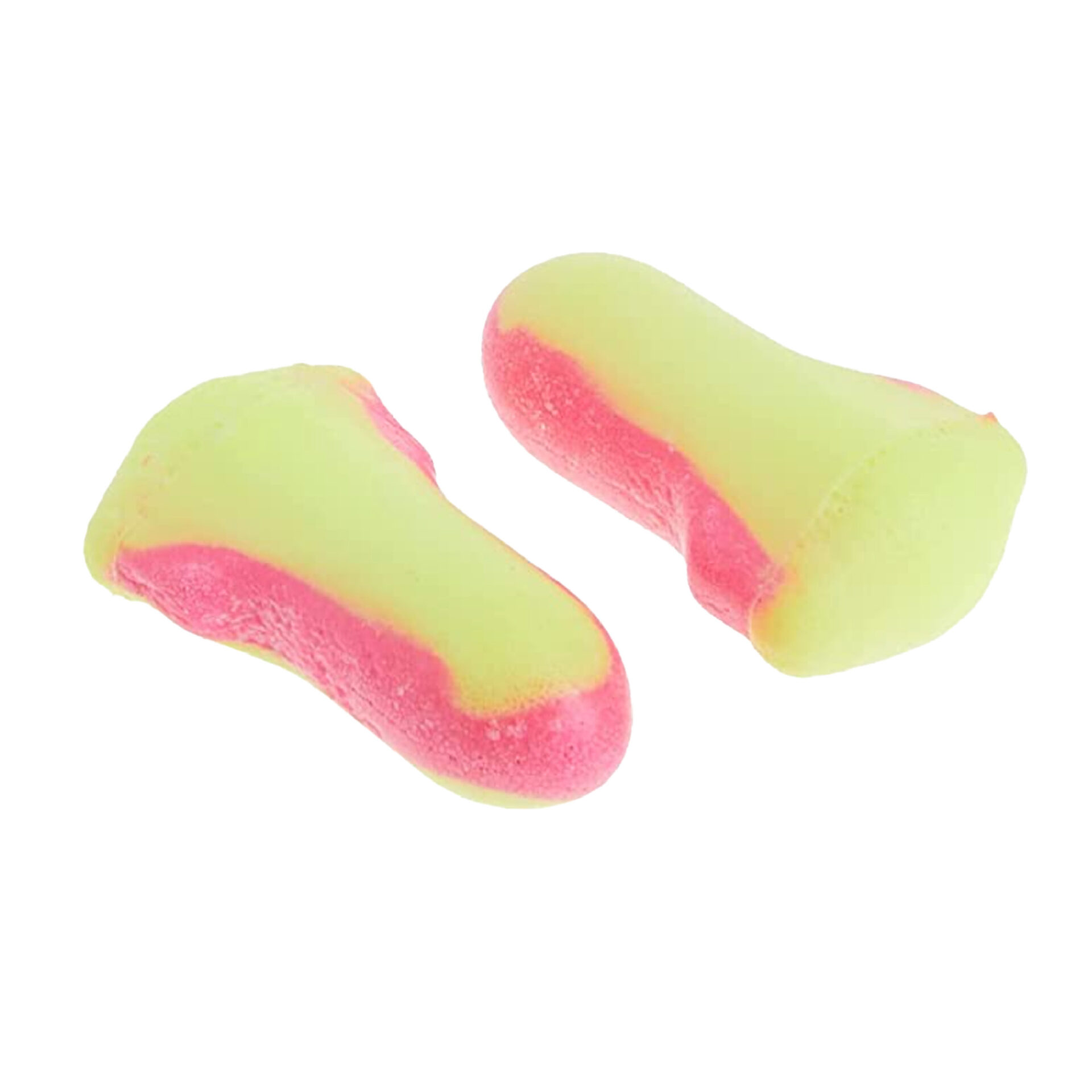 These earplugs are different from the others on our list, but we wanted to include them because they're the option many people prefer.
These disposable foam earplugs come in bulk packages, making it easy to throw them away when you're done with them – ensuring that you always start your day with clean ear protection, although some people say you can reuse one pair for a few days.
These offer the second highest NRR rating of those on our list, so if you work in an extra-loud environment, these can be important.
These are also very affordable, with a 200 pack costing just under $25. However, they can be uncomfortable and may not fit every ear canal shape. Plus, if you're working in a high-communication environment, you may find it frustrating to put-in and take-out your earplugs every time you need to communicate with someone.
They're also very easy to transport, and the high-visibility makes it easy to see who is wearing correct ear protection when necessary.
Type: In-Ear
NRR: 32db
Features: High Visibility, Disposable
Price: 200 pairs/ $25