Kitchen remodeling is an exciting way to change your cooking space into a useful and visually beautiful hub. Before going into the design, assess your objectives and goals, and create your budget. To create a well-lit and pleasant ambiance, embrace new storage options, carefully pick appliances and fixtures, and balance lighting. Choose materials and finishes that are long-lasting and complement your taste. With careful consideration, your kitchen remodel will result in a space that not only impresses with its beauty but also improves your daily life.
This article discusses a comprehensive list of factors to consider while redoing your kitchen design.
10 Factors for an Outstanding Kitchen Remodel Design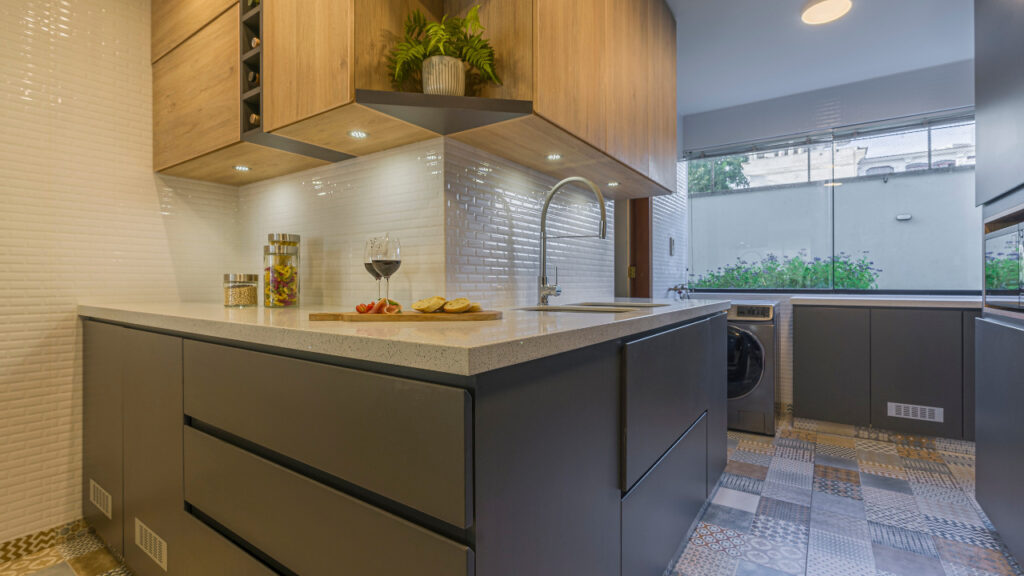 When creating a kitchen that looks good and works well, it's really important to carefully plan everything – from how the kitchen is arranged to picking the right materials.
The following are some factors to that will help you design a kitchen efficiently and give you the best kitchen remodel tips.
1. Budget
Prior to beginning the design process, it is critical to determine your budget. Determine how much money you are willing to put into the project, taking into account the costs of supplies, labor, and any unexpected charges. Be mindful of potential trade-offs, as providing more funds to certain aspects may necessitate budget cuts in other areas.
2. Layout and Flow
Various types of kitchen layouts are critical in terms of functionality. Examine your current kitchen arrangement and find any flaws. Consider the classic kitchen work triangle, which ensures a continuous flow between the cooking area, refrigerator, and sink. Also, keep in mind your cooking habits and available space before deciding on a layout such as a galley, L-shaped, U-shaped, or open-concept design.
3. Kitchen Hardware
Kitchen hardware plays an important role in the overall aesthetic and operation of your cooking space. The appropriate hardware, from cabinet knobs to drawer pulls, may improve the visual appeal and ease of use in your kitchen. Select hardware that compliments the design and theme of your kitchen design while also being durable and comfortable to hold. A well-chosen piece of hardware may make a major impact on the overall appearance and feel of your kitchen. So you have to be mindful of the cabinet style and types you are about to install. 
4. Storage Solutions
Adequate storage is essential for keeping your kitchen organized and clutter-free. Consider your storage requirements in relation to the size of your household, your cooking routines, and the sorts of kitchen tools and utensils you own. To maximize space utilization, consider building and installing base cabinets with flexible shelving, pull-out drawers, and deep pantries under the kitchen island. 
5. Pay Attention to Lighting
Lighting may improve the ambiance of your kitchen by highlighting cooking activities and improving aesthetics. Adopt a layered lighting strategy that includes task lighting for specific work areas, ambient lighting for overall illumination, and accent lighting to emphasize design aspects.
Integrating natural light through windows and skylights creates a light and spacious atmosphere. Consider dimmers and lighting controls for versatility since they will allow you to change the brightness for different circumstances. Choose energy-efficient LED lights to reduce electricity consumption and environmental impact while also adding a touch of sustainability to your enthralling kitchen redesign.
6. Natural Stone Countertops
If you are looking for low-maintenance and scratch-free countertops ideas for your kitchen remodel design, nothing can beat natural stone or quartz countertops. The best thing about this material is that it's best to use in the kitchen because of its heat-resistance properties.
If you are looking for low-maintenance and scratch-free countertops ideas for your kitchen remodel design, nothing can beat natural stone or quartz countertops. The best thing about this material is that it's best to use in the kitchen because of its heat-resistance properties.
7. Finishes and materials
The materials and finishes used in the kitchen have a significant impact on its overall appearance and durability. Choose materials that are high-quality and easy to clean, and that can handle the demands of a busy kitchen. Ensure a unified design that reflects your style while matching the rest of your home.
8. Prioritize Functionality
A well-designed kitchen prioritizes functionality in order to provide a streamlined cooking experience. Choose a design that allows simple mobility between the stove, sink, and refrigerator.  Especially, you can elevate small galley kitchen by keeping the space multifunctional. 
9. Don't Ignore the Kitchen's Ceiling
The kitchen ceiling plays a great role in the overall kitchen remodel plan or design. Consider various kitchen ceiling types, be they minimal or classic. You can simply paint your ceiling with the same color as your kitchen cabinets or walls. It will definitely elevate or elaborate your kitchen look.
The best ceiling type for a kitchen is a flat or smooth ceiling with a durable, easy-to-clean surface. This enables easy cleaning In a space prone to oil and food splatters. Plus you need to prevent leaks  in flat roof. Hence you will need to renovate it and create a clean and modern aesthetic that compliments a variety of kitchen styles. 
10. Small Seating
According to modern kitchen ergonomics, you have to make it comfortable for sitting, even for a small group of people. Even if you have a small kitchen space, you can still consider adding a few chairs with a small dining table in your new kitchen remodel design.
If there is not enough space even for a small dining table, simply place a few benches there. So, you can make a quick sit or relax while cooking your favorite dish in your newly designed kitchen.
11 Easy Tips to Remodel a Kitchen Yourself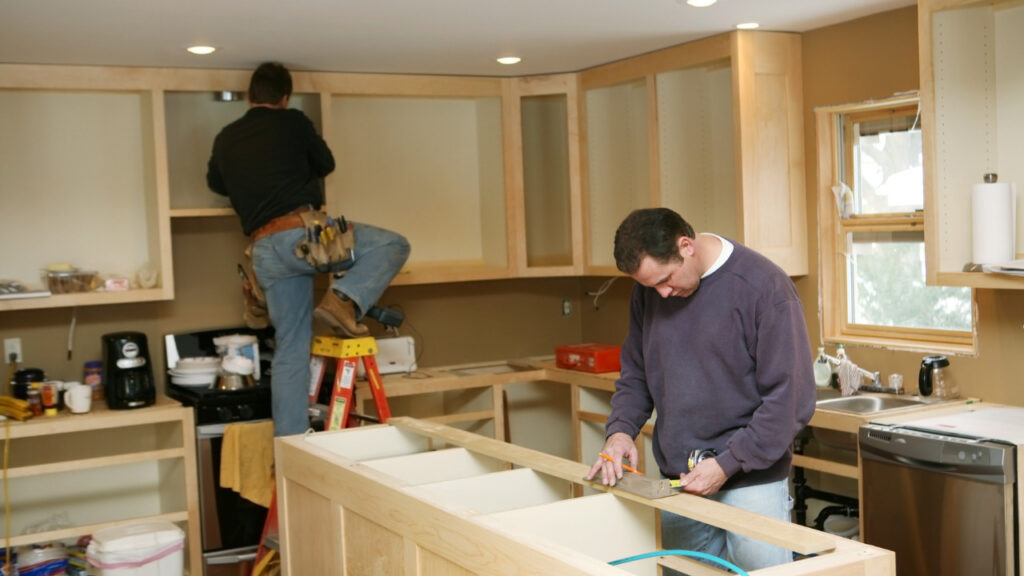 When embarking on a kitchen remodeling project on your own, there are numerous crucial aspects to consider to ensure a successful and appealing finish. Here are some tips to consider:
1. Plan and Budget
Define your project's goals and budget. Decide on the scope of the remodel and the adjustments you want to make.
2. Research and Gather Ideas
Search for kitchen remodeling ideas online, in magazines, and in home improvement books. Make a mood board to help you imagine the final appearance.
3. Measurement
Take accurate measurements of your kitchen and draw a floor layout. This will aid in layout planning and ensuring that new appliances and cabinetry fit precisely.
4. Safety
Prioritize safety during the process. Wear suitable protective equipment, use proper tools, and adhere to safety requirements when performing electrical or plumbing work.
5. Demolition
Remove outdated fixtures, cabinets, and appliances with care. Consider recycling or disposing of items responsibly.
6. DIY Vs. Professional Help
Consider your abilities as well as the project's intricacy. Determine which jobs you can confidently do yourself and which require the assistance of professionals.
7. Cabinetry and Countertops
To save money, consider cabinet refacing or painting existing ones. Consider new countertops or DIY-friendly materials such as laminate.
8. Flooring
Select a water-resistant and long-lasting kitchen flooring option. Vinyl or tile flooring is frequently a suitable choice for do-it-yourself projects.
9. Appliances
When installing new appliances, ensure they fit into the allocated locations. Before making any purchases, double-check your measurements.
10. Lighting
Replace light fixtures to improve the appeal and utility of the kitchen. Consider energy-saving LED lighting.
11. Painting
A new coat of paint can completely change a kitchen. Colors should be used to complement the overall design.
Unlock Your Dream Kitchen
A well-planned kitchen remodeling project can revitalize your house and improve your quality of life. You can create an attractive and effective kitchen environment by following our professional advice and taking into account your needs, preferences, and budget. Remember to prioritize safety, use precise measurements, and discover new ideas while designing a kitchen.