No matter if you are building a new kitchen or upgrading your existing kitchen, the choice of kitchen countertop is important. Quartz countertops are one of the recommended countertop options to consider due to their elegance, durability, low maintenance, etc.
Alongside all the other benefits of quartz countertops, the best part is that countertops are easy to install. But how can you install quartz countertops? Well, the installation process is quite easy and follows a sequence of steps.
Let's dive deeper into the details of quartz countertops and their installation.
What are Quartz Countertops
Quartz countertops, also known as engineered stone surfaces. These countertop surfaces are made up of quartz which is a natural stone. These countertops are elegant and give a modern touch to your kitchen and are quite durable in nature. Other than this, quartz countertops are flexible and can match a variety of interiors within the house.
When you have quartz countertops in your house, you don't have to worry about the damage due to scratching, chipping, and cracking. Also, these surfaces are not affected by water, stains, bacteria, and mold which make them an ideal choice for your kitchen and other surfaces.
Tips for Choosing Quartz Countertops
Irrespective of the countertop type, there are several tips for choosing countertops for your kitchen. Quartz countertops are not an exception to these. Following are the tips that you need to consider while choosing quartz countertops for your kitchen.
Consider the overall look of your space try to check different countertop styles and find which one fits the best.
Quartz countertops are available in a variety of colors, textures, and patterns. So, be mindful of all the different available options before you finally make a decision.
Just like designs, textures, and colors, there are variable thicknesses of quartz countertops.
Quartz countertops are available in standard edges, waterfall edges, and laminated edges, and much more. So, make sure to go through the edge profile before making the decision.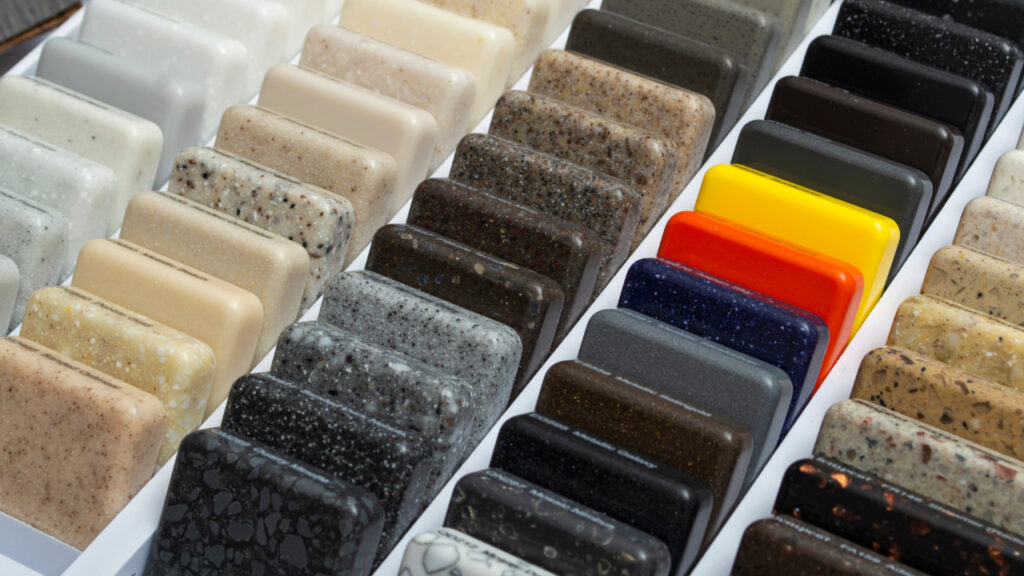 How to Install Quartz Countertops in 7 Steps
Once you have decided to get the quartz countertops for your kitchen, now it's time to install them. Here is the step-by-step installation process.
1. Plan a Layout
The first step before actually beginning the installation process is to plan the overall layout of your room. Consider the overall appearance of your space and consider different countertop options you can choose from to make the right choice. This planning is the most crucial step in the process of quartz countertop installation. Also, if you are unable to decide things on your own, then ask someone to help you.
2. Prepare Space
Now it's time to prepare the space where you want to conduct the installation job. Space preparation is important no matter if you are installing butcher block countertop or quartz.
Make sure all the electrical and plumbing work is done right. Disconnect the service lines that include all sorts of water supply, drainage lines, electricity, and gas connections.
The next thing to do is to remove the existing sink in your kitchen. Kitchen sinks can be overmount, under-mounted, or integrated. The removal of different types of sinks may require different tools and equipment.
3. Remove Existing Countertops
The next step soi to remove the existing countertops in your kitchen. The laminated countertops are relatively easier to remove. Some countertops can be screwed and can be removed by opening the screws. Sometimes, the removal of countertops may also require the use of special tools to remove them using a cutting machine.
4. Measure for Quartz Countertops
After removing the old countertop, now it's time to install the new countertop. This is the most crucial step in quartz countertops installation as precise measurement ensures accurate cutting and proper installation. Take all the measurements including kitchen sink, faucet, cabinetry, etc.
For the measurement, you can take countertop dimensions on graph paper. You can record all the measurements and note them on the graph paper that will be your rough sketch. If you don't want to do this, then a mold can be used for the measurement. Plywood strip mold can be used to prepare the model for accurate measurement that will lead to perfect quartz countertop installation.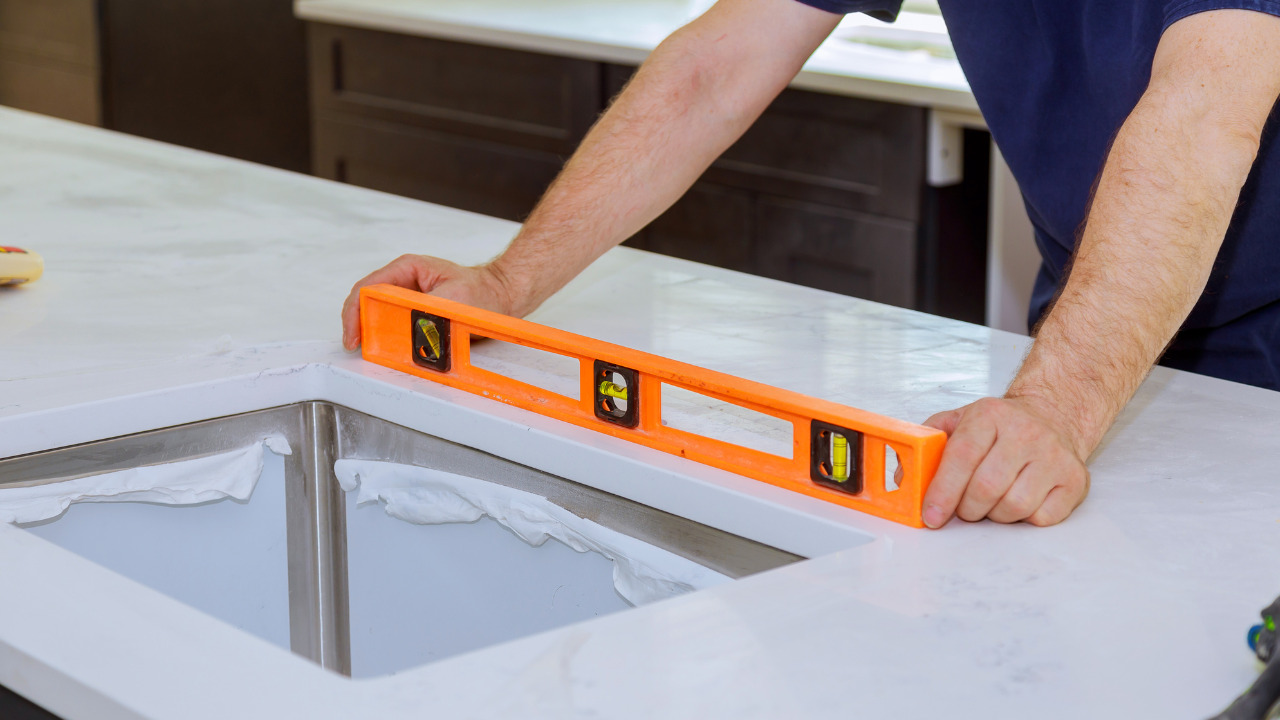 5. Dry Fitting Quartz Countertops
The quartz countertops are received according to your desired measurements after they are cut in a factory. But before you actually start the process of installation, bring the countertop slabs and let them rest in your existing environment. This will help the countertops to get acclimated to your surroundings and prevent the chances of damage.
Once you receive the quartz countertops, it's time to try dry installation. Simply keep the cut slabs in place and check if they require any further cutting or edging. Mark if there are any changes required.
6. Install the Quartz Countertops
It's finally time for the installation. But before this, install the kitchen sink and protect the edges of the cabinets. Make sure that your space is ready to have the quartz countertops in place as they are heavy. Use clips or screws to secure any weaker regions before you actually install.
Now add silicon adhesive on the surface where you want to place quartz slabs. Space adhesive beads by 6-12 inches to ensure better grip and remove the tape. Now place the slab over the adhesive beads before the adhesive dries. Now gently press the slab to let it sit properly.
7. Seal Joints
After installation, seal the visible joints using adhesive and let it dry. Now your quartz countertops are just ready.
Quartz Countertops for Modern Kitchen
Quartz countertops are the ideal choice, especially for modern kitchens. These countertops give a modern and trendy look to your kitchen and can be easily installed. But before you actually install them, make sure to check the slabs under direct sunlight to check for any signs of damage. Also, use an adhesive that matches the slab color and check the level of slabs before installation.
You can install them easily on your own. However, if you feel like you won't be able to do it right, then you can consult a professional for help.