In this fast-paced digital world, technology has revolutionized the way we operate and do things. Home improvement is no exception to this digital trend. The introduction of the paint color match app has changed the way you decorate your house and pick ideas for home improvement.
The Paint Color Match app is a brilliant way to provide convenience, accuracy, and creativity to your experiments with paint colors for your house walls.
Let us walk you through key features of the paint color match app and explore how you can use them to pick colors. Moreover, we will also discuss some of the best paint color match apps available at iOS and Android stores.
5 Key Features of the Paint Color Match App
Gone are the days when you used to flip the paint books and magazines for hours, trying to find the best colors for your house walls. Now, your mobile phone technology has made things extremely easy. The Paint Color Match app is an app to identify the paint color you are looking for to paint over your wallpapers.
These apps use a combination of smartphone technology with advanced color recognition algorithms and can give you the choice to match colors instantly. You can visualize them in different settings and make informed choices about the paint colors you want for your home.
Here are some of the key features of the best paint-matching app:
1. A Color Matching Scanner
The most amazing feature of the Paint Match app is the color-matching scanner.
All you have to do is point your phone camera at a surface. It can be a wall, a piece of furniture, or even your car. The paint color matching scanner app will analyze the color and suggest the closet-matching paint color and shade from its vast database. The car paint matching scanner app is another kind of paint-match app, that helps you select paint colors for cars.
The matching scanner is especially helpful for those people who want to replicate a color they came across in real life but don't know the shade very well.
2. Ability to Visualize Virtually
The paint color match apps have a feature to offer virtual room visualization.
You can take a snap or a photo of a room and match different paint colors to the wall digitally. It allows homeowners, interior designers, and decorators to analyze how different shades will look in the designated area before recommending a specific color. 
Choosing a paint color with a match app is just like picking up a house color scheme interior because making the right decision impacts your house's charm. 
3. Paint Color Palettes and Combinations
The paint color matching apps have a particular way of providing curated color palettes and combinations. It takes the guesswork out of creating similar and harmonious color schemes.
You can even explore preloved and pre-chosen color sets and generate your own by selecting from a range of color shades.
4. Detailed Product Information
If you are using a paint color match app, and have found your ideal color through it, you can also get access to all the product information. It contains the paint type, finish, and quantity you will need to paint your walls.
Moreover, this feature streamlines the purchasing process. It ensures that the selected paint is readily available for the project.
5. User-Friendly Experience and Interfaces
The best paint color match app has the feature to prioritize user experience. It offers intuitive interfaces, making navigation through color shades and color selection an easy affair.
It doesn't matter if you are a tech-savvy person or don't have much familiarity with smartphone apps. These apps and platforms are designed to be understood and accessed by everyone alike.
3 Peoples to Get Empowered by the Paint Color Match App
Whether you are a DIY paint enthusiast or a professional painter and decorator, the paint color match apps are the best tools you can add to your everyday life. All you have to do is get a free paint color matching app and see the magic:
1. Homeowners and DIY Lovers
With a paint color match app, you don't get the unnecessary uncertainty associated with selecting your desired paint colors.
Instead of visualizing and imagining how a particular color will look in your bedroom or bathroom, you can simply take your phone out and see it with the color-matching app's visualization feature.
In this way, the app empowers you to make confident color choices that align with your imagination.
2. Interior Designers and Decorators
If you are an interior designer, you should make the color-matching apps a part of your portfolio. You can use these apps to create engaging, compelling, and catchy visualizations for your clients.
Showing a client how a color scheme will look for their living room or bedroom will significantly increase your chances of having a great consultation process.
3. Painters and Contractors
If you are a painter and working on renovation projects, the color-matching apps can streamline the process of matching existing paint colors with new and fresh ones.
It doesn't matter if a wall needs just a touch-up or full renewal, the color-matching app can ensure a precise color match, making your job easy.
5 Best Paint Matching Apps Available on Android and iOS
Let us walk through a list of the best paint matching apps that you can find on your Android Google Store or iOS Play Store:
1. Color Snap Visualiser: Handiest Color Palette Creator
It is a free paint color match app that allows you to take a snap or photo of a part of your house, and turn the wall colors into a palette.
Next, you have to take a photo of a room where you plan to paint the walls and try out the palette colors in the app. It allows you to share your newly-created masterpiece with others,
You can also explore similar colors to understand if you have picked the right shade. Moreover, you can get information about coordinating and similar colors.
The app offers a quick and easy process, with more than 1,500 color shades to choose from. You can also save the colors you like for future reference.
However, it doesn't always work great on textured walls, and paint color may show up on the objects in the app.
This app is available on both the iOS App Store and Android Play Store.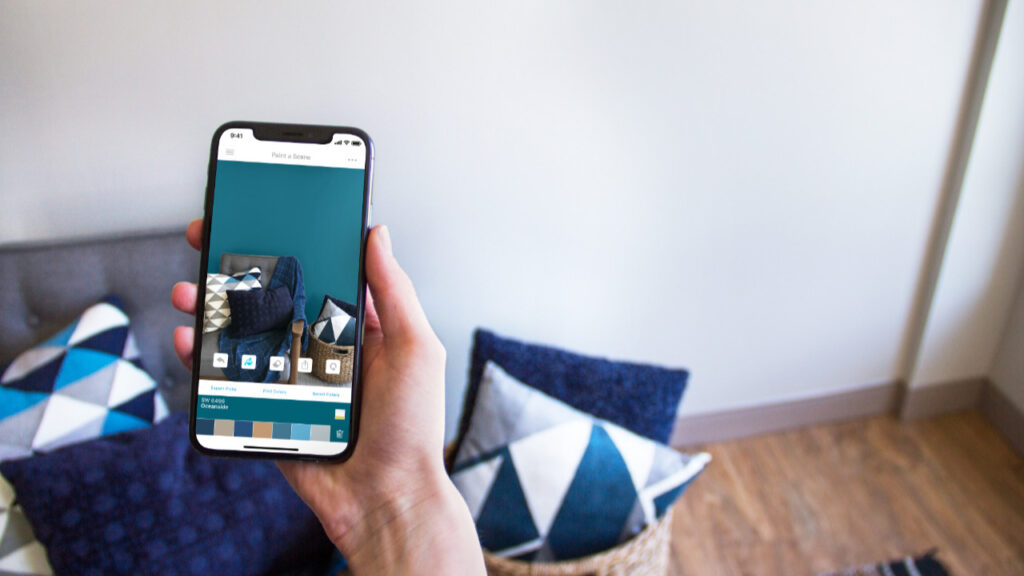 2. Nix Paints: Most Accurate Color Grabber
This app has the most accurate color-matching features and it can create color schemes to match any color you grab. Furthermore, it includes notes for each color sample, so you can have detailed information and analysis on the shade you choose.
You can use this app in conjunction with the Nix Mini Color Sensor, to grab colors from any photo or surface. When you place the sensor on the surface, the app displays the exact color.
Afterward, you can search for different types of paint and brands to find the best match for the shade, and locate your nearest paint store to get the color.
This app also allows you to save the scanned colors for future reference. You can also use the color-matching feature for graphic design projects. It is a free paint color match app, and its only drawback is that you have to download the sensor as a separate app (Nix Digital) to get digital color values.
This app is available on both iOS App Store and Android Play Store.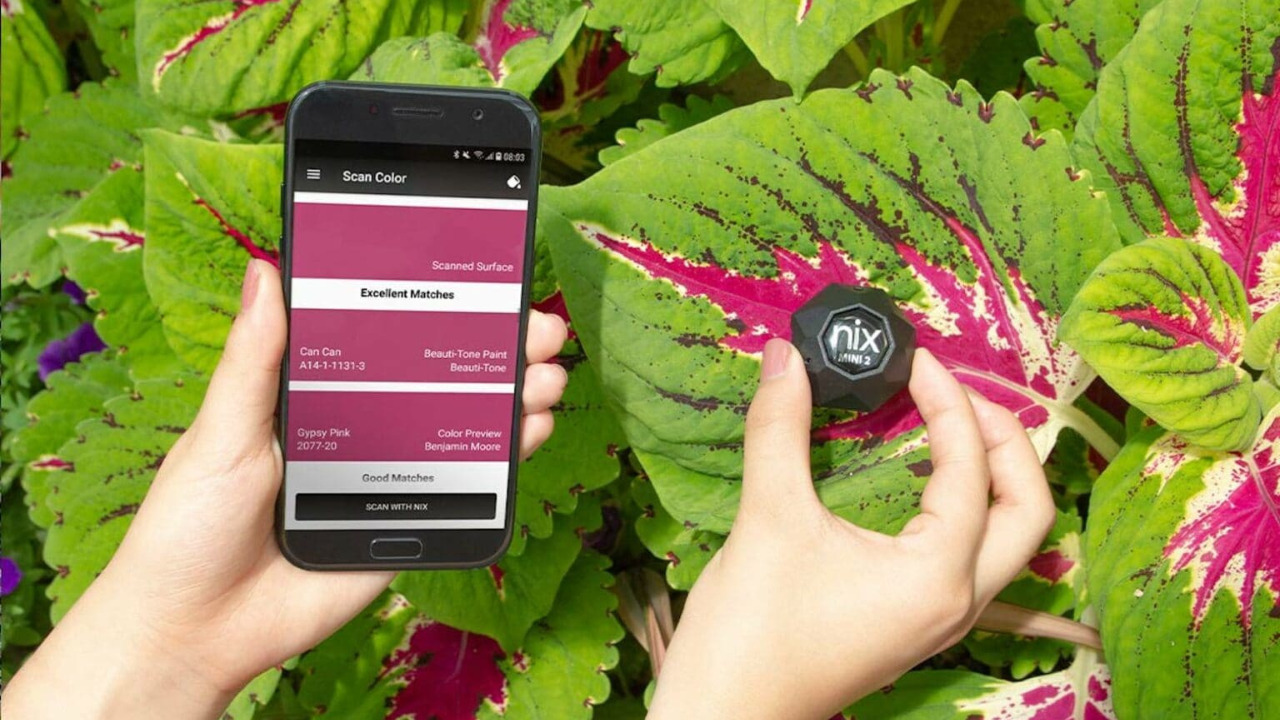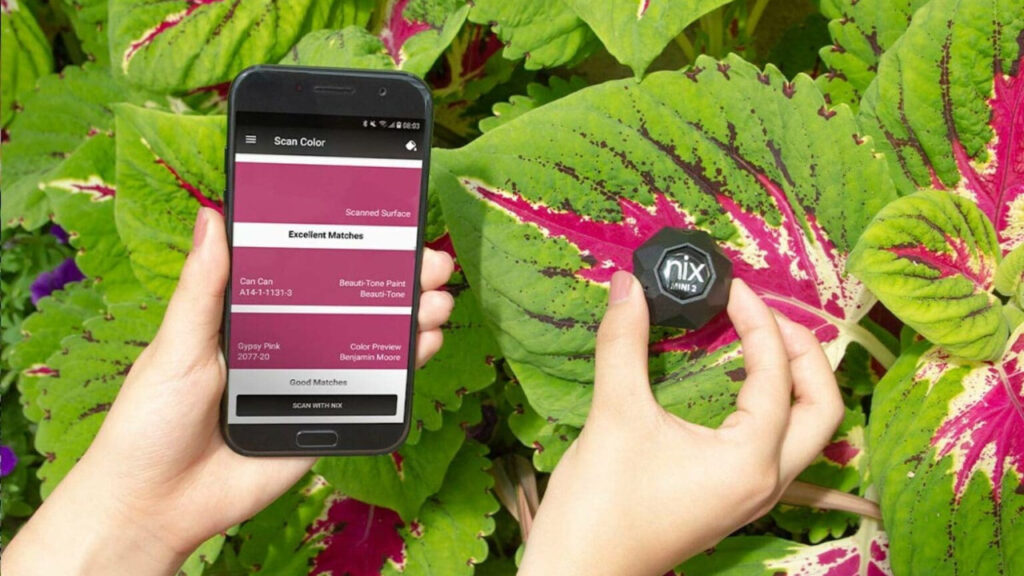 3. Color Smart: Fastest Color Finder
Do you remember going to the hardware store and choosing paper cards with different paint colors? Now you don't have to specifically go out of the house to find the perfect color for your room painting project.
Just download this free app, available on the Android Play Store and iOS App Store.
Color Smart provides you with color-matching features that can help coordinate similar colors and shades. You can save your favorite colors and images to get future reference. You can even share your projects on social media with this app.
Moreover, you can discover new colors and preview your selections in room scenes.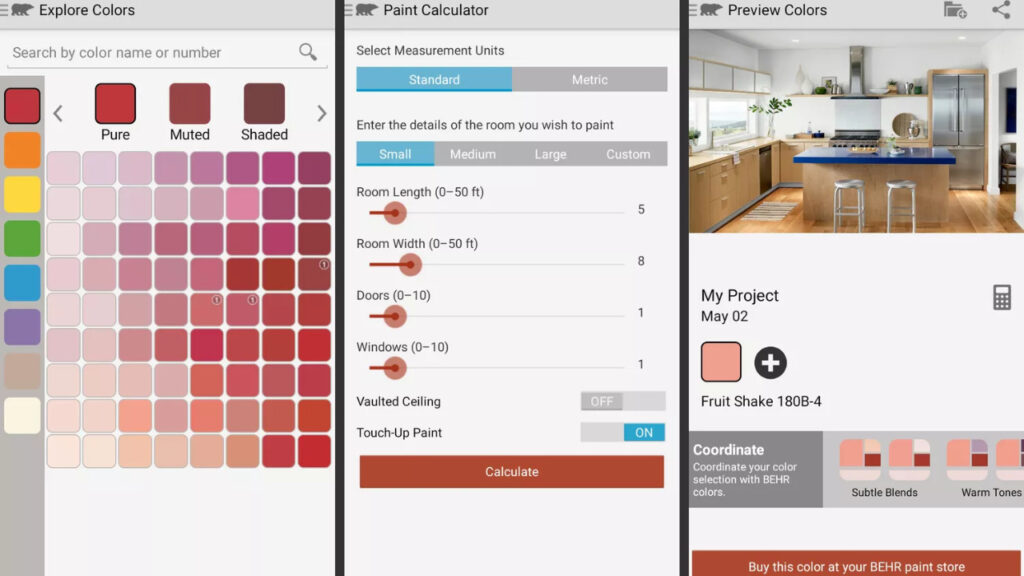 4. Color Capture: Best Paint Project Planner
With Color capture, you can save photos and coordinate colors together. It provides a product catalog that helps find the correct paint for your project.
You can use this app by taking a snap of any object or color you like. The app can help you find out which paint color most closely matches it. You can save colors, add notes, and even share your desired paint colors and shades with friends.
This app also helps explore new color combinations and locate your nearest paint retailer. The only drawback is that it's available for iOS App Store only. Moreover, it doesn't allow viewing color combinations together.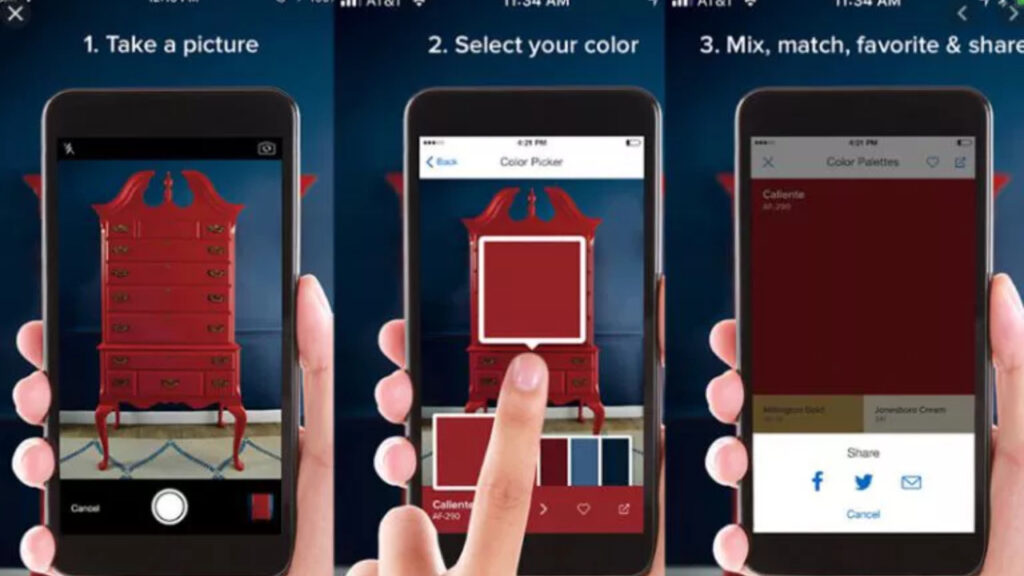 5. Paint Tester: Convenient Room Color Tester
This free app comes precisely in the package it advertises. It tests different colors of wall paint on a snap of your room.
You can use the color picker and smart paint bucket to change the paint color quickly and easily. Furthermore, the app allows you to choose more than one color at once to create an accent wall.
You can adjust the brightness to account for the lighting situation. Moreover, you can save images for later use and work on them anytime you like. It is available on Android and iOS App Store.
The drawback is the absence of an undo button and that it doesn't include specific paint products.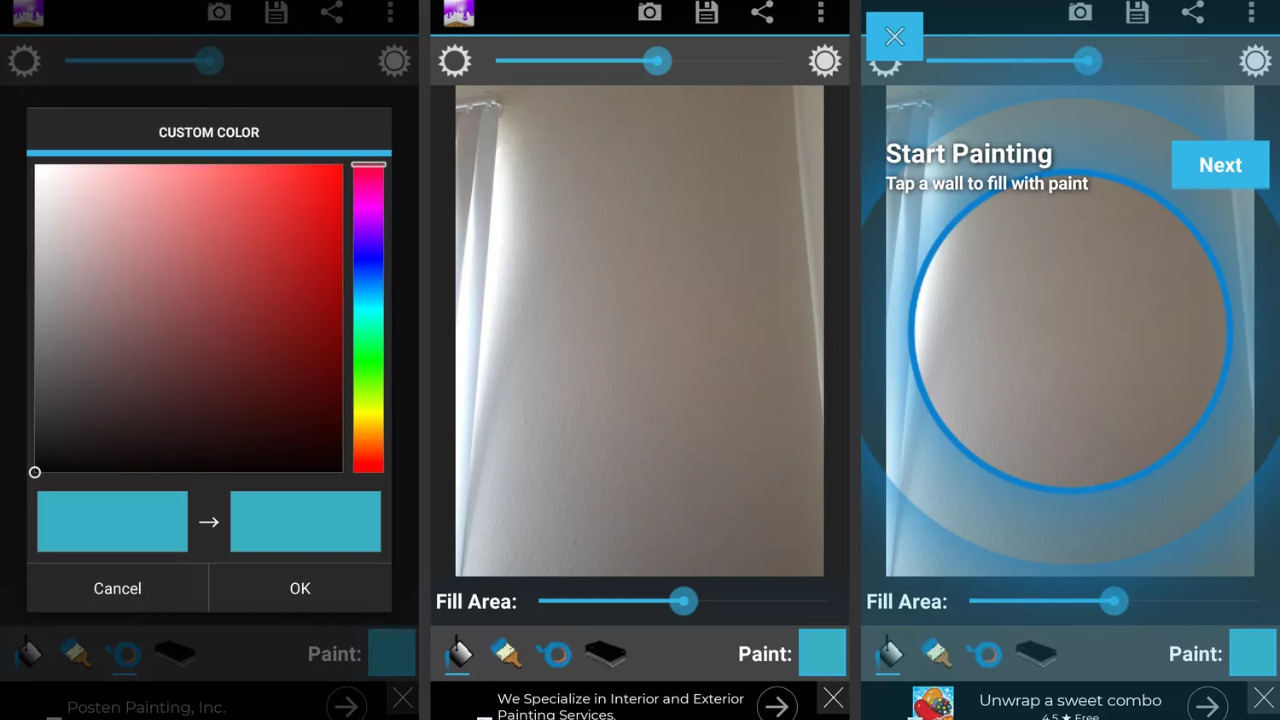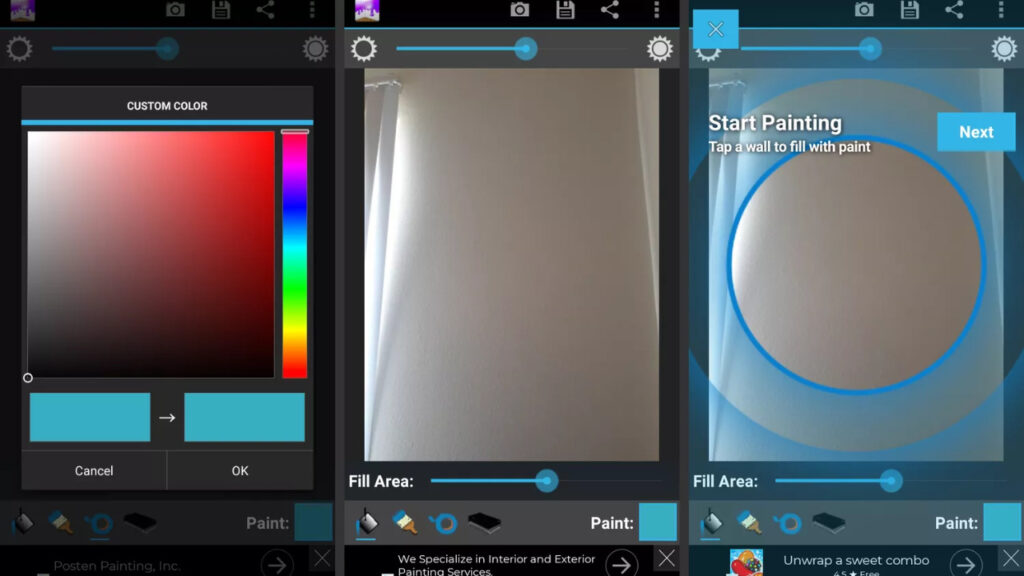 Ready to Revolutionize Your Paint Game?
There's no doubt that paint color match apps have changed how we perceive home improvement projects. These apps offer a seamless blend of design, creativity, and technology.
The paint color-matching scanners, virtual visualization, and user-friendly interfaces allow a diverse audience to make their designs more creative and with many innovative choices.
As technology advances, these color-matching apps will provide endless possibilities to shape the future of home improvement.