In this article, we will study the role of sleepers in the railways. We shall also discuss the merits, demerits, and functions of sleepers in railways.
Sleepers
The components that are placed over the ballast and under the rails for fixed support so that the load could transfer from rails to the ballast are known as sleepers. They are also known as railroad or cross ties.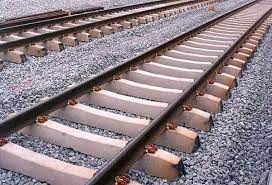 In this picture, you can see that the heavy axial load from the wheels acting on the rails and then on the sleepers, then sleepers will transfer this load to ballast and then on the formation or sub-grade. It also shows that sleepers have a very significant role while the transferring of load.
Functions of Sleepers
These are some of the main functions of sleepers.
One of the main functions of the sleepers is to provide firm support to the rails.
It acts as a medium for transferring the loads.
It enables the railway track to get stable longitudinally and laterally.
It provides a uniform distribution of load.
It also retards the effect of vibrations generated from the rails.
Provide a proper path for the railway track.
Requirements of an Ideal Sleeper
It should require minimal cost for its maintenance.
Easy to place and remove.
Its weight should be in the medium range so that it would be easy to handle.
It should have enough bearing strength to protect the ballast from crushing.
Its fastenings should be feasible for the rail's replacement.
It should be vibration-resistant.
Types of Sleepers
There are some of the main types of sleepers. We will discuss each type with its details.
Wooden sleepers
Cast iron sleepers
Steel sleepers
Concrete sleepers
Composite sleepers
1)Wooden Sleepers
The sleepers made of wooden elements are called wooden sleepers. Timber is used for the manufacturing of wooden sleepers. It is considered as best type because it satisfies all the conditions of an ideal sleeper. It has a low initial cost while its maintenance cost is very high.
There are further two types of wooden sleepers that are hardwood and softwood sleepers.
a)Hardwood sleepers
They are durable and long-lasting
Generally made up of oak, teak wood, and jar rah
Don't need treatment like softwood sleepers
They are denser than softwood sleepers
b)Softwood sleepers
They are more resistant than hardwood sleepers, but they do not provide resistance to the enlargement of spike holes.
They are also not suitable for gauge adjustments
They are generally applicable for open deck bridges
Advantages of Wooden sleepers
Some of the advantages of wooden sleepers are as follows:
Easy manufacturing due to its availability
Suitable for all types of routes
Do not cause damage to the ballast
It can resist vibrations and shocks
Provide an easy ride to the passengers
Low initial cost
Conventional fastening
Appropriate for track circuited areas
Disadvantages of Wooden sleepers
Some of the disadvantages of wooden sleepers are as follows:
Its service life is too short
It can be worn or get decay easily
They have a negligible scrap value
Affected by climatic conditions
It does not resist fire
It has a high maintenance cost
Difficult gauge adjustment
Don't resist white ants attack
Treatment of Wooden sleepers
Treatment of wooden sleepers is very essential to enhance their service life.
By using different types of preservatives
Air seasoning helps to reduce the moisture level
By using creosote oil, salt solution (Zn Cl2), and mercury bi-chloride (Hg Cl2)
2)Cast Iron Sleepers
These sleepers are widely available in the railways of India. Their manufacturing member is cast iron. It has some types:
Pot type sleepers
Plate type sleepers
Box type sleepers
Advantages of Cast Iron sleepers
It has a low maintenance cost
This type of sleeper is easy to handle due to its light-weight
Its service life is about 50-60 years better than wooden sleepers
It has good scrap value
Elastic fastening is applicable
It has also easy gauge adjustment
Disadvantages of Cast Iron sleepers
It is not preferable for high-speed routes
Do not resist corrosion and shock absorption
Not preferable for coastal areas
Easy breakage due to brittle nature
It requires numerous fastenings
Require proper maintenance
Its initial cost is high
3)Steel Sleepers
These types of sleepers are much stronger than wooden sleepers due to their strength. Their manufacturing components are steel members. After the wooden sleepers, these are the most successful sleepers. It also has the modern structure than the previous ones. It consists of two types:
Key-type sleepers
Nut and Bolts type sleepers
Advantages of Steel sleepers
These are applicable for all types of routes.
Its maintenance cost is also low
It has a long life span
They are more reliable than other sleepers
It has high resistance against fire and creeps
Required less ballast
Its installation is accessible
It is also profitable than concrete sleepers
Smooth gauge adaption
Good scrap value
Disadvantages of Steel sleepers
High initial cost
Do not resist corrosion
It is not appropriate for all types of ballast
Affected by the chemicals
Not Appropriate for track circuited areas
It is also not applicable for all rail sections
4)Concrete Sleepers
These sleepers are widely used for railway tracks due to their high strength and ability to resist shear damage. Their manufacturing components are cement, sand, and reinforcement bars that are locally available.
Concrete sleepers are also known as R.C.C sleepers due to the presence of reinforcement in them. These steel bars make them more durable. Two types of concrete sleepers those are mostly available in railways.
Mono-block concrete sleepers
Twin block concrete sleepers
Advantages of Concrete sleepers
It has a service life of 40-50 years.
It requires an easy manufacturing process
Having less maintenance cost
Only elastic fastening is used for these sleepers
Resistant to buckling and corrosion
Appropriate for track circuited areas
Disadvantages of Concrete sleepers
Its heavy-weight is the main drawback
Installation is not smooth to handle
Uneconomical due to high cost of construction
Vulnerable to getting damaged during placing of sleepers
There is no scrap value for concrete sleepers
Chances to break during transportation
5)Composite Sleepers
It is one of the modern types of sleepers. Their manufacturing components are recycled materials like rubber, waste plastic and waste tires, etc. These are also known as Plastic sleepers. Their cost is 50% less than the wooden sleepers. Their workability is more accurate than the concrete sleepers.
Their weight is also lighter than concrete sleepers and can be organized at any length. These sleepers are reinforced by long glass fibers that are responsible for their strength and stiffness.

Advantages of Composite sleepers
It serves for a life period of about 50 years
They are not harmful to the environment
More stable. Less wear and tear and cause less noise during movements
Required low maintenance cost
Their scrap value is also appreciable
Preservation of resources up to 80%
They are resistant to corrosion and shock absorption
Demerits of Composite sleepers
They are not resistant to fire
Its cost is increasing due to higher demand
A complete design guideline is not available for composite sleepers
It contains low strength and stiffness due to short of no fiber reinforcement
Density of Sleepers
The number of sleepers required for a single rail track is known as the density of the sleepers. The density of sleepers can be shown as:
Density of sleeper = (N + x)
Where N is the length of the rail in meters or x can vary from 3 to 6. We can better understand the density of sleepers by solving an example.
Example
If the length of the rail is 13 m and the number of sleepers required for this length is 19 then we can compute the density of the sleepers as:
N = 13
Sleeper density = N + x = 19
Then in terms of (N+x),
The density of the sleepers will be = (N + 6)
It ranges from (N + 3) to (N + 7) in Pakistan
It ranges from (N + 9) to (N + 11) in America
Spacing of Sleepers
The spacing of sleepers is mainly dependent upon the density of the sleepers.
The spacing of the sleepers is less where there is a risk of damage.
The spacing is not uniform between the sleepers, but it should be moderate on a railway track.
It also depends upon the type or the number of loads acting on the rails.
Also read: Defects in Rails