Do you want to remodel your kitchen to give it a completely new look? If yes, you can stylishly upgrade your kitchen by choosing a popular galley kitchen idea. 
If you are new to a galley kitchen, this guide will also become your helping hand. Explore the modern galley kitchen ideas and learn about galley kitchen layouts. But firstly, let's make you familiar with a galley kitchen.
What is a Galley Kitchen?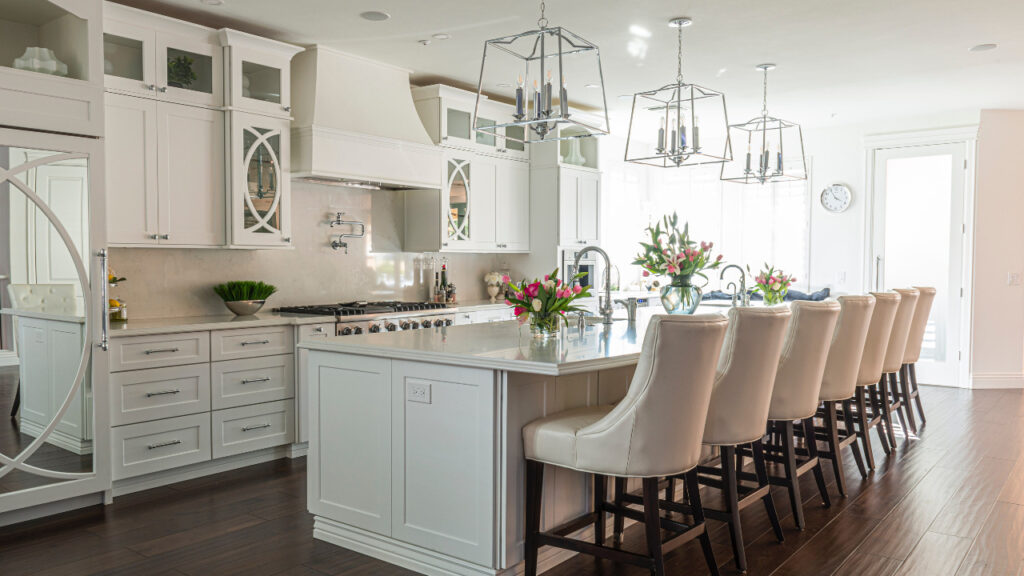 A galley kitchen layout is long and narrow, featuring units (cabinets) on both walls and an aisle in the middle. Kitchens in ships and trains are a perfect example. This kitchen layout is a compact style and is also known as a corridor kitchen layout. 
Besides, there are two workstations – one faces the wall, and the opposite wall consists of prepping or cleaning fixtures.
There are five popular layouts, such as one-wall, U-shaped, L-shaped galley and G-shaped layouts. Because the overall designs are compact, designers happily spring galley kitchen ideas for premium apartments.
Importance of Galley Kitchen Designs
A galley kitchen design is the most convenient choice, if you have a small or congested kitchen space.
However, it doesn't mean large spaces aren't suitable for galley kitchen ideas. You can add a narrow kitchen design to a large area by including multiple workstations. You can fix one workstation for cooking and the other for appliances and other stuff in your kitchen.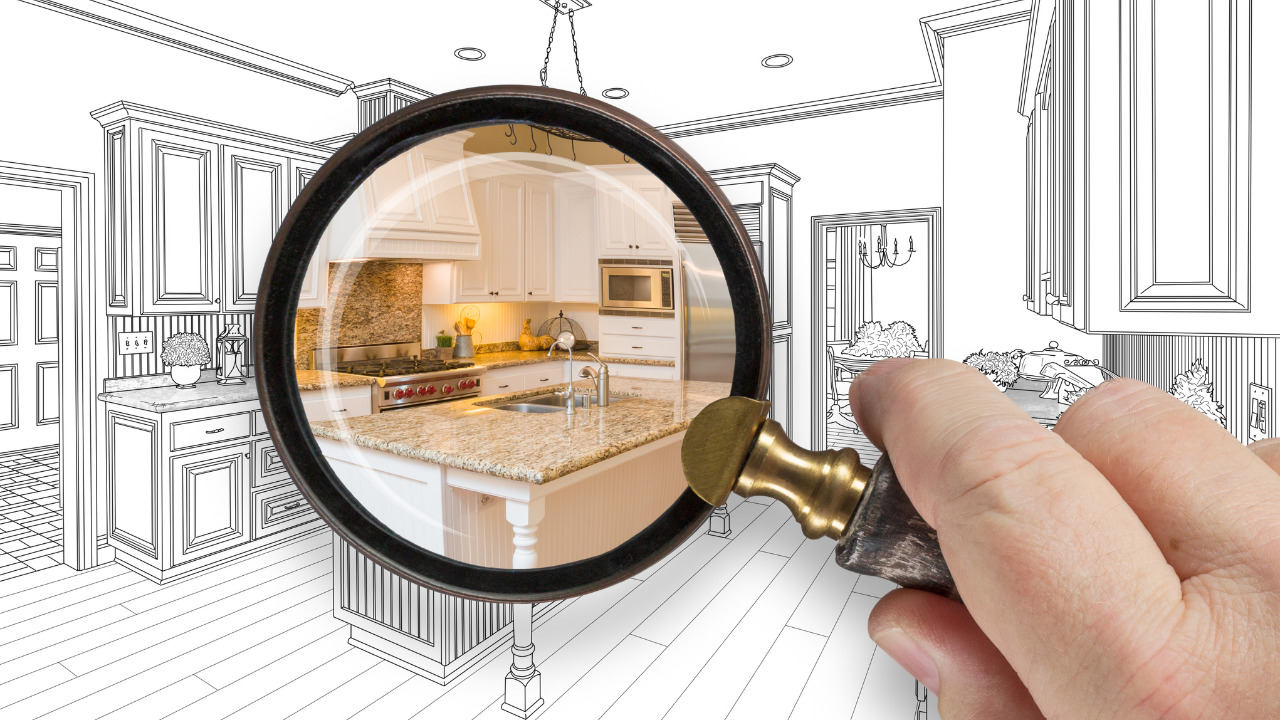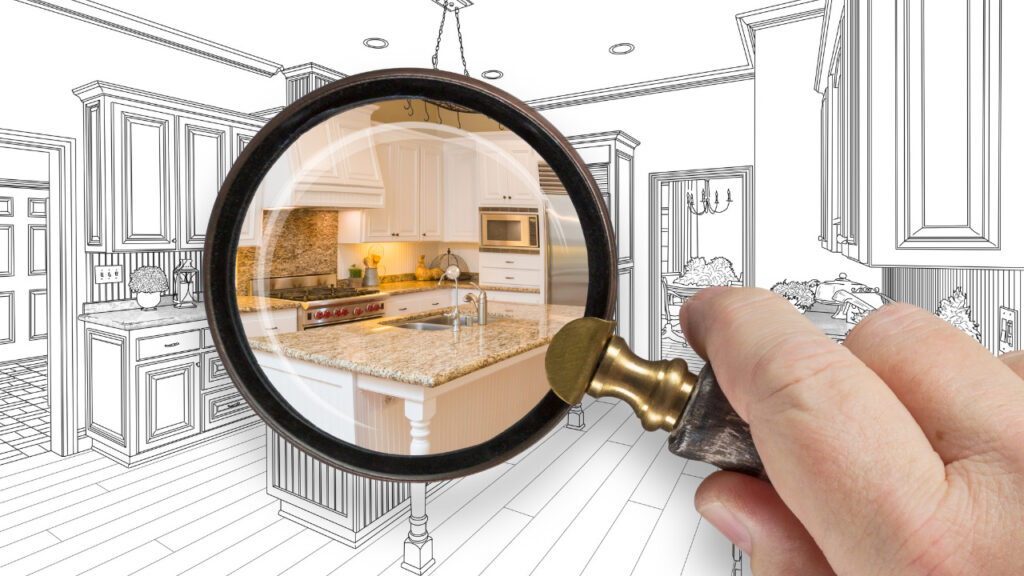 You can also install kitchen sink faucets or other hardware fixtures to the second workstation of your large galley kitchen design.
Despite the small size of the galley kitchen, there are numerous benefits that homeowners can enjoy such as:
Galley spaces are easy to clean and maintain.
It is the best option for contemporary style lovers.
You can customize the benchtop on each side of the aisle at any length.
Homeowners can get better and plenty of storage space on both sides of the aisle under the galley design.
Make the best use of the available galley space.
It is a fully-functional kitchen setup.
A galley design is best if you are looking for galley kitchen ideas on a budget.
It is an easy-to-adapt design even for the tiniest areas, such as ships, planes, offices, and apartments.
Let's discuss a few trendy galley kitchen layout styles in the next section.
4 Galley Kitchen Layout Styles to Build in Your Home
From efficient styles to trendy layouts, you'll find the perfect design for your space. Make every inch of your kitchen efficient by considering the following trendy four galley kitchen layout styles.
1) G-Shaped Galley Kitchen Idea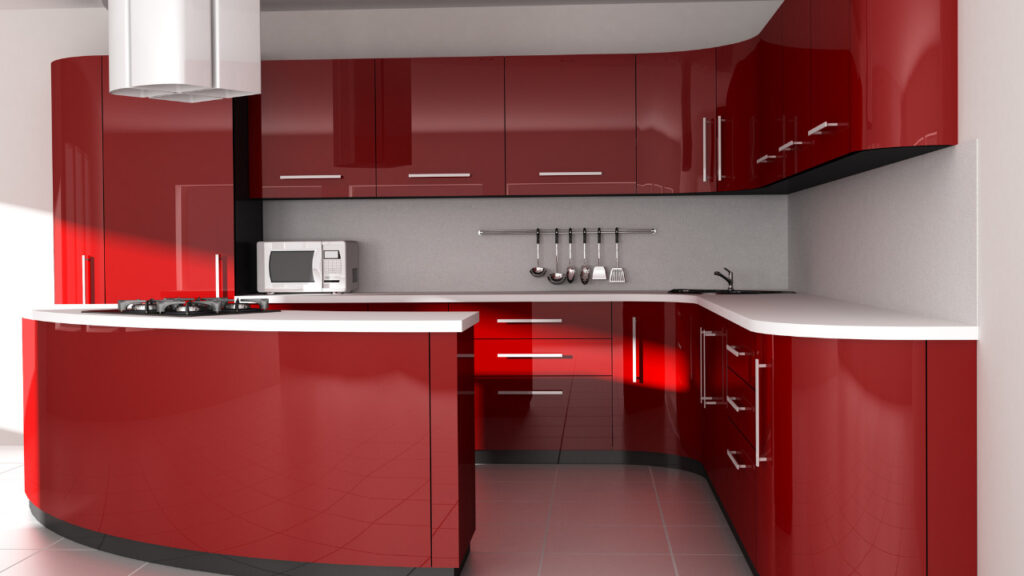 G-shaped is a cleverly designed galley kitchen layout to offer an impressive combination of storage and style to improve your cooking experience. You can get plenty of storage and food preparation space in a G-shaped galley kitchen design.
This layout has ample cabinet space to store all your gadgets, kitchen appliances and spice jars and what not. So, renovate your cooking space by selecting a dreamy G-shaped galley kitchen design!
2) U-Shaped Galley Kitchen Layout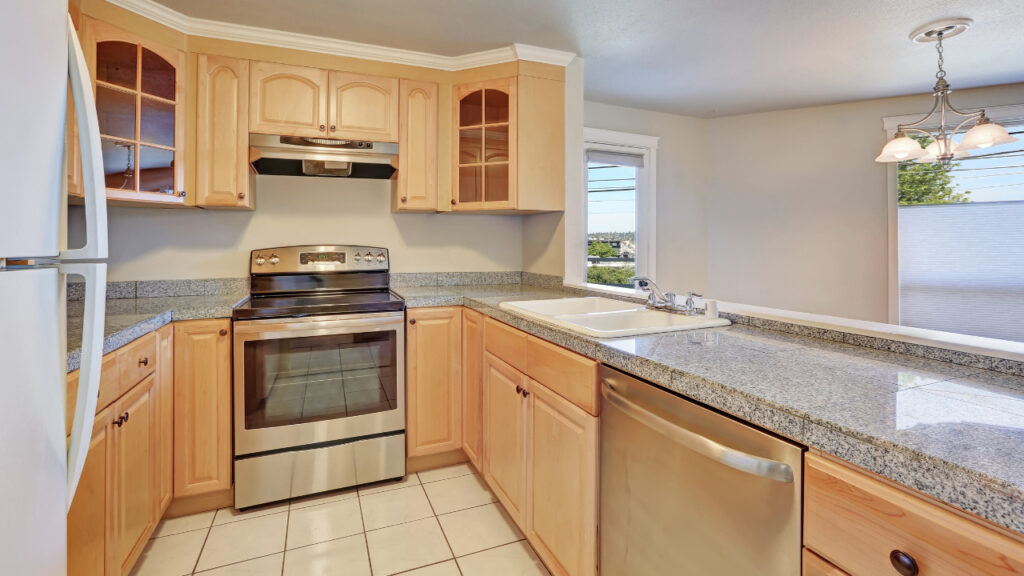 A U-shaped galley kitchen layout offers maximum comfort and efficiency with plenty of counter space and storage options. It is an ideal layout for busy kitchens. You can get an open flow even in a small space by considering a U-shaped layout.
You can keep all your necessities within reach that makes working easier.
3) L-Shaped Galley Kitchen Design
Give your outdated kitchen a modern twist with an L-shaped galley design. You can create an eye-catching L-shaped design for your kitchen for a sleek layout.
Maximize the functionality of an L-shaped galley design by adding a long island. It will definitely improve the storage and food preparation possibilities in your kitchen. L-shaped designs are classic and work with both traditional and contemporary style cabinetry.
Homeowners can easily include the kitchen triangle-cornered (appliances, cooking range and faucet) concept by the window to maximize space usage under an L-shaped galley design.
4) Open Galley Kitchen Ideas for Limited Space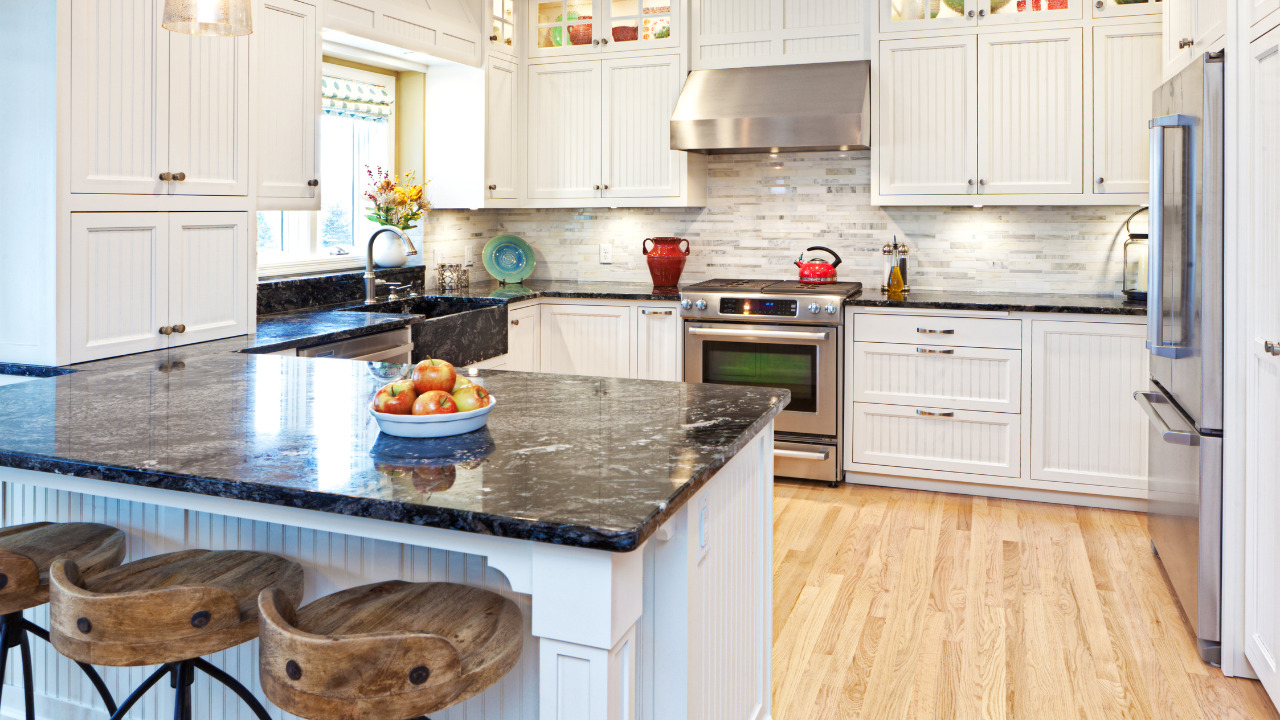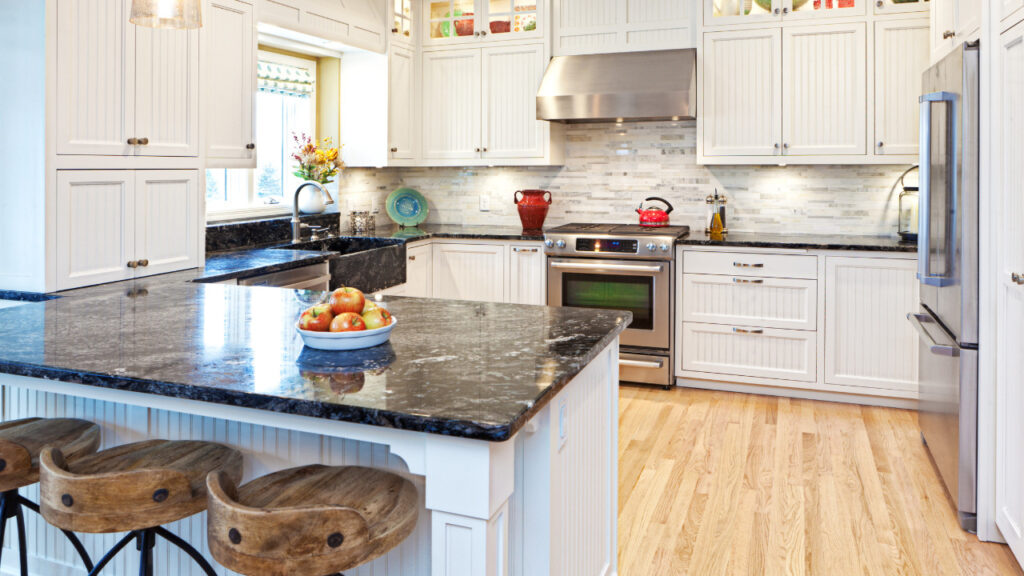 An open galley kitchen layout looks more spacious – a given fact. For a comfortable and convenient open galley kitchen design, consider adding the working areas such as cooking range, built-in shelves and refrigerator along the same wall.
Bringing down the walls partially will also give an airy look to your galley space. However, don't bring down all walls because it is also essential for storage. You can also renovate an open kitchen with limited space by extending the galley layout into a nearby living or dining area.
3 Single Galley Kitchen Ideas for Renovation
Transform your kitchen into a functional and trendy galley space by considering the single galley kitchen design ideas. The selection of following ideas and designs helps you create a perfect kitchen. Choose from these ideas that suit your space today for an updated and aesthetic kitchen;
1) Knockdown the Walls
Knocking down one or two walls is one of the best single galley kitchen ideas. A one wall or a single galley kitchen design is a suitable design for narrow spaces. Despite adding boundaries or walls to the space, consider replacing it with a seating space or simply making the kitchen area spacious.
It will allow better access to the dining area or living area. Or, it will clear your view and let the light reflect in the single kitchen appropriately.
2) Add Open Shelves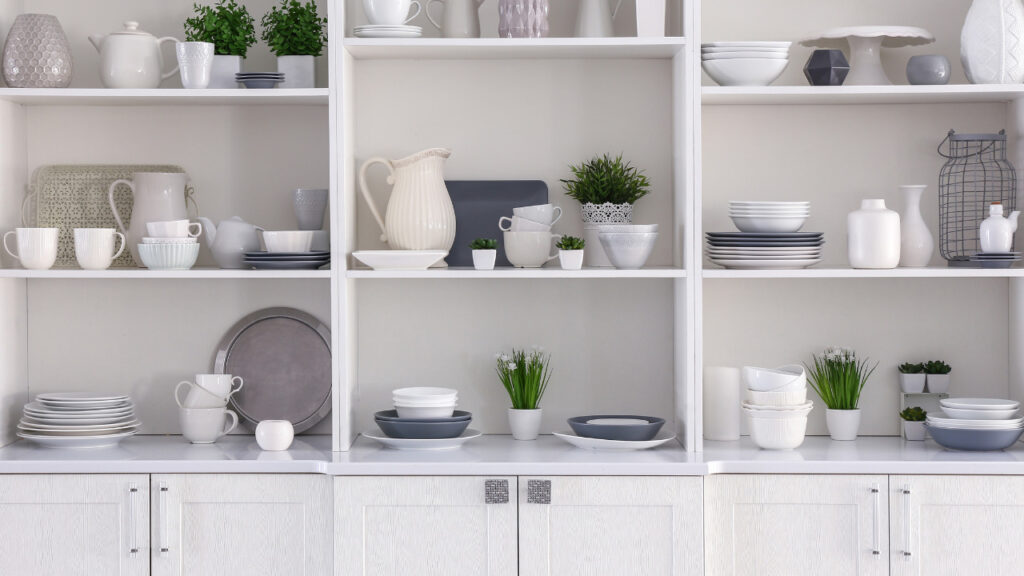 For an open galley kitchen design, add open shelves instead of traditional upper cabinets. It will give an airy and less confined look to your space.
To give a comprehensive look to the open shelves in the galley space, paint the lower cabinets with bold colors such as red, orange, blue, black, purple, and yellow. You can extend the open shelves countertop to open up the galley space. This extended countertop will provide more storage space.
This galley space layout falls under Scandi-style small galley kitchen design and is loved by people who prefer to bring on their creativity.
3) Add Slab Doors
If on a budget, adding slab doors to the kitchen is an ideal consideration. Due to its updated structure and interior, it will give the kitchen a versatile and elegant look. However, slab doors are the perfect choice for all kitchens for an efficient look.
6 Easy Galley Kitchen Ideas on a Budget
Upgrade your galley kitchen at a fraction of cost with these budget-friendly galley kitchen ideas. With these designs, you can create a perfect and functional space for cooking. So, get ready to be inspired by the following ideas!
1) Add Formica sheets to Countertops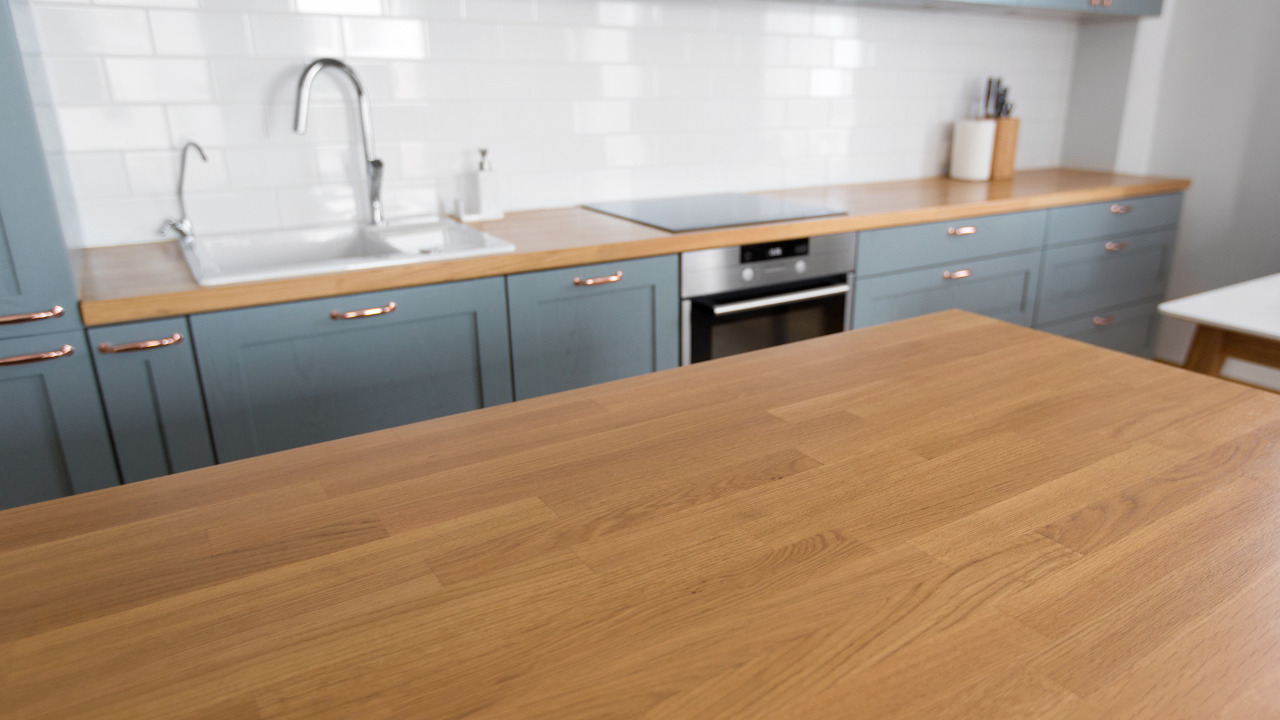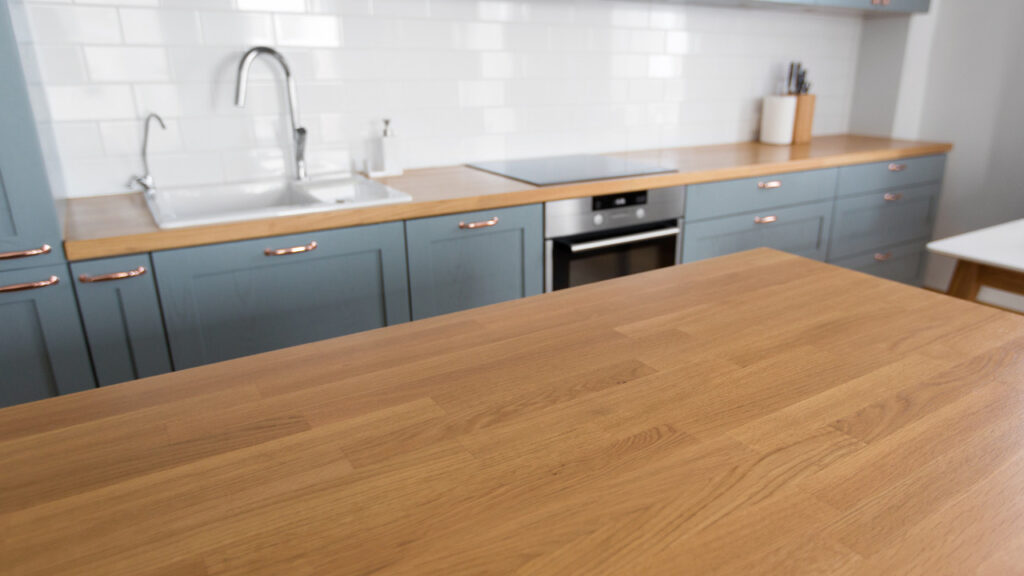 This design's inspiration simply comes from the original galley architecture for sheep kitchens. Formica is the brand name of a laminate substance, or Formica and laminate are similar in nature.
These sheets are widely used in construction, especially for kitchen countertops or bar counters. Formica sheets are available in various colors, sizes, and designs. So, you can choose one that compliments your galley space.
These sheets are highly affordable as compared to other countertop's materials such as marble, stone and granite. The average cost to install Formica to the countertops is $25-$60 per square foot.
After covering the countertops with new Formica sheets, nothing more wouldn't be required to add to the galley space.
2) Integrated Design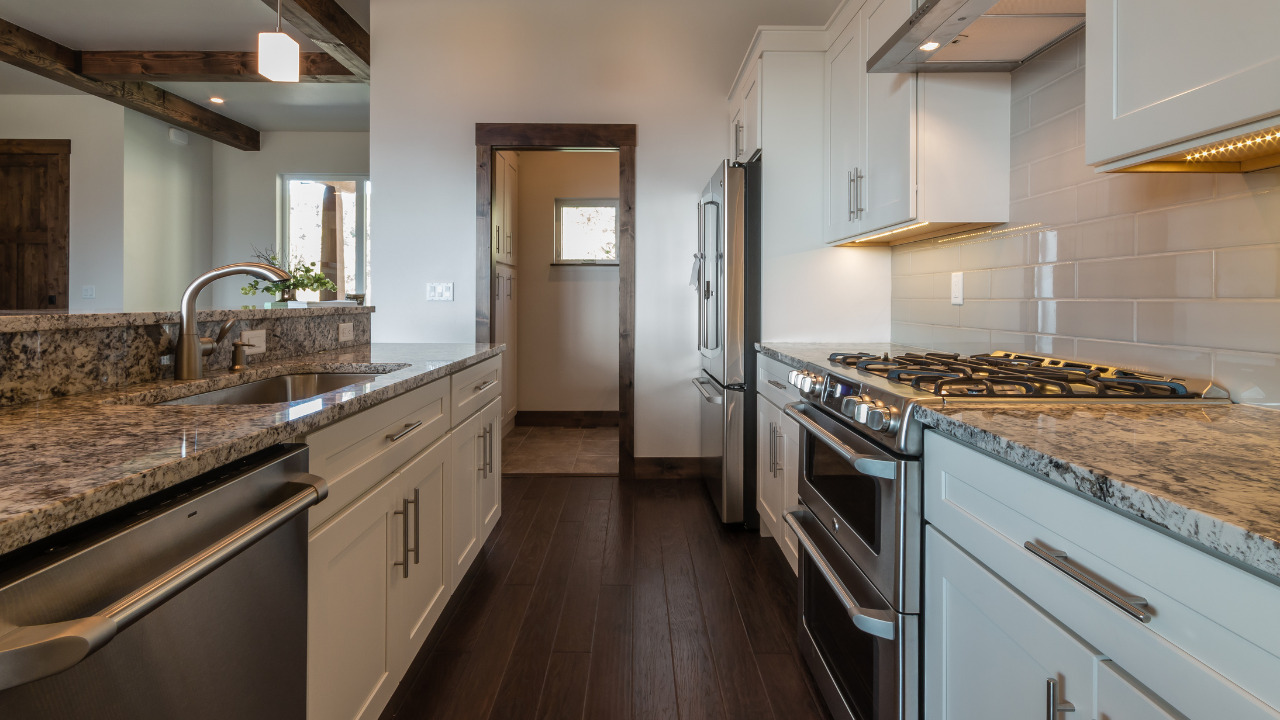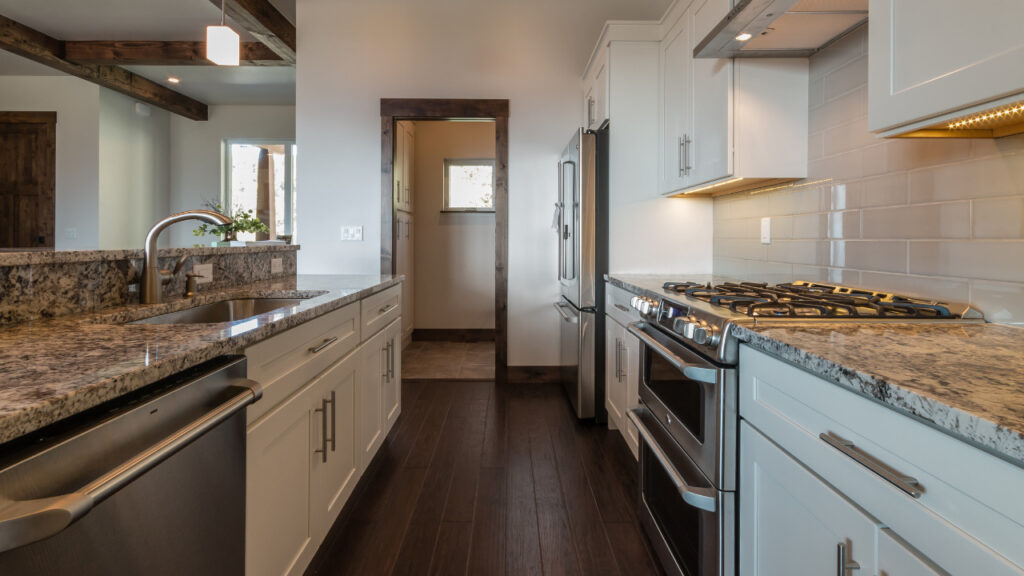 If you want to keep the distraction in your kitchen minimal while cooking or serving your food, go for the integrated designs. You can make a small galley kitchen layout wide by adding integrated handle doors in this type of kitchen design.
3) Keep it Minimal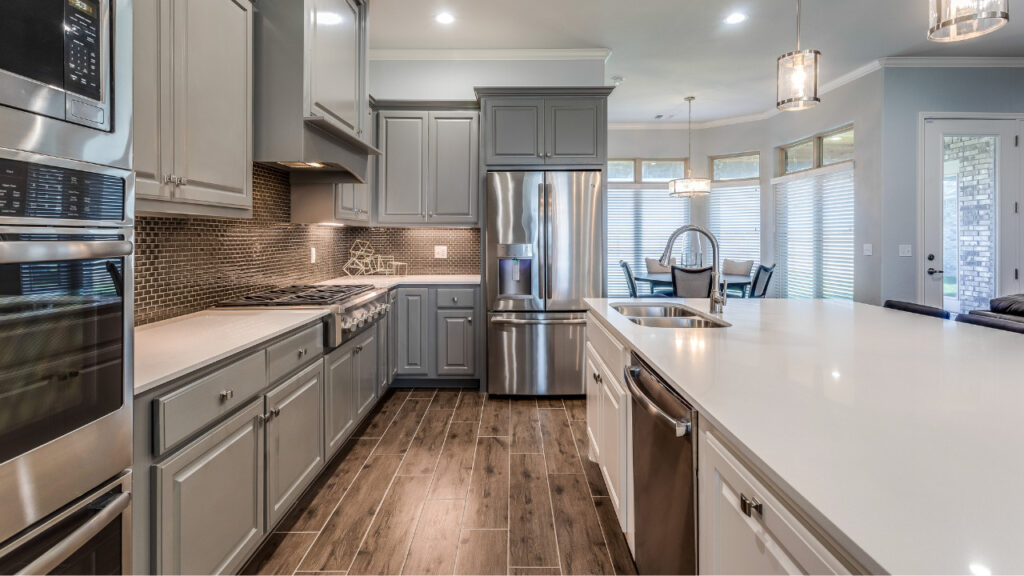 If you don't like to add too many colors or contrast to your space, not an issue at all! You can keep your space simple and elegant by covering minimal details. A minimal look doesn't mean a boring design.
4) Go with the Flow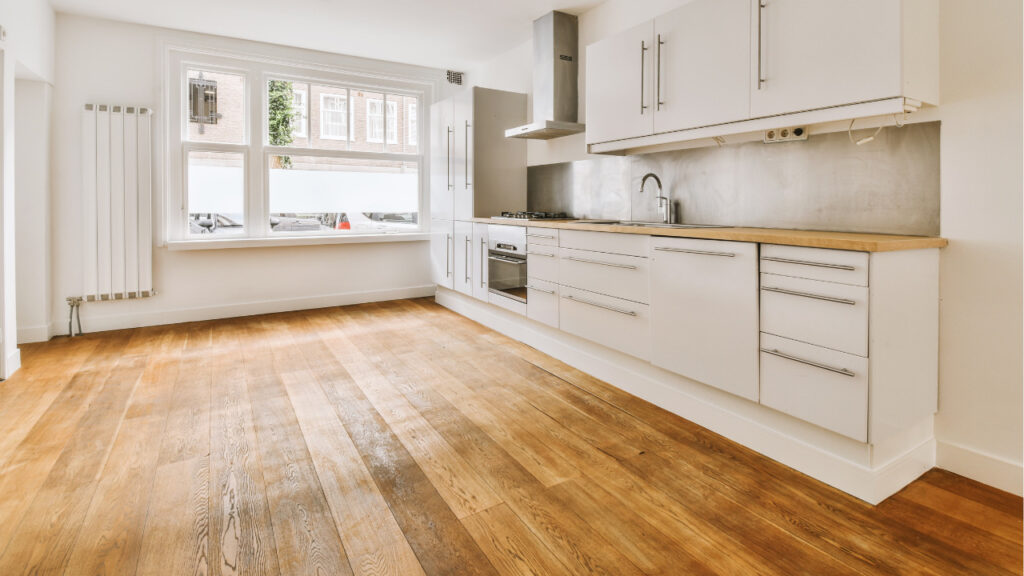 Add the same flooring to give the galley space the same look as your entire home. It is a good option if you are considering galley kitchen ideas on a budget or want a minimal look. Or choose it if you want to go with the structural flow without any noticeable changes.
5) Be Classic with All White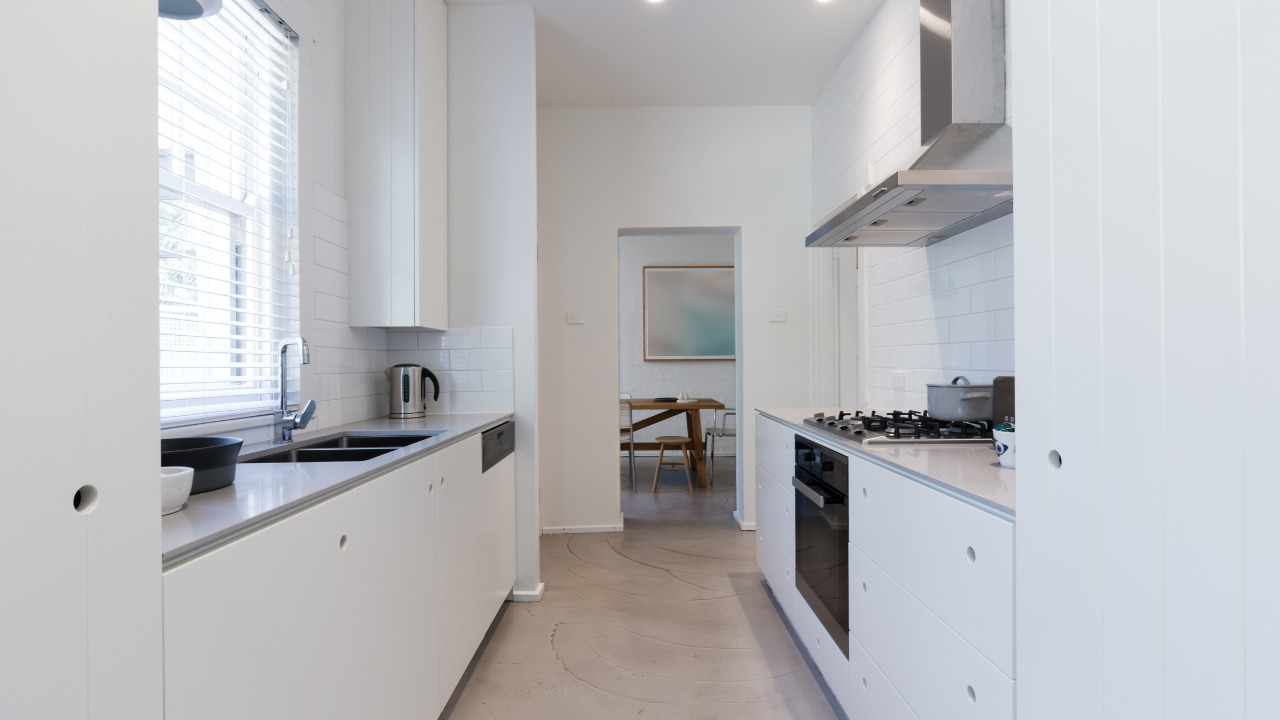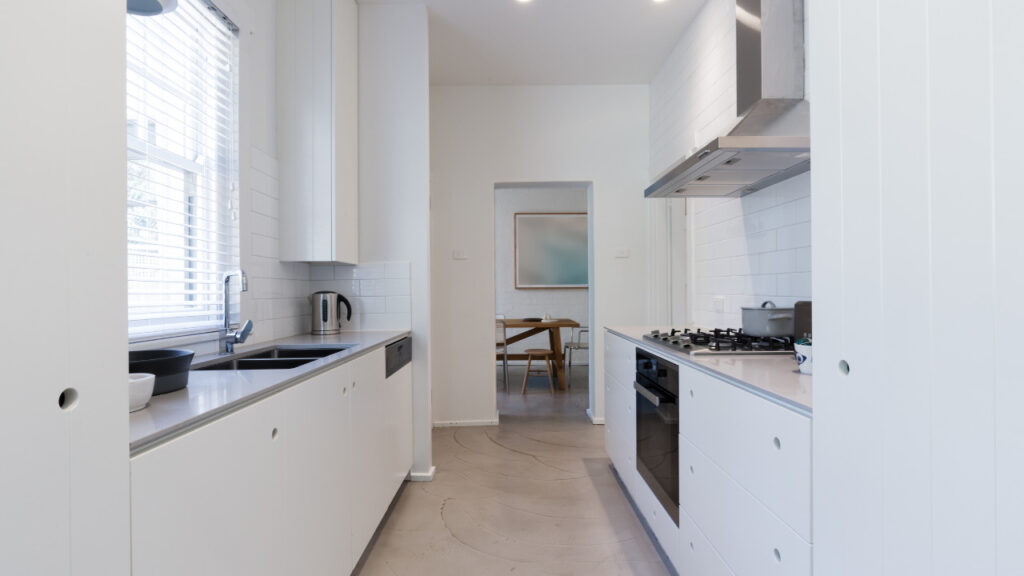 Despite the small size, you can still make a galley kitchen look spacious by adding all whites. Not only white, but you can also go for any neutral and bright color for a classic-looking galley kitchen.
It is a durable,budget-friendly and long-lasting option that requires minimal changes over time, so homeowners do not hesitate to use different shades of white.
6) Contrast Glazed Doorway with Glossy Cupboards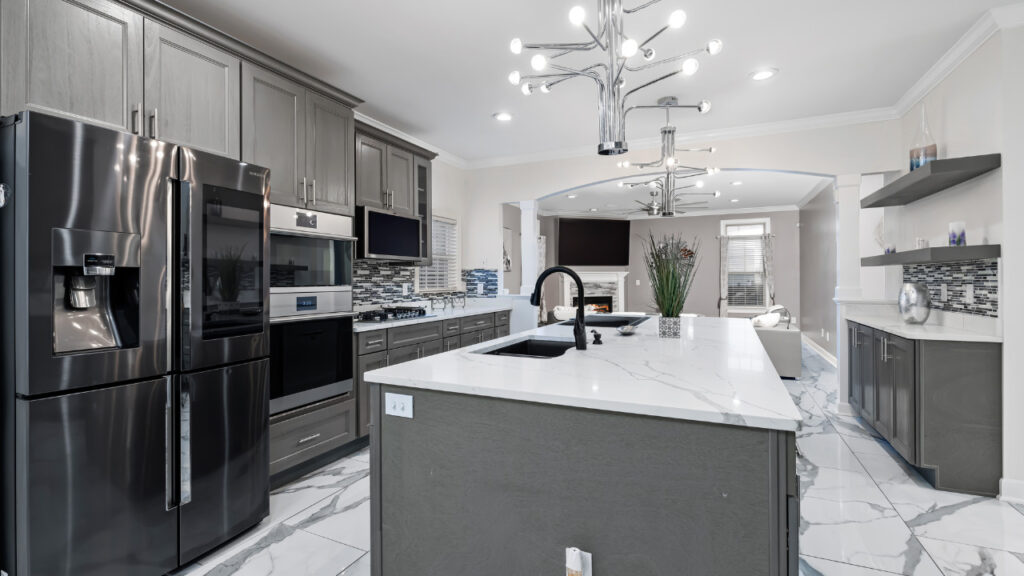 Most homeowners prefer to use only a little wood in their galley kitchen. From a design perspective, wood doors will not boost glossy cabinet accents. Add glazed doors with gloss cupboards in your galley space to get a dramatic look. This combination is enough to get an aesthetic and modern vibe from your kitchen design.
Contrasting glazed doors with glossy cabinets or cupboards is a budget-friendly option and is best to get a minimal look without limiting your creativity. You can use this combination in different styles and patterns because of multiple glazed door options, such as espresso black glaze, blue-black glaze, and mocha glaze.
Contemporary style lovers will adore this galley design not only because of its flattering, sleek, and luxurious look but also for its smooth linear alignment and multi-functionalities.
13 Modern Galley Kitchen Ideas for You
Although U-shaped or L-shaped galley kitchen ideas are limited, you can still do a lot to make the space more aesthetically appealing. Below are the collected galley kitchen ideas that are chic and efficient.
1) Shaker-Style Galley Kitchen Design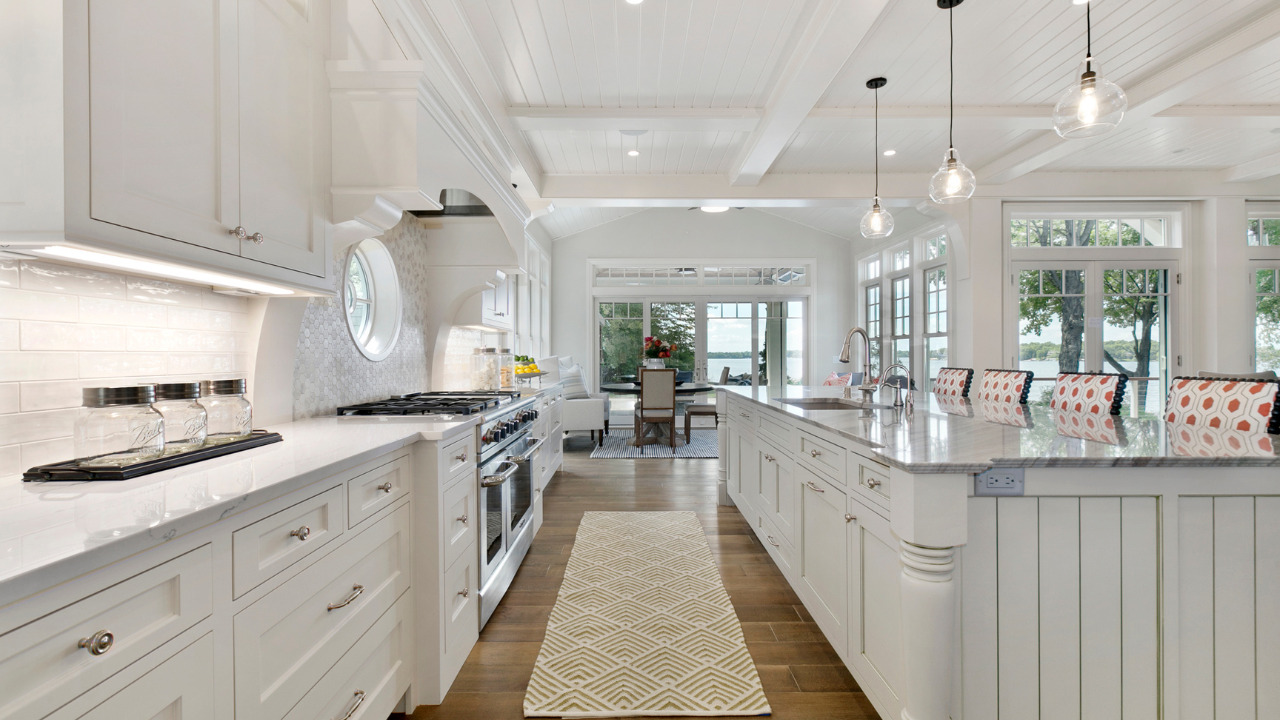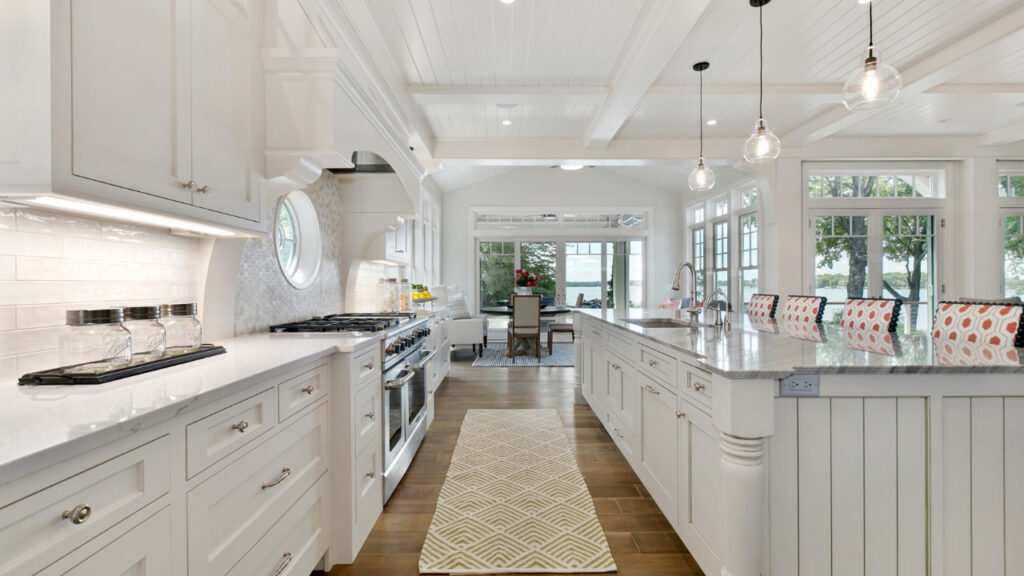 Do you want to keep your kitchen design minimal? If yes, adding shaker-style units is the right choice.
Moreover, the framed design of a shaker-style narrow kitchen would give a statement look to your kitchen.
2) Add Bold Colors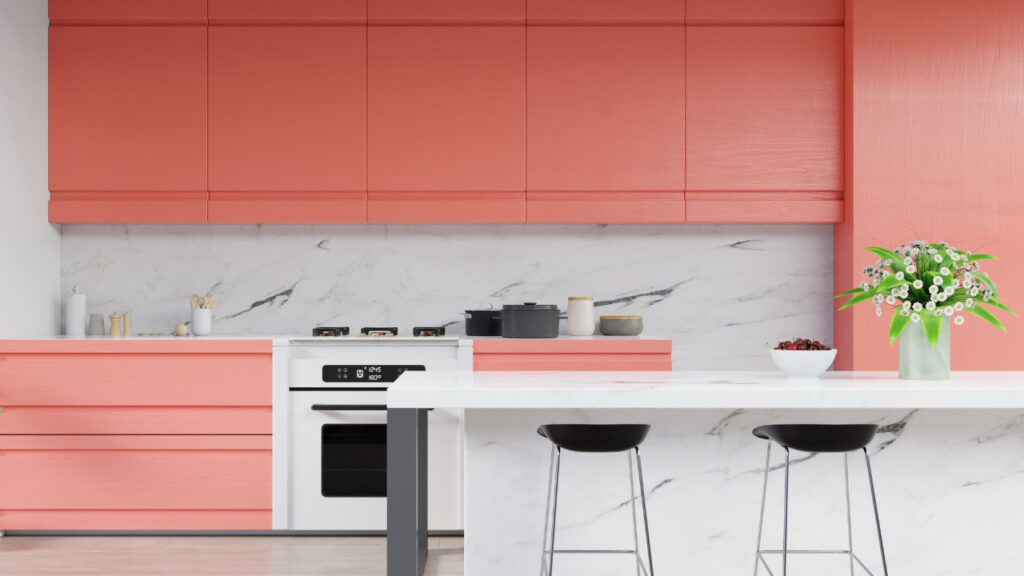 If you want to experiment with something different from others, you will always go right with bold colors. Even bold colors such as black, blue, tangerine, yellow, fuchsia pink, lime green, and gray countertops or storing units will compliment the marble countertops and give the overall galley kitchen design a narrow look.
Not only for the cabinets, you can also add bold color or patterned backsplash to contrast with the countertops. A kitchen with blue or mosaic patterned backsplash will always be azure to impress visitors.
Contrast the countertops with cupboards and cabinets to diversify your galley kitchen designs. You can also install light-color cabinets to accent bold cabinets or countertops.
3) Play with an Island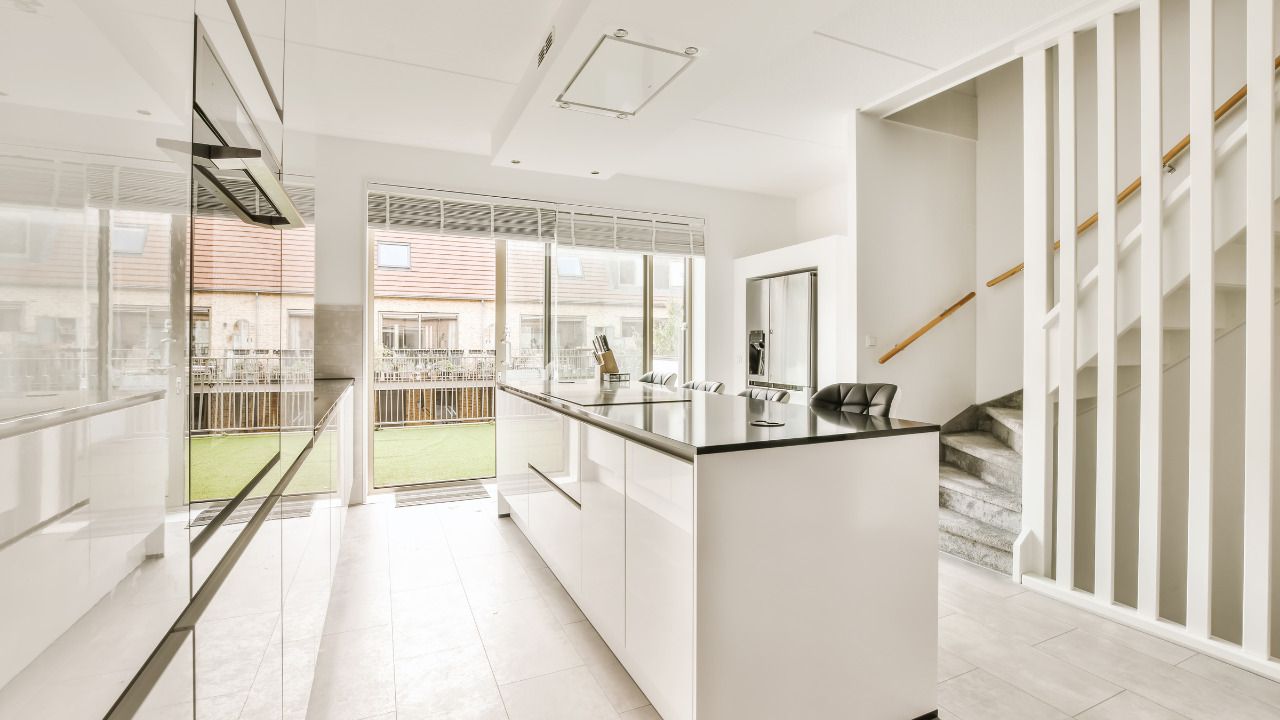 Is it possible to add a kitchen island in the limited space? Absolutely! You can add an island to the opposite side of the wall for the prepping area. 
Adding an island to a narrow kitchen brings room for efficiency and prototyping. It also gives you more room for additional storage space by adding cabinets under the top of the island. Prefer to choose tall cabinets for the island rather than wider ones.
4) Add Lights to Kickboards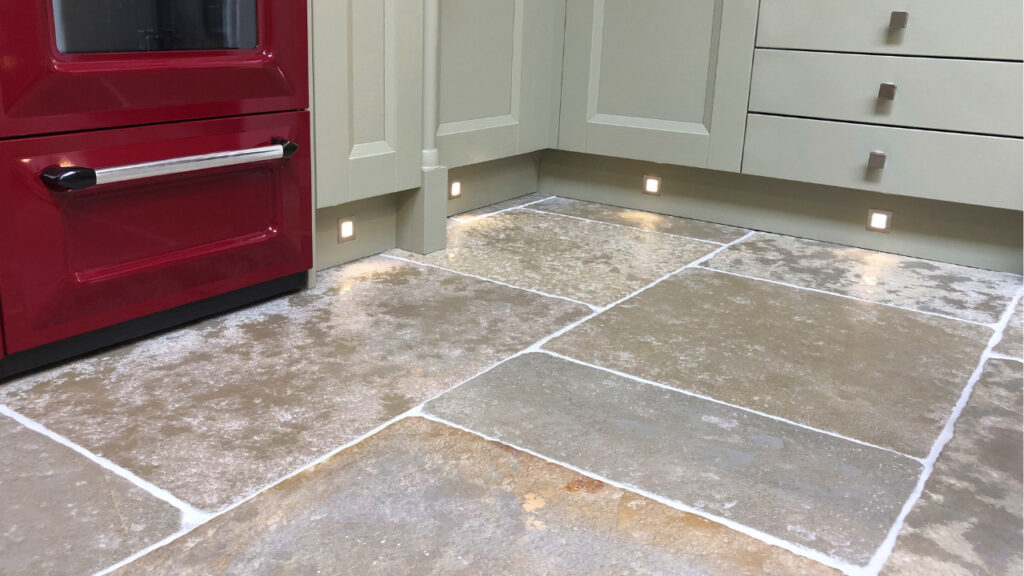 Most people prefer to add lights to the cabinet borders to give their kitchen a new look. However, adding lights to the cabinet border will create a shadow on your kitchen floor and make it look narrow.
But by adding lights to kitchen borders or kickboards, you can give your kitchen a bright and wide look. This galley kitchen light idea is the best consideration for winter, especially Christmas and Thanksgiving.
5) Add a Sitting Counter
Most modern galley kitchen ideas or designs also include a specific sitting counter. Homeowners prefer to add a counter or sitting area in the kitchen for dinner or a quick breakfast.
It is not necessary to add a separate table for a sitting purpose. You can place chairs or tables around the island to save space and keep the entire area easily accessible.
6) Prefer Grained Cabinet's Finishing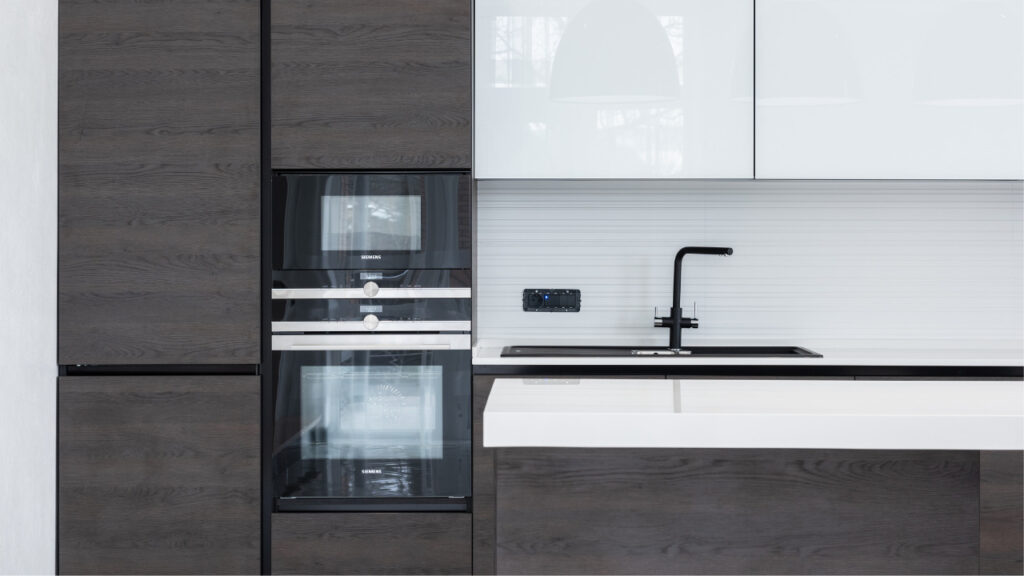 If you prefer a natural and rustic galley kitchen, the grained finishing of your cabinets or cupboards is a great option. The best thing is that you can use it for any small kitchen layout or design.
You can give your cabinets and cupboards a classic or lasting appearance with grained finishing.
7) Add a Hot Water Faucet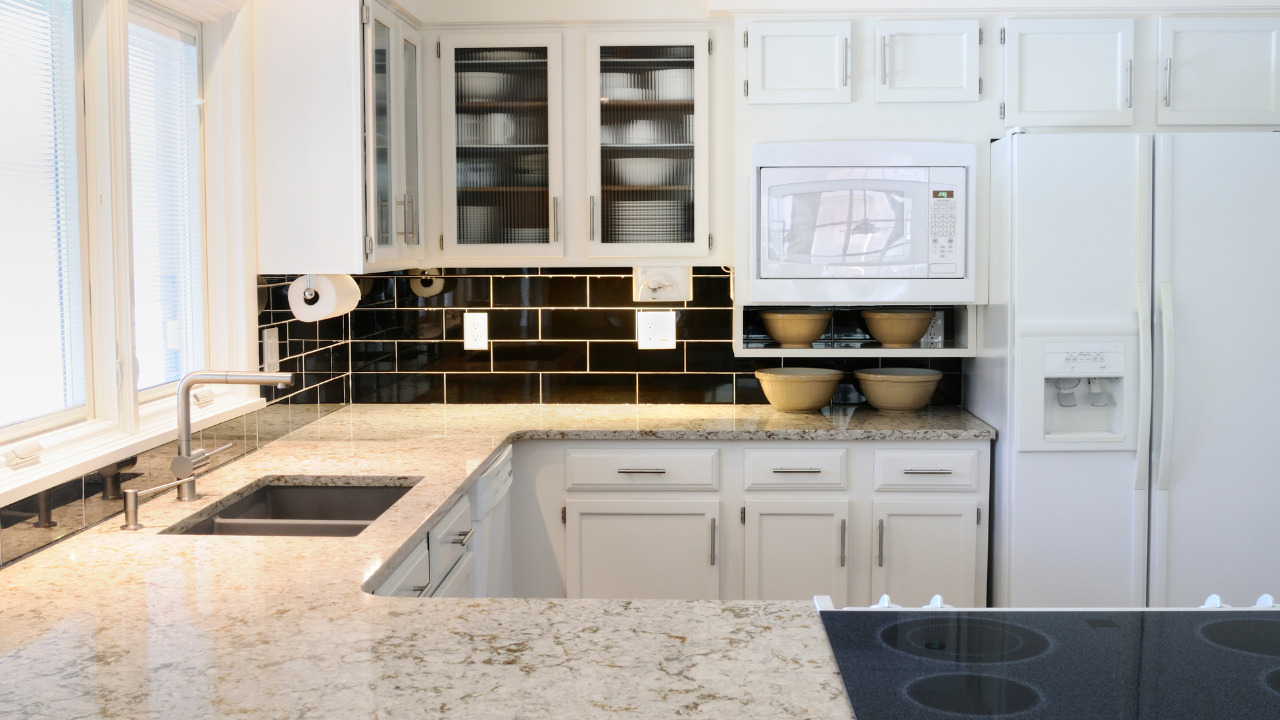 If you have clutter-free or empty shelves in your kitchen, it will also decrease visual distraction. To enhance the visual appearance of your kitchen, consider installing a hot water faucet on the shelf.
Adding a hot water faucet to your kitchen means you don't need to place appliances to boil or warm water on the countertops. This way, you can keep your countertops mess-free.
8) Install Multi-Purpose Appliances
Adding multi-purpose or more functional appliances to your kitchen is a good option. For instance, consider installing a dishwashing and dryer machine in your galley kitchen. It will clean and dry the dishes at the same time.
You must still choose a design according to your space requirements and specifications.
Even if you are DIYer, you can still ask professionals to help you to layout a galley kitchen design, especially if you are working on it for the first time. Professionals will help you choose the right space for appliances, cabinetry, and cupboards.
9) Add Striking Floor
A statement floor is the star element of a galley kitchen design. You can consider a striking geometric pattern in light and dark tiled flooring. The kitchen floor will be a center of attraction because of its prominence.
10) Add Glass Door Windows
You can keep the area airy and bright by adding glass door windows, such as double-door glass windows, tempered glass door windows, and laminated glass doors windows above the sink countertop. Glass doors will let natural light enter the space.
Also, you can open the windows to a better view of the outside. It will be great practice to make your space keep refreshing.
11) Maximize Vertical space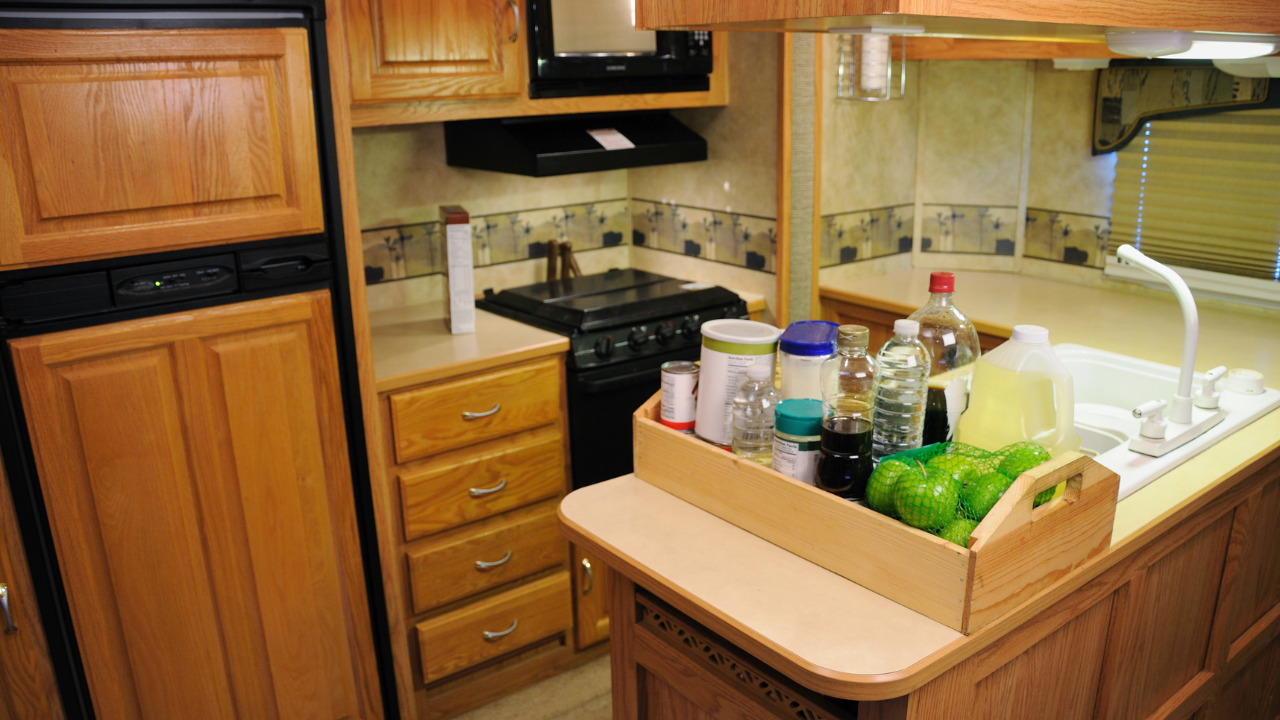 The vertical space is above the lower cabinets and on the sides of the island or fridge. Use the vertical space in a galley kitchen proficiently by adding built-in vertical shelves, a pantry, and cupboards. Add these built-ins around the oven area to best use vertical space.
Store the dishes after removing them from the dishwasher in built-in units. Avoid cluttering your shelves by relocating the items you rarely use behind the units. Add drawers next to the built-in vertical cupboards in a stacking pattern. Add floating shelves on the vertical sides of the fridge to store your spice jars.
Despite putting the towels on the doors, install towel hanging bars on the vertical side of the sink cabinet.
12) Construct a Defined Ceiling
A dropped-ceiling galley kitchen will provide a better opportunity for built-ins. A dropped ceiling is also known as a suspended ceiling. It is a type of ceiling paneling that hangs below the main structure of the ceiling.
The basic purpose of this ceiling is to hide the building infrastructure, such as electric wires, pipes, and ductwork systems. Additionally, it allows the ease of ceiling repair and construction. The best part is that you can also hide ceiling damage and other infrastructure flaws under the dropped ceiling.
It will give a defined look to your galley space without blocking the overall view. A dropped ceiling will compliment the entire architecture of your space by presenting it as part of your living area or lounge.
13) Cover with Marble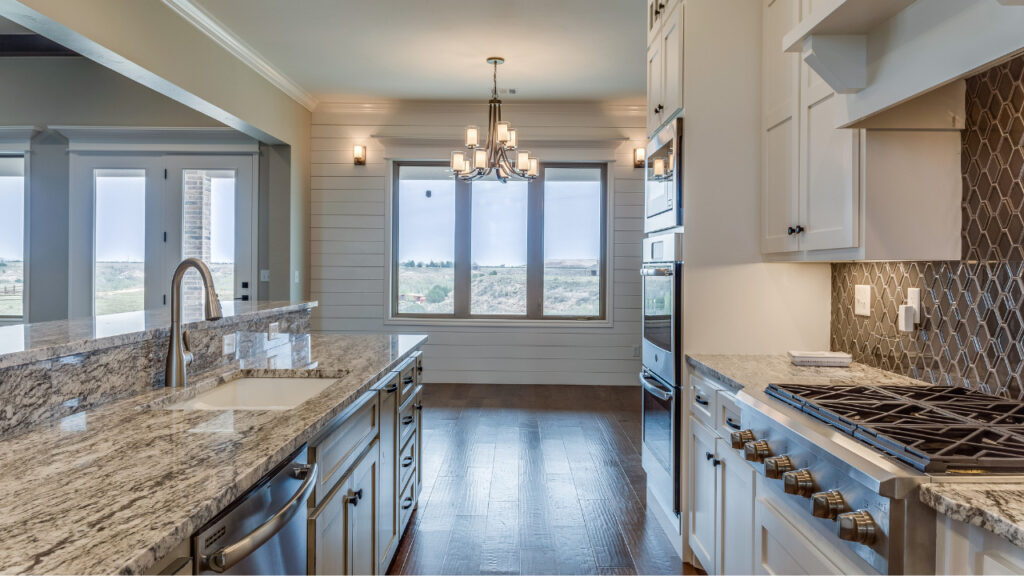 A marble-covered galley kitchen is a marvel choice for all natural-looking or aesthetic space lovers. Cover your entire space in marble for a pristine look.
Contrast marble-covered walls and floor with red lacquer-painted cabinets and cupboards for a livable and luxurious look.
Make Your Kitchen More Functional
Make the best use of your space by following these amazing trendy galley kitchen design ideas. Upgrade the space by knocking down the walls, constructing dropped ceilings, adding hot water faucets, glazing doorways, and playing with the island.
Compliment the galley space by adding slab doors, installing lights to kickboards, and choosing a modern cabinet layout.
Overall, upgrading your galley kitchen is fun if you know how to do it correctly. . Choose from these practices to give an effortlessly appealing look to your galley space.