Even though a galley kitchen refers to a small space, there are still several small galley kitchen ideas to try. Such spaces have the most convenient and easy-to-adapt floor plans, especially for small kitchens.
However, you must prioritize everything based on your needs and budget, including cabinetry, cupboards, and kitchen hardware to name a few. For sure, there is a reason that professional architects prefer small galley kitchen ideas – one of them being the limited budget.
If you also want to remodel your kitchen space with trendy small galley kitchen designs, then here are some tried and tested affordable ideas.
Things to Consider for Small Galley Kitchen Design Ideas
No matter the size of your kitchen space, remember that the basic purpose of considering a small galley kitchen design is to make your space more functional. That's why it would be best to create a narrow kitchen layout for a prototype before implementing the design for your kitchen.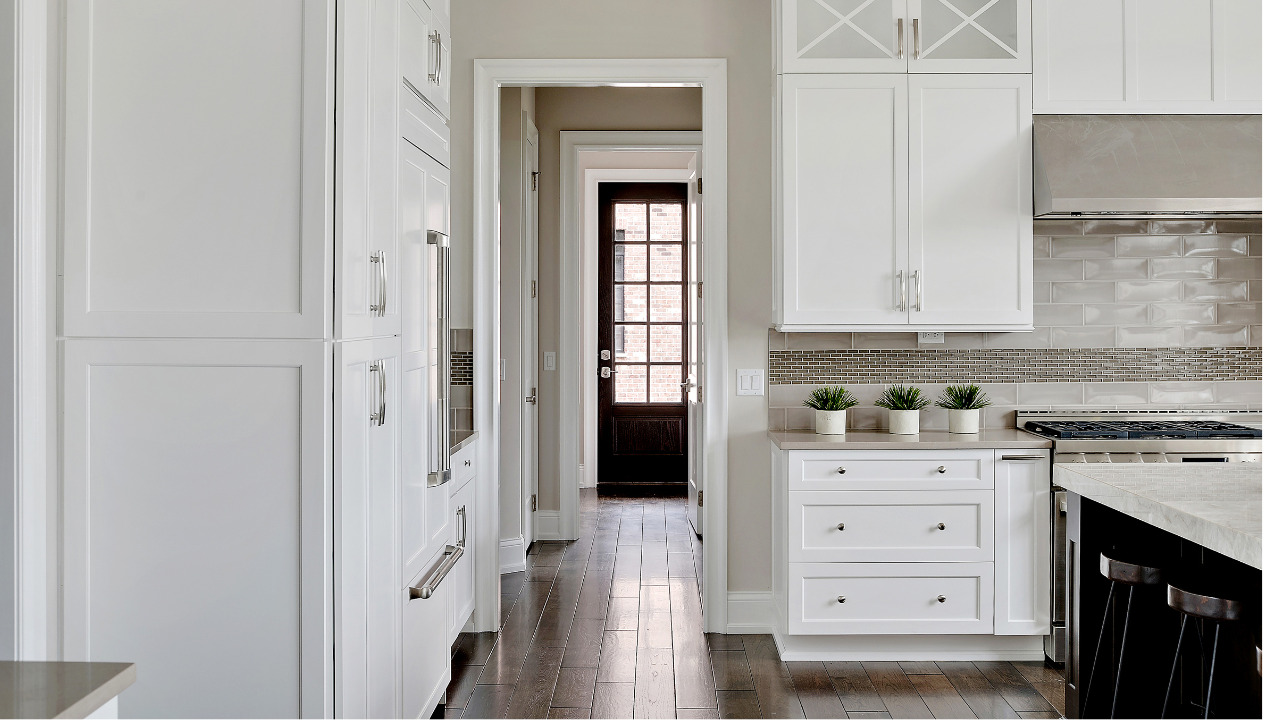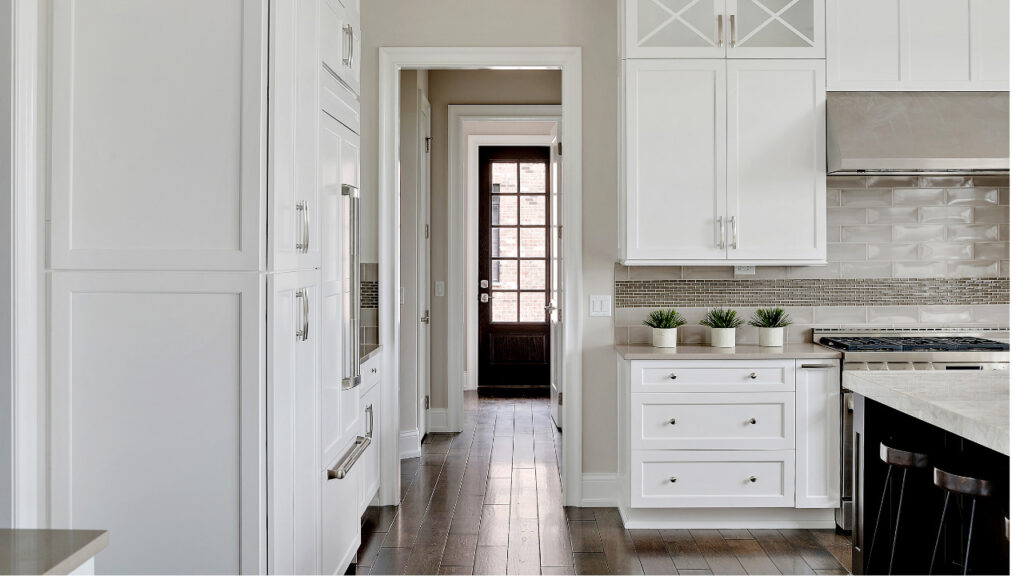 Remodel the small galley kitchen by following the below factors;
1) Size
The galley kitchen is a perfect choice for a small and large space. If the kitchen size is small, you can make the necessary adjustments in terms of layout. But if the kitchen space is large, you can build a galley kitchen-style layout with maximum storage space and add an additional sitting corner serving as the breakfast table.
2) Storage
Organizing and utilizing the space in a galley area is the main challenge for homeowners. There are many creative solutions that can maximize storage. Design the kitchen layout in a way that makes it easier to add stacking shelves, multi-purpose cabinets, built-in shelves, and a rolling cart in the rarely used corners of the kitchen.
3) Flooring
No matter what the size of your space is, you should never neglect the flooring. Not all flooring options are budget-friendly. However, you can choose light materials such as tiles, hardwood, and natural stones.
These flooring options are top priorities of homeowners not only because of their aesthetic appeal but also for their affordability.
4) Layout
While planning for a small galley kitchen design, the kitchen layout is the main factor to think about. You can ensure the functionality of your area by remodeling or even building it with a proper layout. A floor plan will give you better clarity about the type of kitchen layout you can opt for. For instance, if you have a narrow space but more length to it, a U-shaped galley kitchen design would be a better fit.
15 Popular Budget-Friendly Ideas for Small Galley Kitchen
Remodeling a galley kitchen can be tricky, but also a great option for some pocket-friendly creativity. Follow the below-discussed trendy budget-friendly ideas that will help to upgrade your small galley kitchen without letting you step out of your budget.
1) Get Plenty of Storage
Even in the case of a small galley kitchen, you still need to choose a functional layout to get more storage space in your kitchen, especially for the appliances. The best thing about modern galley kitchen ideas is that you can accommodate smart storage in this kitchen layout.
Use wall storage solutions such as open shelves, hanging rails, and cupboards to keep everything accessible yet out of sight. Install extra drawers for all your items that need storing, or mount hooks on the walls to hang everyday utensils like spatulas.
2) Get a Customized Layout
Even for very small galley kitchen ideas, you can customize the walkway space to adjust the cabinets according to the kitchen layout. You can also change the kitchen layout to get more aisles to give it a modern look.
If you install a G-shaped kitchen layout, then you have the benefit of more space in terms of storage and food preparation space.
In the L-shaped kitchen layout, you can get maximum comfort because it is open from both ends. This layout is perfect for a busy kitchen
3) Best Layout Under a Limited Budget
It might look challenging to renovate a space within a limited budget, but not in the case of a small galley kitchen. You can make your small galley space functional and comfortable with smartness and creativity. Starting from the walls, you can use inexpensive wallpapers rather than paints to cover the small galley walls.
Opt for an open small galley kitchen layout by eliminating unnecessary cabinets and adding open or back shelves to give a small galley space a wide look without stepping out of your budget.
1) Add Back Shelves
Adding shelves to the back wall is best to make your small galley kitchen more functional and proficient. You can utilize the space efficiently and make your kitchen space stand out or unique.
If your galley kitchen has a small back wall space, add floating shelves to utilize the vertical space more efficiently. Or you can also add corner shelves to utilize the corners more smartly.
2) Add a Touch of Greenery
If you are looking for great small galley kitchen ideas with minimal changes, you'll never go wrong with greenery. You can consider adding indoor plants such as succulents, spider plants, lilies, dragon trees, and Inchplant while upgrading your space.
You can also mix and match the design with metal outlets and plants.
3) Contrast Cabinets and Hardwood Floors
You will always go right with cabinets with brass hardware and hardwood floor plans. Even if you are looking for small galley kitchen ideas on a budget, you can still consider adding hardwood floors to your kitchen for an elevating look at a fraction of the cost.
You can contrast hardwood floors with oak cabinets but with a few color variations, such as light floors with dark cabinets. Using the same color oak cabinets and flooring may seem unpopular.
Keep in mind that light and dark combinations always complement each other. If you have selected oak cabinets in dark colors, such as brown or black, select a light color wood floor, such as white, beige, or off-white, for a luxurious look.
4) Add Colorful Curtains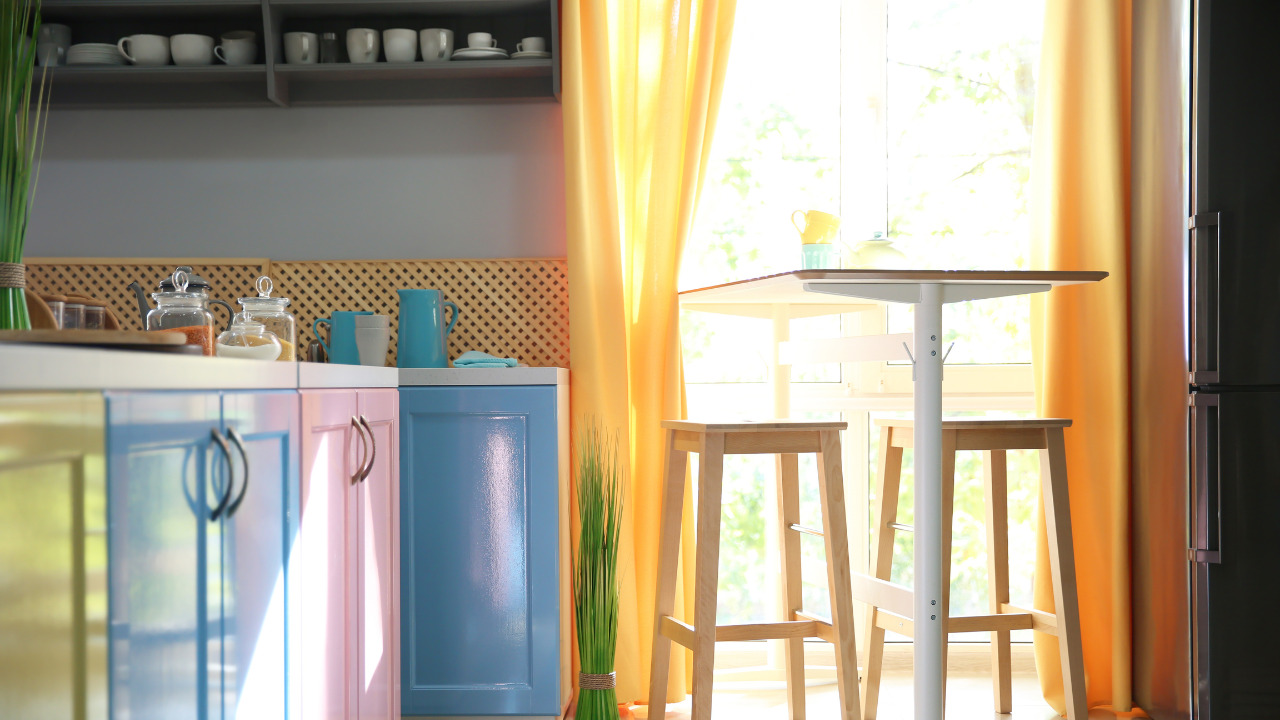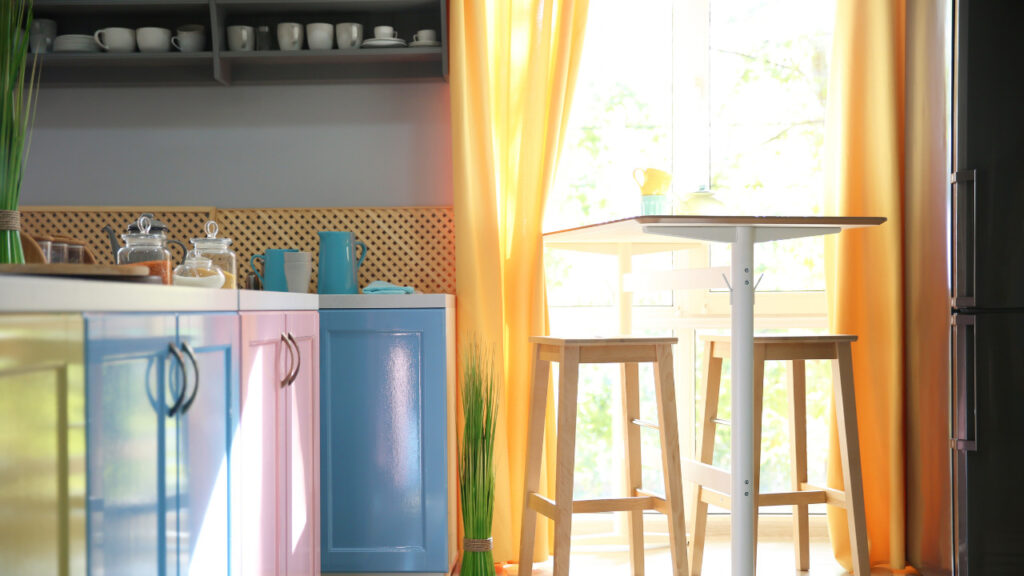 Most people think adding fabric to a kitchen is one of the stagnant small galley kitchen ideas. But you can still go for it if you want something different and unique. Indeed, colorful fabric curtains are the best option for enclosed galley kitchen cabinets.
This way, you can get a clutter-free look at your kitchen. On the other hand, the fabric will give a smooth look to your galley kitchen.
5) Install a Statement Cooking Range
Even while remodeling your kitchen space, you can uplift the look of your cooking area by adding a modern-style cooking range with multiple stoves and a gas oven. Doing so, you will not have to add an electric oven separately. It would be the best way to eliminate adding one more appliance in limited space.
You can also choose from different types and styles of cooking ranges, such as electric stoves, dual-fuel, free-standing, and commercial-style cooking ranges. These modern cooking ranges are available at a fraction of the cost and fall under your budget for renovating a small galley kitchen.
7) Create a Mid-Century Galley Kitchen Design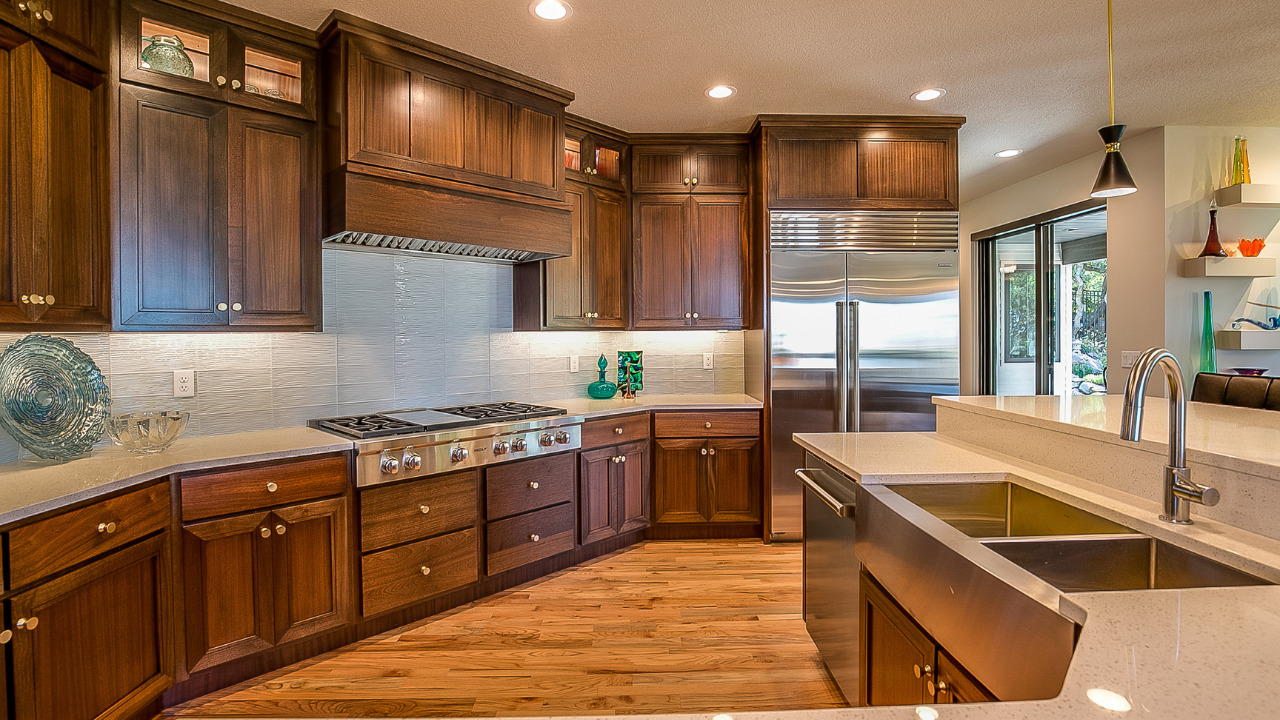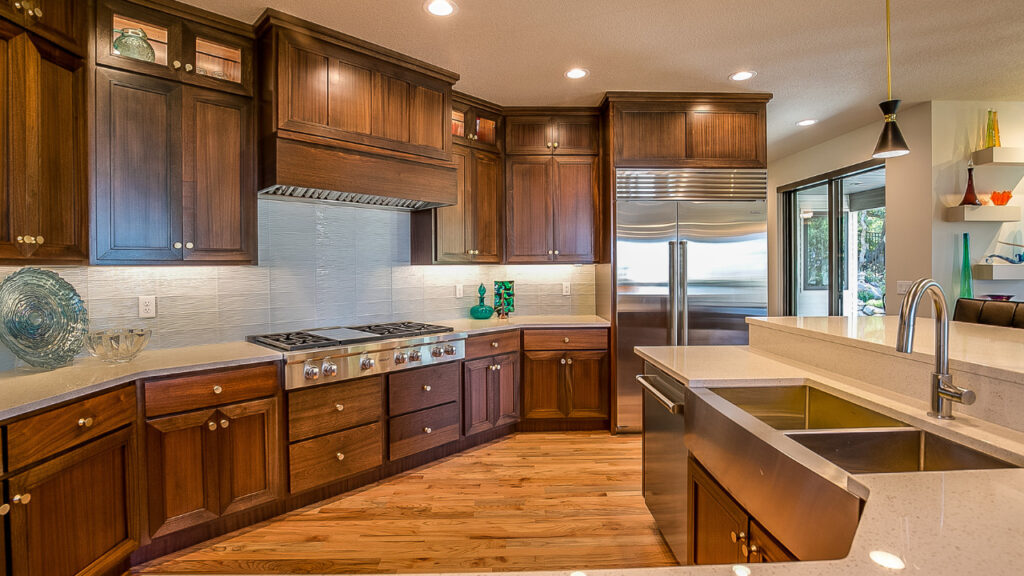 A mid-century kitchen layout always remains relevant. Homeowners still love this layout, even for their small galley kitchens. You can also consider a mid-century small galley kitchen design idea for your space by adding open shelves with flat cabinets and a versatile range.
Most mid-century kitchen designs are galley style. These spaces are not open from both sides. A mid-century style galley space is the best choice because of its space efficiency and long-running counter down each side.
Natural stone countertops with a modern layout are more than enough to elevate the look of your small galley kitchen. You can boost its look by experimenting with colors and combinations such as soft white, warm neutrals, navy blue, rust, burnt orange, and olive green.
8) Experiment with Colors
If you consider small galley kitchen ideas, it doesn't mean that you cannot go for several color palettes. You can add colors to your small galley kitchen by painting the walls, cabinets and adding backsplash tiles.
9) Design a Farmhouse-Style Small Galley Kitchen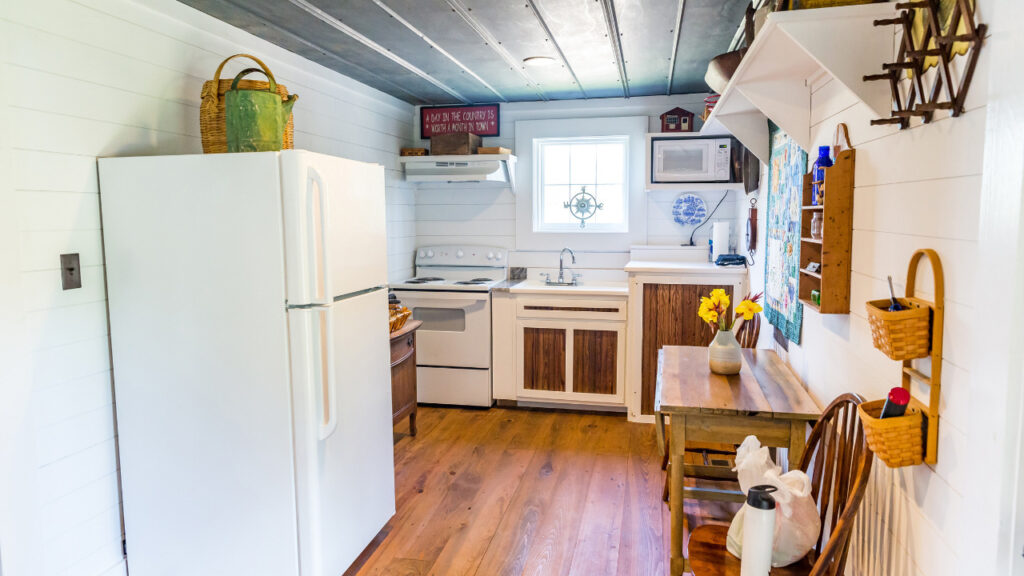 If your galley kitchen has enough walkway space, you can utilize it more proficiently by adding a farmhouse-style thin dining table or other storage units there.
For a small galley kitchen on a budget, look for the traditional and ample light fixtures that also give an airy look to the space and perfectly go with a farmhouse-style or a traditional galley kitchen.
For more budget-friendly options, consider adding the wall sconces on each side of the kitchen windows or along one wall. A chandelier in the center of your small farmhouse-style galley kitchen will make it charming and inviting.
10) Add Rolling Counters
Consider installing rolling counters rather than fixed counters to utilize your galley kitchen space more smartly and efficiently. This way, you can roll in or out the counter whenever needed to get more space.
Adding a rolling counter to a customized small galley kitchen would be the best consideration. Indeed, it would be a great way to keep even your small kitchen space separate from living or dining areas.
11) Alter Solid Door with Glass Door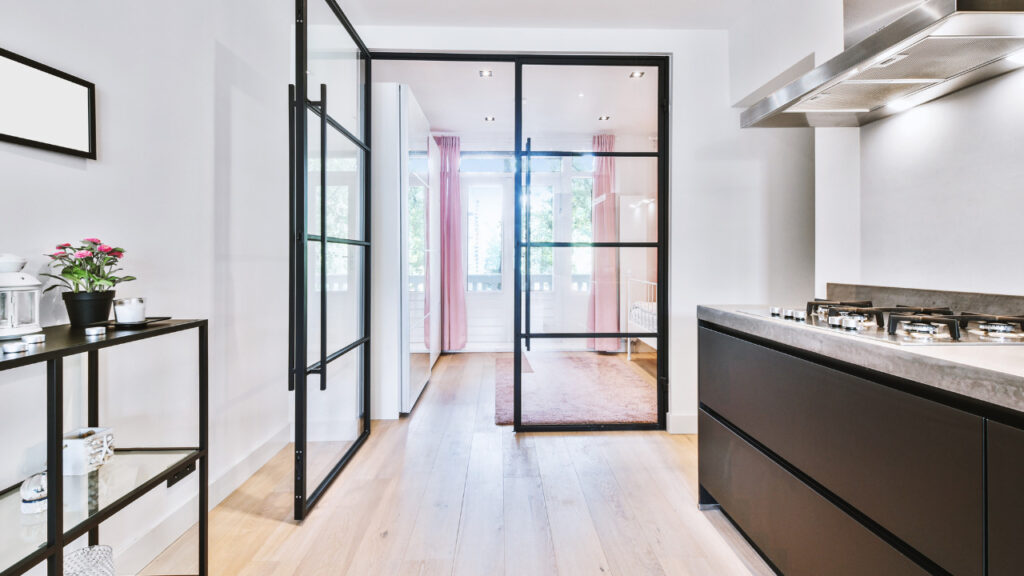 Modern small galley kitchen ideas prefer to add more décor and versatility to the kitchen space. You can upgrade your kitchen space by altering the solid door with a glass door. A glass door will expand the look of your kitchen.
Additionally, you can get brightness and a view of the outdoors from your kitchen.
12) Choose a Modern Cabinet Layout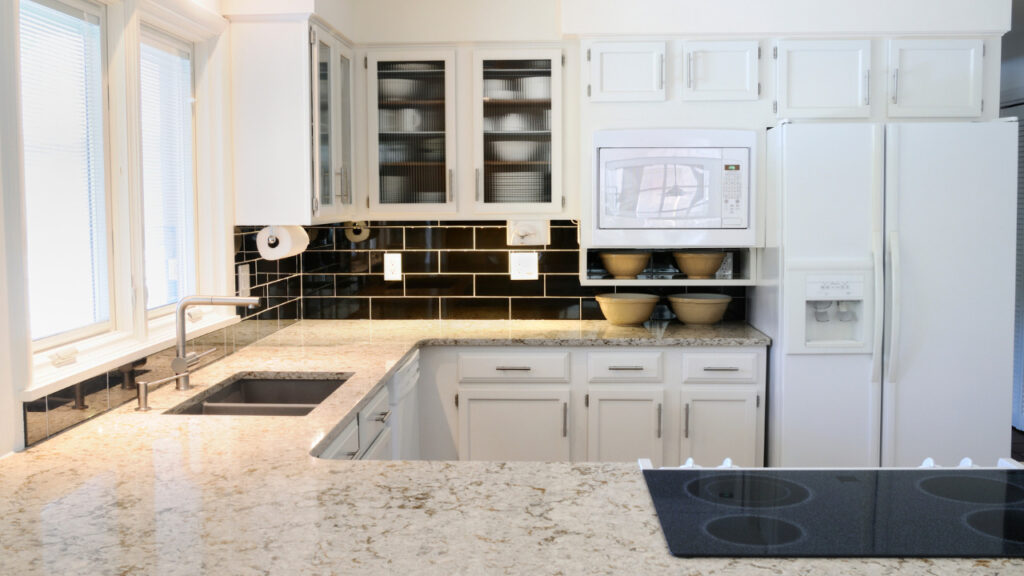 If you have selected a design from the trendy small galley kitchen ideas, you will surely understand that the main focus is versatility, not only creating a cooking space. It is best to choose from modern cabinet layouts to diversify your kitchen.
It doesn't mean you must choose a really expensive cabinet layout. Choosing a modern and minimal cabinet layout can keep things simple but classic. For instance, you can install enclosed kitchen cabinets in your small galley kitchen without any hardware.
13) Add a Pantry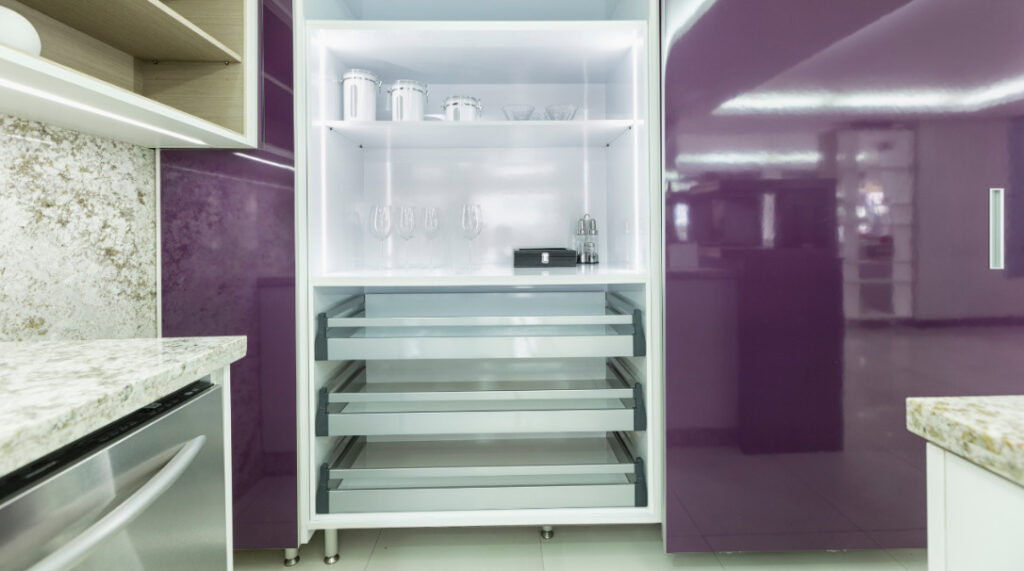 You can use the small galley space more proficiently by adding a corner for a pantry. You don't need to add a pantry separately in your small galley kitchen. You can simply add a pantry above your base cabinets.
Remodel your galley kitchen simply by adding sliding doors to your pantry to place the small kitchen gadgets and other ingredients, such as food containers and spice jars, there easily.
14) Install Budget-Friendly Light fixtures
Give a classic and chic look to your small galley kitchen by installing lights that don't cost you more than your budget. For instance, you can add LED lights in different shapes, and styles to your kitchen while keeping costs low.
LED lights are also energy-efficient and will not fuse early even if you keep them on for a long time. The estimated cost to add LED lights to a kitchen will be around $500. However, this cost may vary based on the number of lights, types, and sizes.
Other than LED lights, pendant lights are also affordable, especially if you go for vintage-style pendant lights. You can decorate your galley space with these versatile lights, such as the breakfast corner and island. For a small area, you can use pendant lights with adjustable canopies.
15) Choose the Right Countertop Material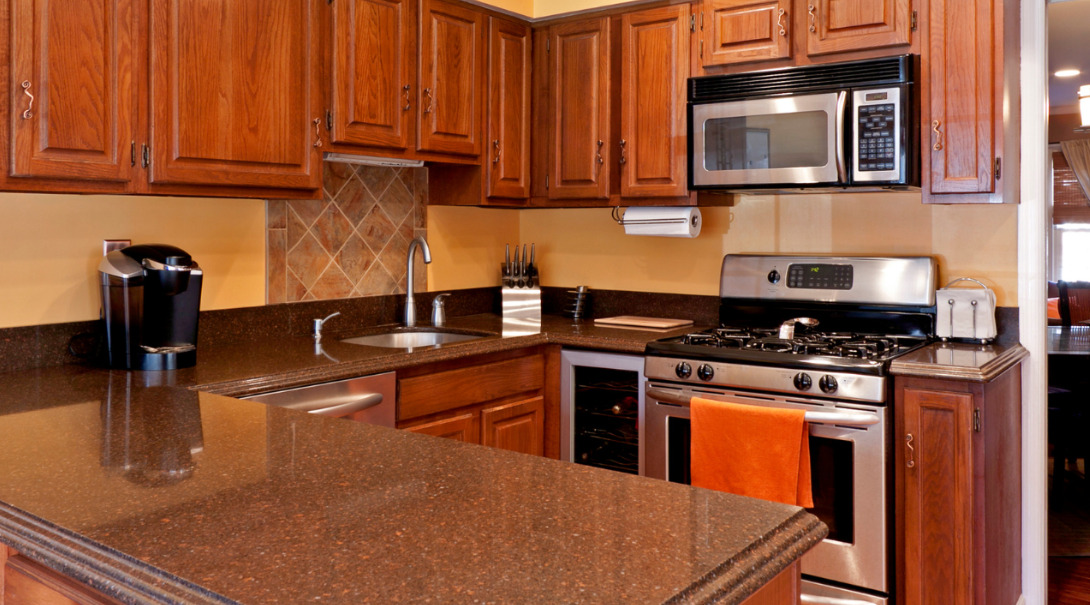 While designing a small galley kitchen on a budget, choosing the right material for your countertop is the main thing to think about. Always look for affordable and durable material options.
You can balance the cost and quality without compromising durability by using quartz, butcher block, and laminate materials for countertops. The average cost to install quartz countertops is $15 – $40 per square foot.
The laminate and butcher block countertops will cost around $50 – $100 per square foot. Ensure you measure your countertops before buying the material so you don't waste money.
Remodel Your Kitchen at a Fraction of Cost
While remodeling a kitchen on a budget, small galley kitchen ideas are the way to go. Upgrading with a few touches, as mentioned above, these ideas can make a huge difference and bring life to your small galley space. If you want to upgrade your small galley kitchen while sticking to a strict budget, the discussed ideas will make your dream come true. You can implement any design idea that suits your needs, kitchen layout, and budget whenever you want.