Are you looking for the best way to upgrade your kitchen? Nothing would be a better option than kitchen cabinet installation. You have to learn how to install upper kitchen cabinets or lower cabinets appropriately for a DIY approach.
This article will be a complete guide for you for installing cabinets in the kitchen! Whether you are installing new cabinets in the kitchen or going to upgrade already installed cabinets, this DIY guide will show you all the details.
How to install kitchen cabinets for beginners is the main question in everyone's mind especially while working on kitchen remodel. You can also get details for this query from this post. Let's start it from cabinet installation steps firstly;
Factors to Consider for Cabinet Installation for Beginners
Home improvement is the top of the mind and kitchen upgradation takes precedence over every other aspect. Installing new cabinets, whether its wall cabinets or base cabinets, is a time taking effort that requires patience and the right budget. Keeping these two important details in mind, you will need to consider the following factors at the time of installing kitchen cabinets.
1. Measure Space for Cabinet Installation
Gathering the right tools and equipments is just the pre-beginning stage for cabinet installation. Now that you have collected them, use the measuring tape for accurate measurements before installing the cabinets.
Whether its a restaurant kitchen layout or a small galley design, you need to plan the cabinet installation. 
Note down the dimensions that include the walls, floor space, and the ceiling height. If kitchen has a drop ceiling, then cabinet size and layout will differ from a flat ceiling. 
You will also need to take note of the plumbing an electrical outlets or other obstacles that needs to be removed beforehand. Having a floor plan blue print for the kitchen layout will be helpful to decide how much space you can dedicate for cabinet installation.
2. Inspire for Installing New Cabinets in Kitchen
Homeowners want a kitchen design that is unique to their taste and home design. When upgrading the kitchen design, the first thing is to reface cabinets or to remodel them. 
Hiring a professional consultant can be a lot helpful to let you decide the best option for your kitchen. If you want to make it a DIY project, you can kickstart by lookin for inspiration at home improvement websites and magazines. Searching on Pinterest will give you tons of ideas too.
Or you can always visit kitchen showrooms for better real-life examples.
3. Budgeting for Installing Kitchen Cabinets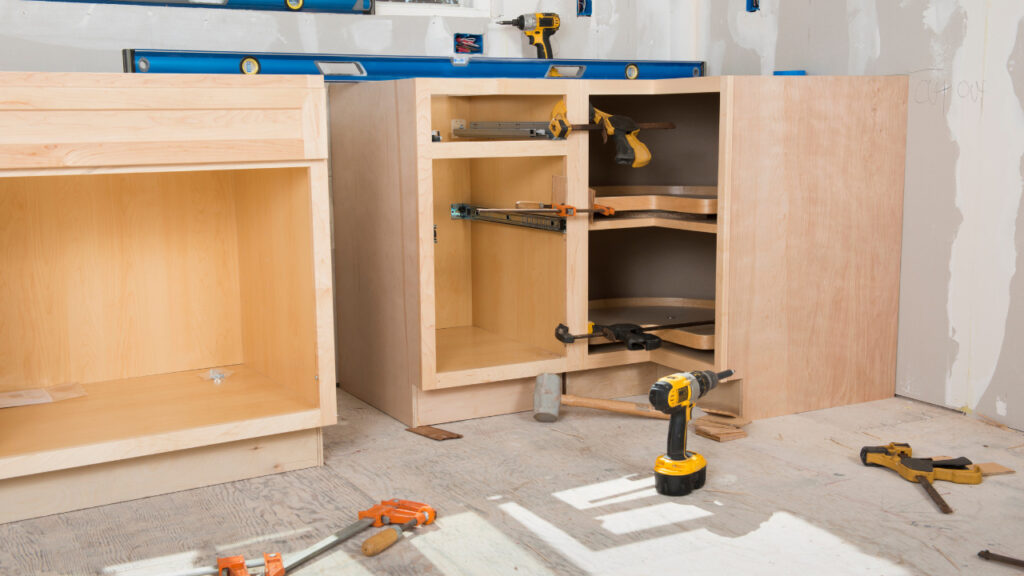 What type of cabinet material are you looking for? Have you decided whether you want sliding cabinet doors or traditional hardware? 
Ask the right questions depending on your budget. If opting for refacing cabinets it may cost you less as compared to cabinet remodeling. You will need the right tools according to the type of remodeling you are inspiring for.
Also, you need to consider the labor cost especially if its installing kitchen cabinets for beginners, you will need someone professional to do the job correctly. It can cost you between $80 – $190 per cabinet.
4. More Storage with Smart Cabinets in Kitchen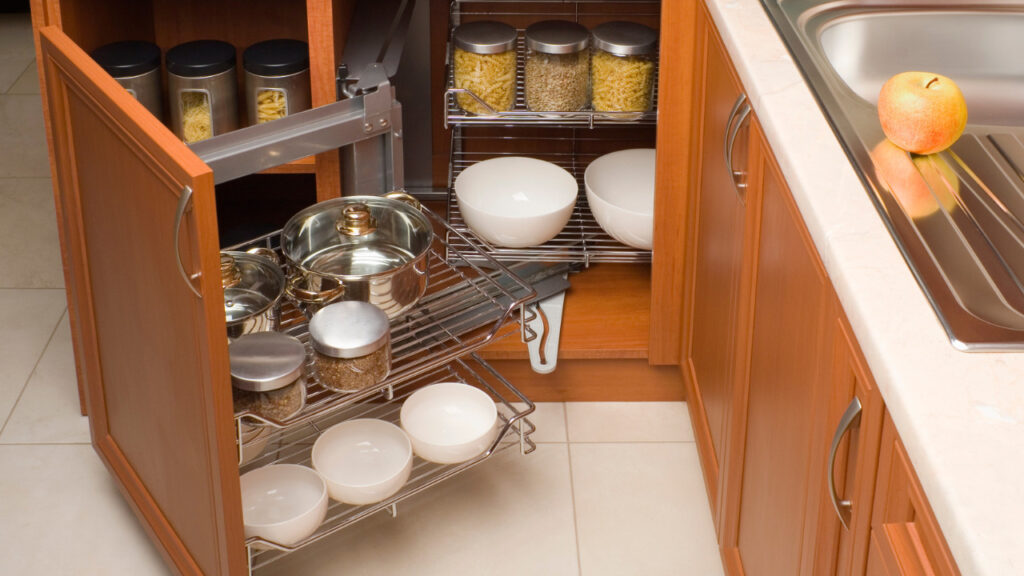 Smart cabinets are a thing of late for better storage within the kitchen. Some of the popular examples of smart cabinets include the pull-out shelves that makes it easier for you to access pots and pans.
You can plan to utilize the corner cabinet space too. Similarly you can also use the drawer dividers to better organize the storage space when installing wall cabinets in kitchen. With an efficient layout design for installing wall cabinets in kitchen, you can maximize the space and workspace for everyday chores.
Tools Needed for Kitchen Cabinet Installation
If you are planning to layout your kitchen or upgrade it, installing base cabinets in the kitchen can be great for a remodeling project. Before starting working on installing new kitchen cabinets for the project, ensure to collect all needed tools and equipment.
So, you can get the job done without any difficulty and investing too much time. You will require the following equipment for cabinet installation;
An electric drill
Screwdriver
Clamps
Pry bar
Circular saw
Table saw
Jig saw
Tape measure
Cabinets framing material
Nails
Nail gun
Drill bits
Level
13 Easy Steps to Install Kitchen Cabinets for Beginners
Now that you've decided the type of cabinets you want, follow these easy steps to install the cabinets.
1. Mark the location for Cabinets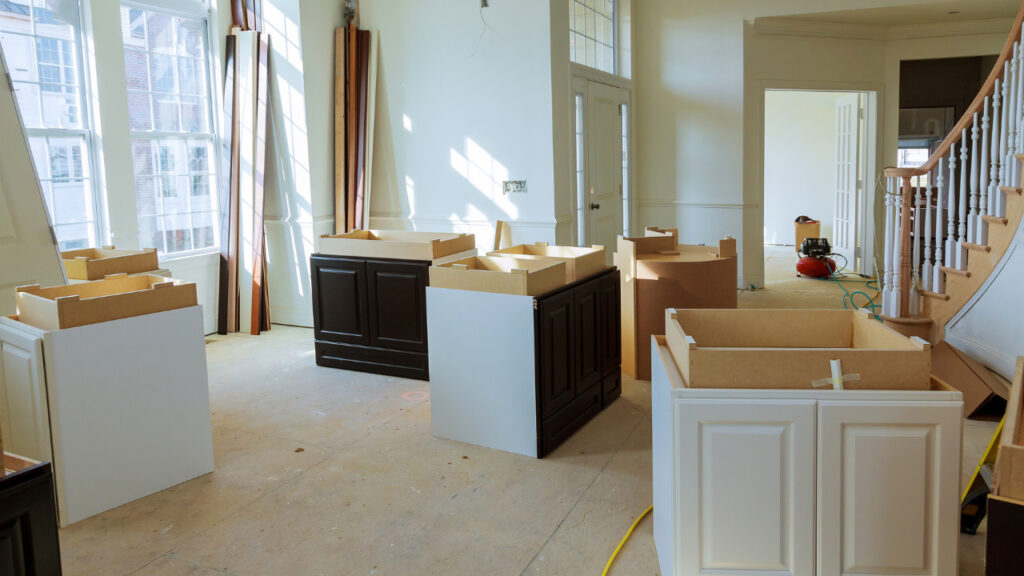 While installing wall cabinets in the kitchen, you have to mark the cabinet installation points firstly on the walls. So, you can choose the best kitchen cabinet layout for your cooking space. It is also necessary if you want to order ready to assemble or any other type of kitchen cabinets from your local hardware store.
Keep in mind that cabinet layout really matters at the time of cabinet installation. So, make sure to select the cabinets according to the height and specifications of your kitchen. You can also mark points for appliances installation within cabinets or with kitchen cabinets.
This way, it would be easier for you to place all appliances in wall cabinets later.
2. Choose Right Cabinets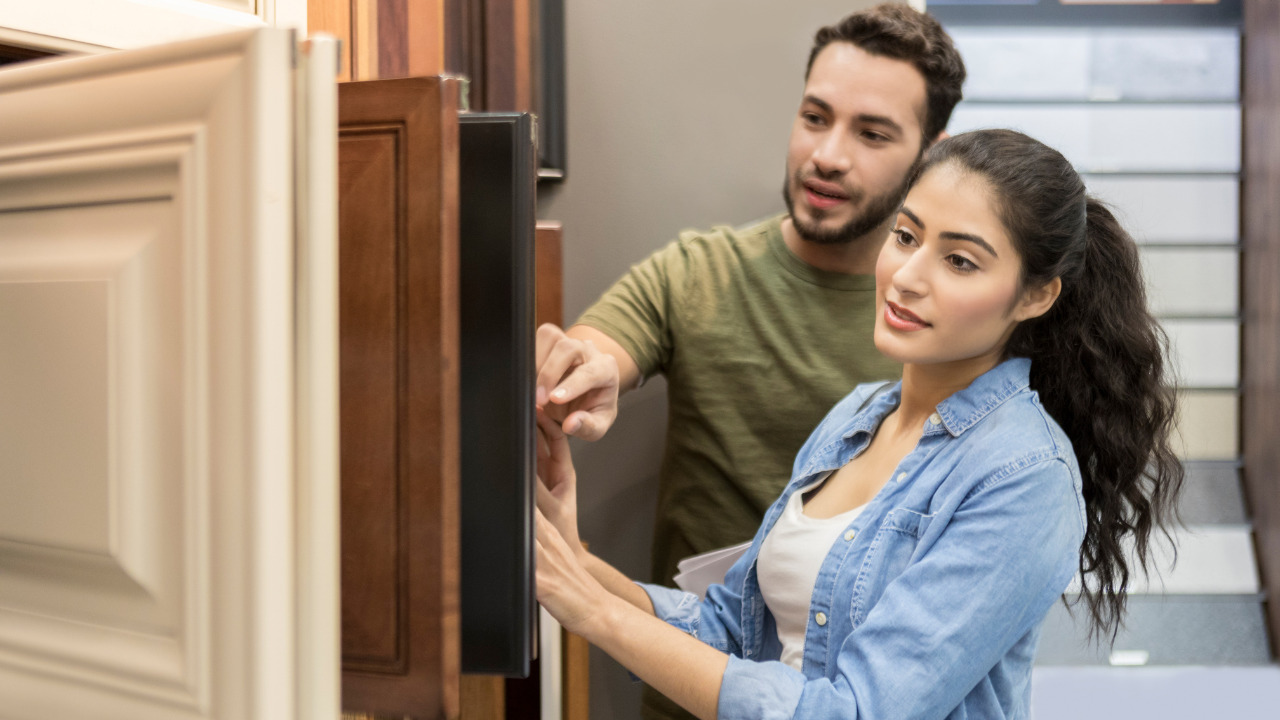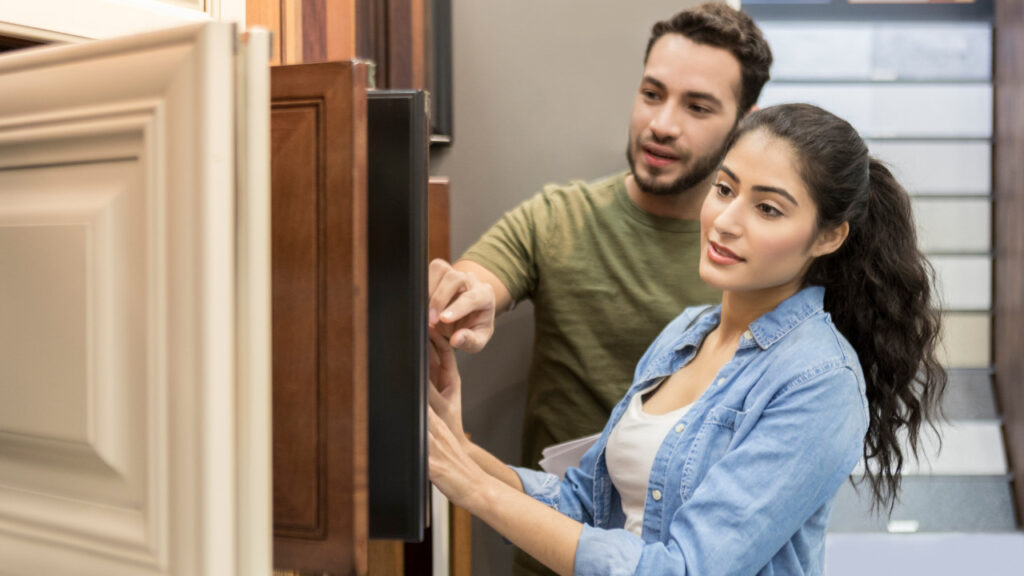 If you have ordered cabinets material online, make sure to check it firstly to confirm that you get the required cabinets, including its color, size and material. If you have bought RTA cabinets, check for all assembling parts once you have received the materials.
Furthermore, check the cabinets for any kind of damage or missing part such as doors, drawers, boxes or cabinets shelves. Check for any additional decorative trim if you have also included it in your order. For RTA cabinets, you have to assemble all the parts of these kitchen cabinets before installation. You need to assure installing waterproof kitchen cabinets that can also sustain the grease stains. 
3. Assemble Your Cabinets
As we mentioned above, you will need to assemble the components of your RTA cabinets before starting cabinet installation in your kitchen. If you are installing cabinets in the kitchen for the first time, you can also watch a few tutorials to assemble RTA cabinets without any difficulty.
Assembling your kitchen cabinets may take more time than usual. But you will do it efficiently after assembling one cabinet.
4. Understand Cabinets Layout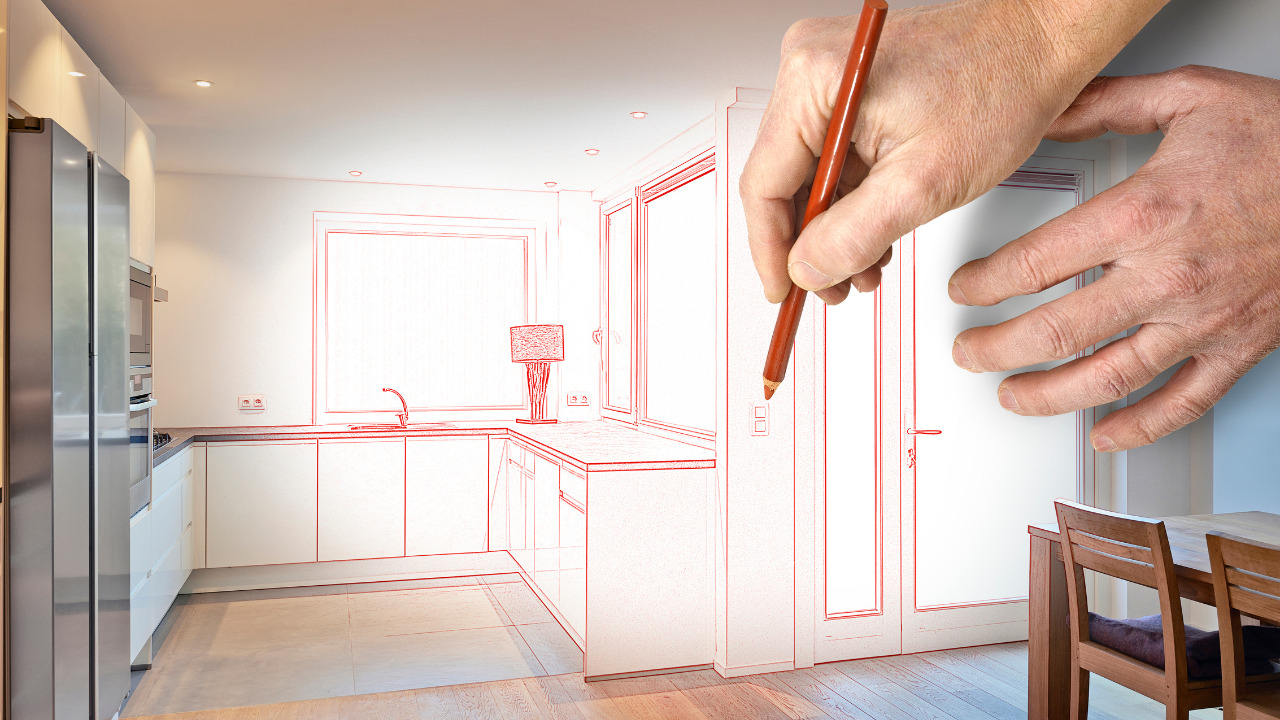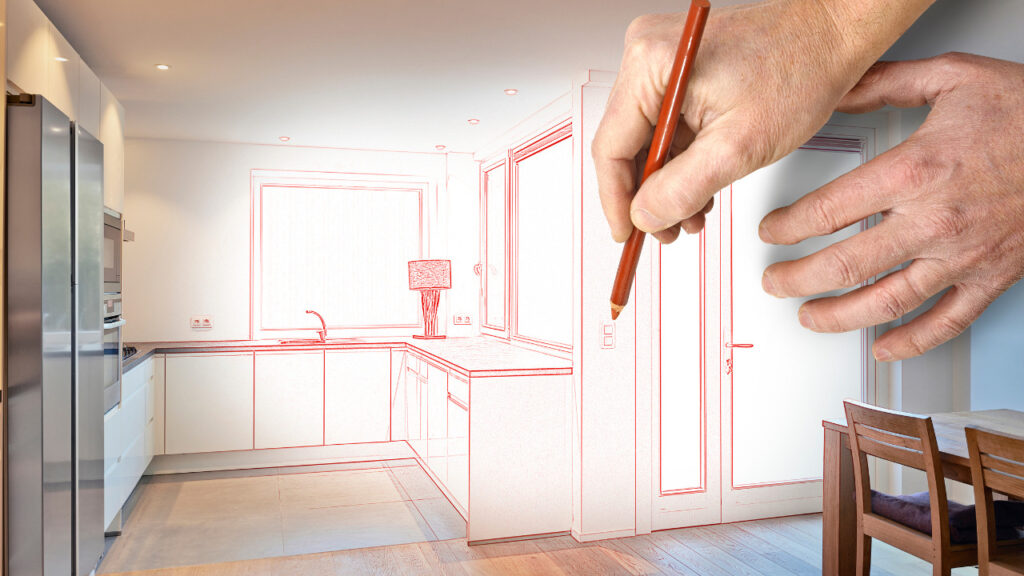 Most people, especially DIYers, ignore kitchen cabinets. It is completely wrong to neglect your kitchen layout and cabinet layout at the time of cabinet installation. Even if you are upgrading your kitchen and installing cabinets at the same location, you still need to understand your cabinet layout first.
This way, you can catch any issue even before installing base cabinets in the kitchen. So, don't skip this step even if you are a pro in your work.
5. Install Base Cabinets in Kitchen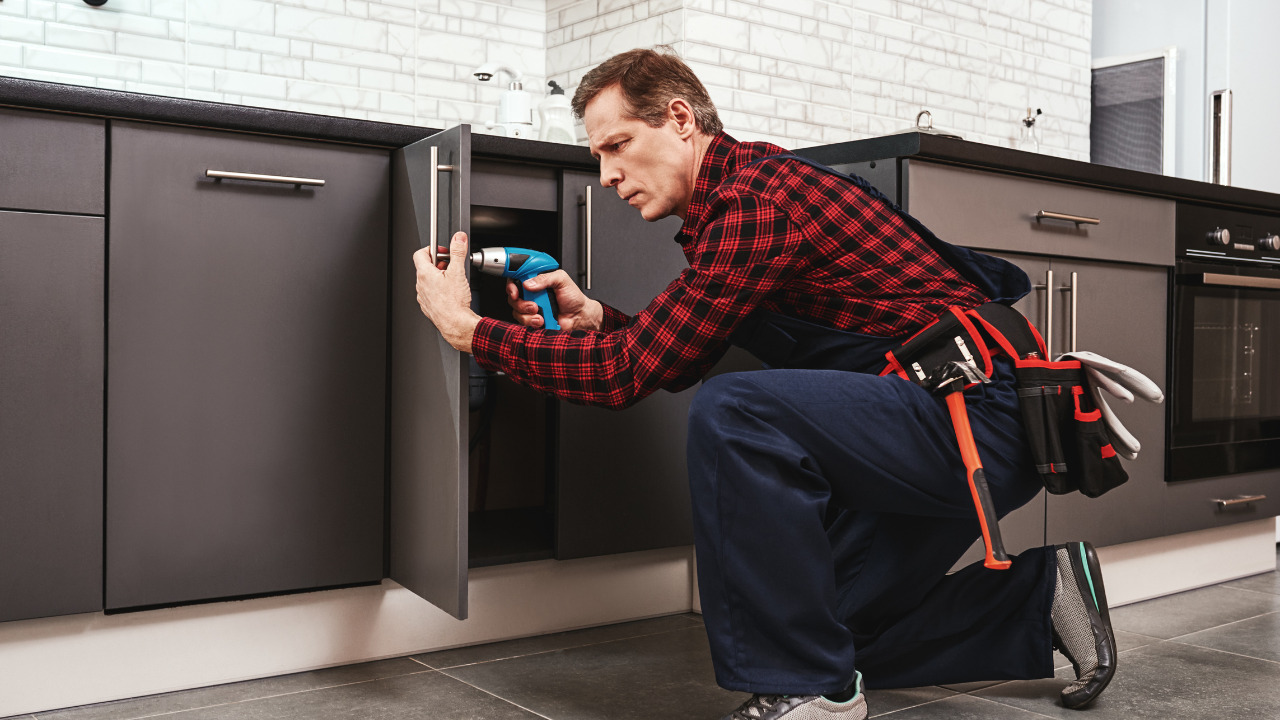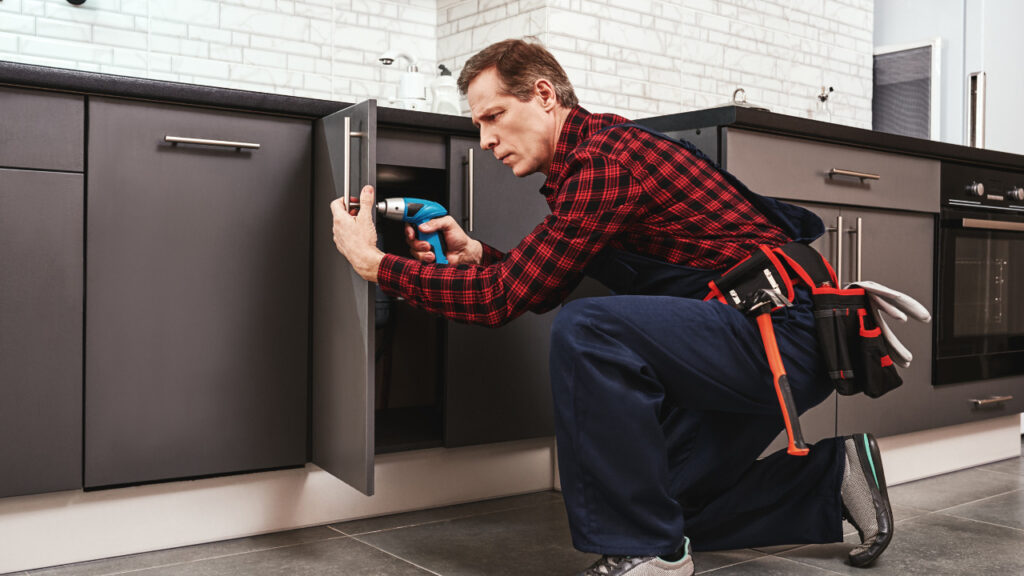 Start by installing base cabinets and place your first cabinet on the marked line. Once you have placed the cabinet on the marked line, drill a screw in it to anchor the cabinet smoothly into the wall.
6. Remove Cabinets Hardware
Even if you are working in a small kitchen area, you still need to remove kitchen cabinets, doors and hardware first before installing cabinets in the kitchen. The reason is that it may be difficult for you to install cabinets along with doors and hardware.
While painting kitchen cabinets along with its installation, removing doors and hardware is the must-do step. Otherwise, paint will destroy your kitchen interior. If there are no screws or opening points for your cabinet's doors and hardware, it would be best to cover the doors and hardware with a sheet at the time of painting.
7. Install Upper Kitchen Cabinets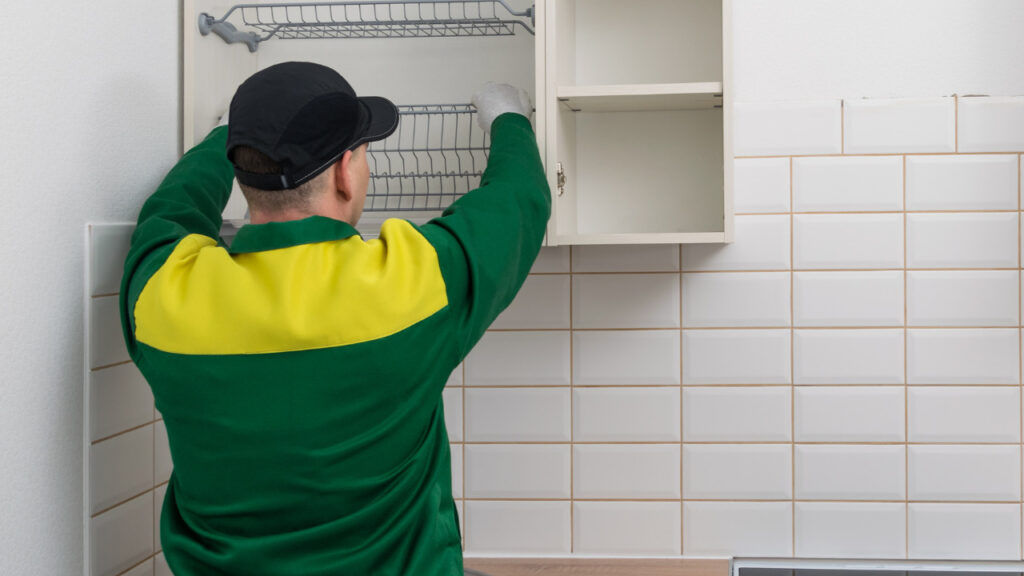 As compared to installing base cabinets in the kitchen, installing upper cabinets is easy. All you need to do is hang or place the upper cabinets on the marked line. You can use a ledger board or other supporting board to place the upper cabinets on the wall appropriately.
It will help you to assure the alignment of each cabinet on the wall in a well-balanced manner. After that, use an electric drill for screwing the cabinets on the wall.
8. Fasten Cabinets with Each Other
If you have installed more than one kitchen cabinet with one another, you will surely need to fasten the cabinets with each other. It is necessary to line up cabinets with each other smoothly. Ensure to use unnoticeable cabinets fastening strips or screws.
9. Install Filler Strips
If there is a larger distance than usual between the cabinet's outside and wall, you will need to install filler strips to fill this gap. You don't need to screw the strip to the cabinets. You can simply clamp the filler on the cabinet flush or outside rail of the cabinet.
Furthermore, use a saw table or a handsaw to cut the additional filler strip.
10. Cabinets Mounting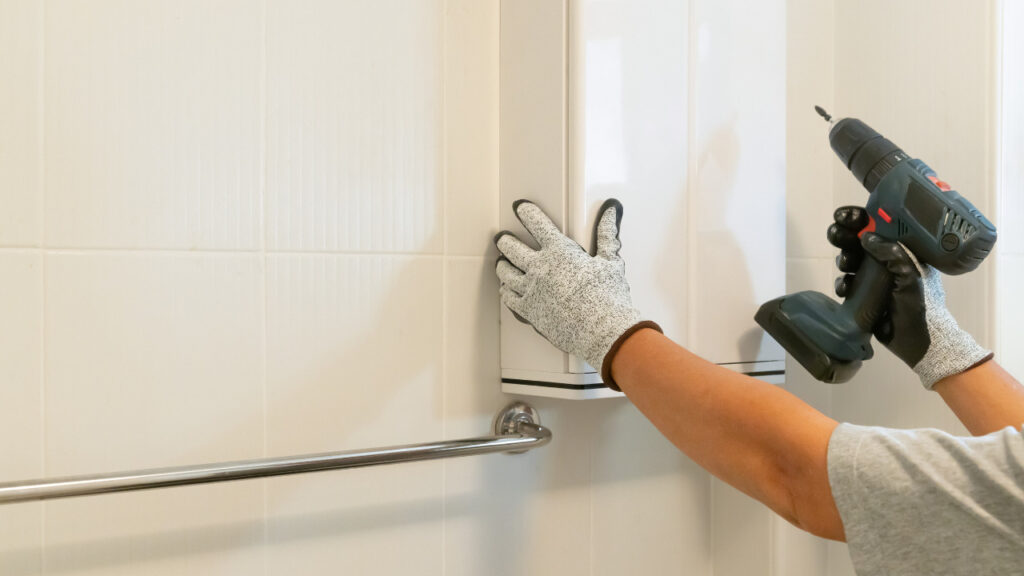 Mounting the cabinets on the wall is an essential step of cabinet installation to consider even after screwing the cabinets. If you have ordered your kitchen cabinets from a popular hardware store or online, they will definitely come with self-mounting screws.
Ensure that you don't use drywall screws for your kitchen cabinets because they will snap off your cabinets. On the other hand, drywall screws on cabinets will definitely be an addition in your average kitchen remodel cost. The reason is that these screws will damage your cabinet's look.
At the time of kitchen remodeling, you may need to pay for repair drywall screws damages on your cabinets. So, using mounting screws or self-mounting screws and kitchen cabinets brackets are the great options.
11. Secure Kitchen Cabinets
If you have selected an island kitchen cabinet layout or design, you may need to secure kitchen island first and then cabinets to the floor. For this, you will need to join the island with the cabinets by screwing 2*2 boards to the floor. You can also use flooring blocks if needed at the time of cabinet installation and securing them for the island.
12. Attach Cabinets Doors
After kitchen cabinet installation, it's time to reattach your cabinet doors. For this, you can use hinge door brackets, nails and screws. Ensure to attach and fasten cabinet doors one by one. So, you can attach each door or cabinet with the same attention.
13. Install Cabinet's Hardware
If you have installed standard kitchen cabinets, you can go for any type of cabinet knobs or pulls according to your budget. Make sure to install each cabinet hardware in the same position to line up all cabinets smoothly.
A centered position on the cabinets is the great point to install cabinet pulls or knobs.
Remodel Your Kitchen by Installing New Cabinets
Understanding of right cabinet installation steps, tools and consideration is really essential for a successful project. If you want to learn how to install kitchen cabinets for beginners, you will also need to understand about your cabinet's layout and kitchen layout.
If you have enough time and budget, it is always best to hire professional installers to work exactly according to your desire!