Have you ever walked into a home and were captivated by the grand appeal of high ceilings?
This is quite possible because these high ceilings not only make a space look majestic and can add a dramatic touch to a living space. But here's the twist, people often confuse cathedral ceilings with vaulted ceilings. 
The structural similarities have led to a seamless war on cathedral ceilings vs vaulted ceilings.
Though cathedral and vaulted ceilings are often touted as one, there are many differences between both.
Let's talk more about these ceiling types and find the similarities and differences between them.
Similarities Between Vaulted and Cathedral Ceilings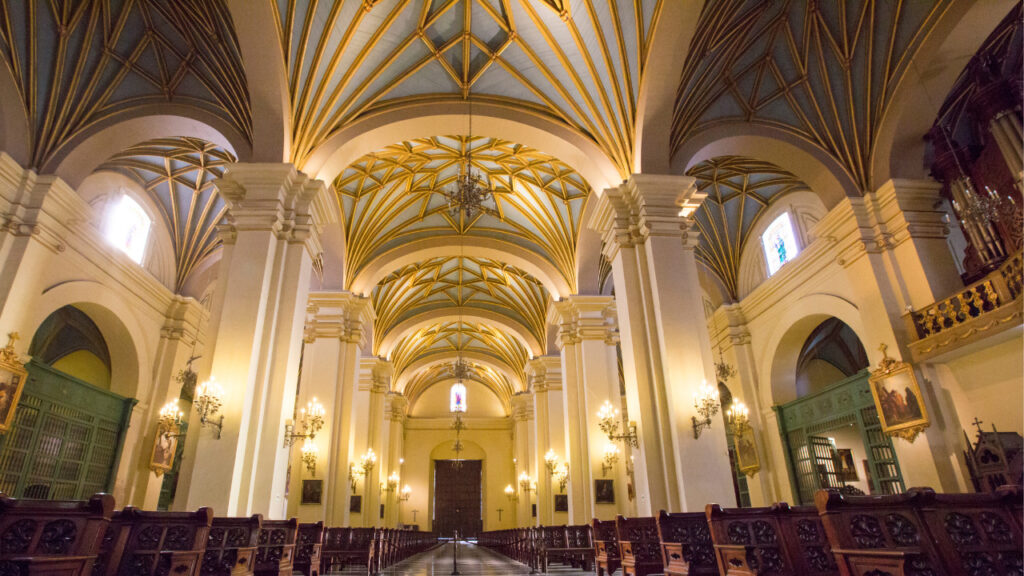 1. Ceiling Height
When it comes to height, spaciousness, openness, architectural aesthetics, and structural supports, both cathedral and vaulted ceilings share pronounced similarities.
2. Ceiling Style
A striking similarity, that often leads to a confusion between the two, is that both these ceiling types feature a pitched or arched roof. This adds on to the grandeur of the building. In other words, both cathedral and vaulted ceilings provide increased vertical space overhead unlike flat ceilings. This helps create a sense of space which is appealing from an architectural point of view.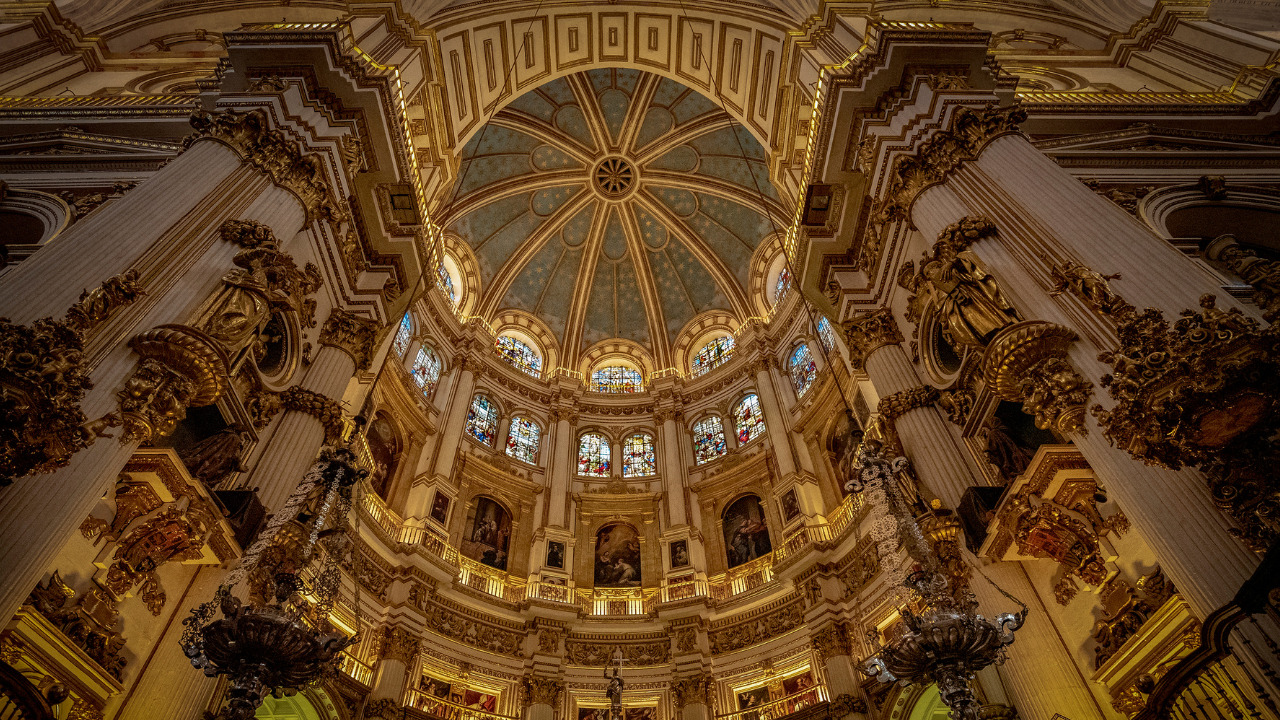 3. Ceiling Pitch or Curve
Another similarity between the two ceilings is that the pitched or curved roof requires adequate structural support. Therefore, these types feature arches, ribs, or beams to distribute the loading and provide structural integrity as well as stability.
Differences of Cathedral Ceilings vs Vaulted Ceilings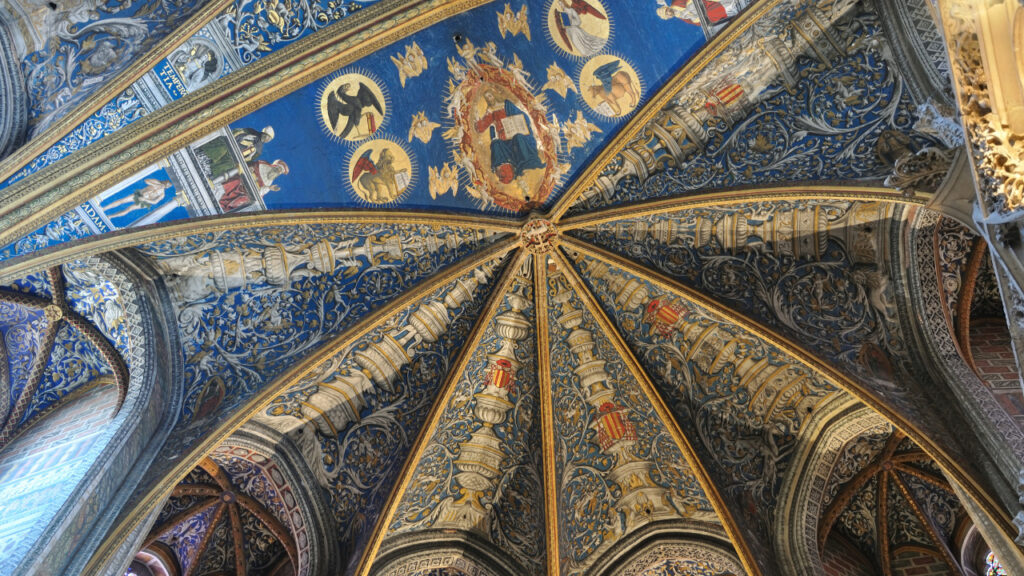 Despite prominent commonalities following are some key differences between the two ceiling types.
1. Architectural Shape
The foremost difference that is the basis of classifying these ceilings as two different types is the architectural shape of the ceiling. Cathedral ceilings feature immaculate symmetry and the arch shape extends in three dimensions in the form of a tunnel. The arch can resemble gothic style.
On the contrary, vaulted ceilings have curved or sloping sides that do not necessarily follow the sloping sides of the building. Many different vaulted ceilings have now emerged such as a barrel vault type, dome-shaped, etc.
2. Prevalence 
Cathedral ceilings were ubiquitously found in religious buildings. This is because the architectural style of these ceilings has its origin in church and cathedral.
Vaulted ceilings, on the other hand, are common in all construction works such as homes, offices, palaces, etc. and their eminence in contemporary construction works has not subsided.
3. Style
Cathedral ceilings are characterized by very fine detailing and intricate designs, often reminding one of ancient architecture that feature complex, engraved or grooved styles that were not just elaborative but also included ornate tracery.
Vaulted ceiling, however, traces a relatively simpler architectural impression, which is still aesthetically pleasing and attractive.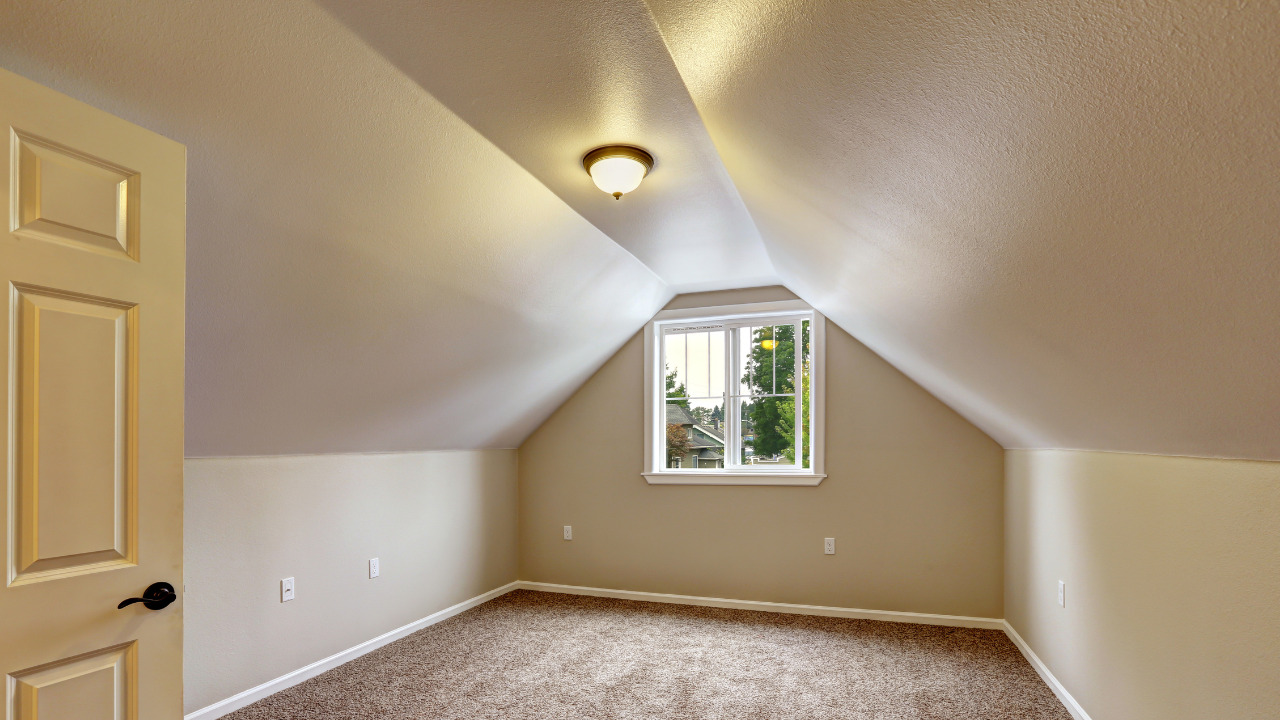 Advantages of Vaulted Ceilings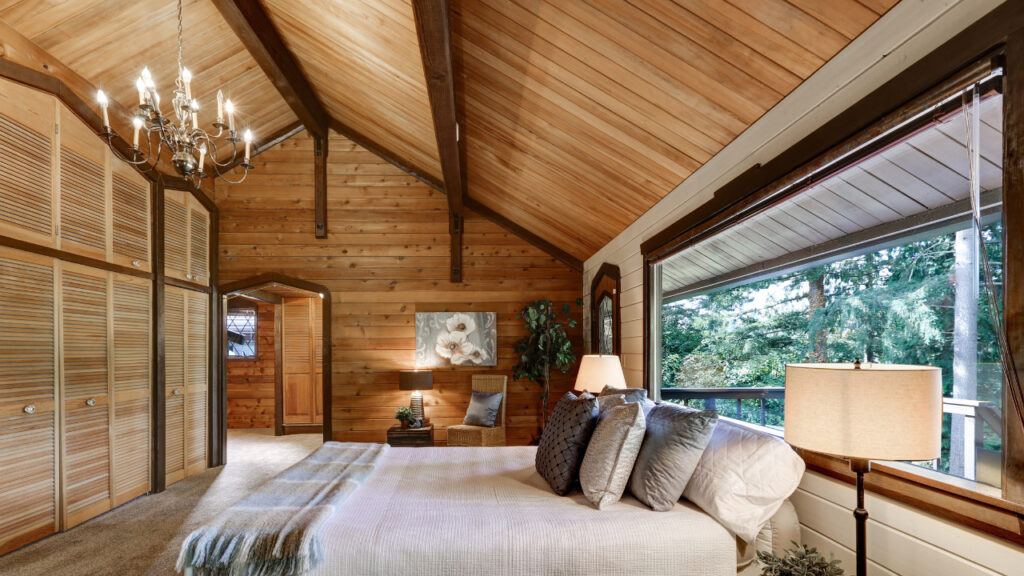 Open Space
Vaulted ceilings provide large clearance inside a living space. This means open and spacious interiors where you have got immense liberty to play with décor and furniture placement. In other words, vaulted ceilings provide versatility and design flexibility and you can customize your home to get the desired comfy look.
Better Ventilation
Vaulted ceilings allow for better placement of a skylight and also better ventilation in the closed area. The high arches give the interior an airy look therefore a large gathering can be held easily without feeling congested.
Property Value
Vaulted ceilings also increase the property value and rent of a building. This is because the ceiling look is a fusion of modern trends and ancient architecture.
Advantages of Cathedral Ceilings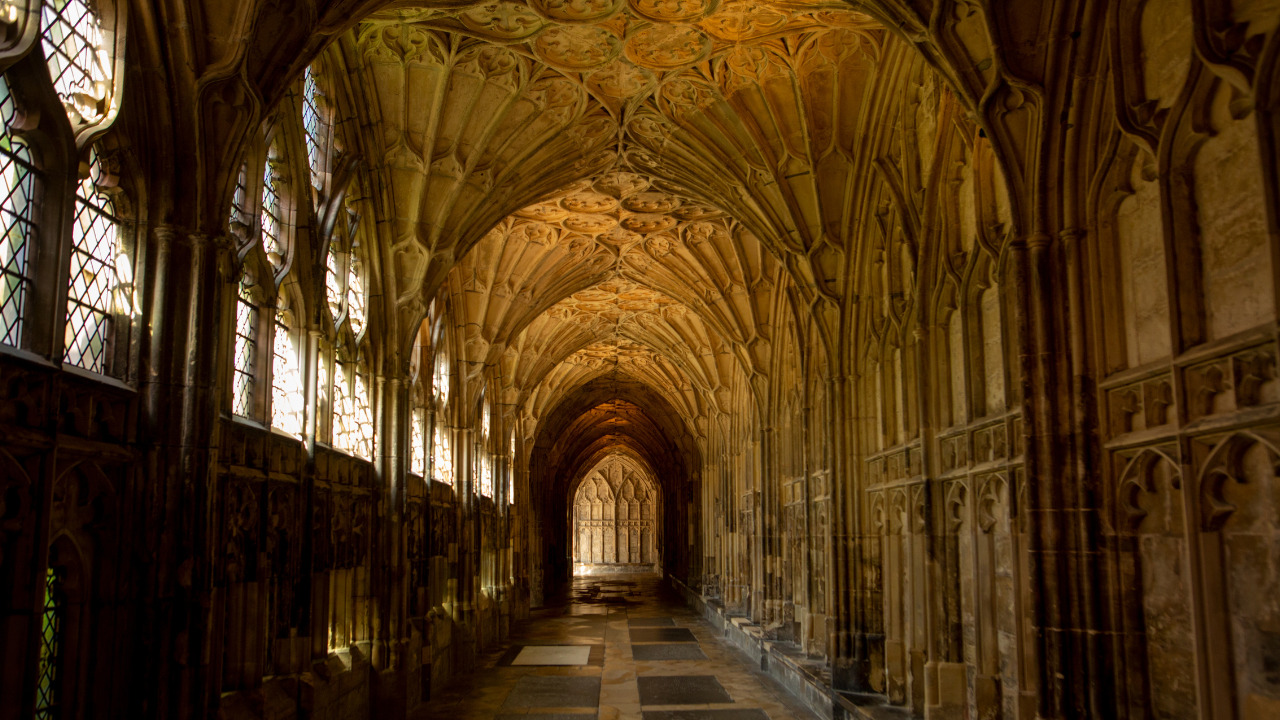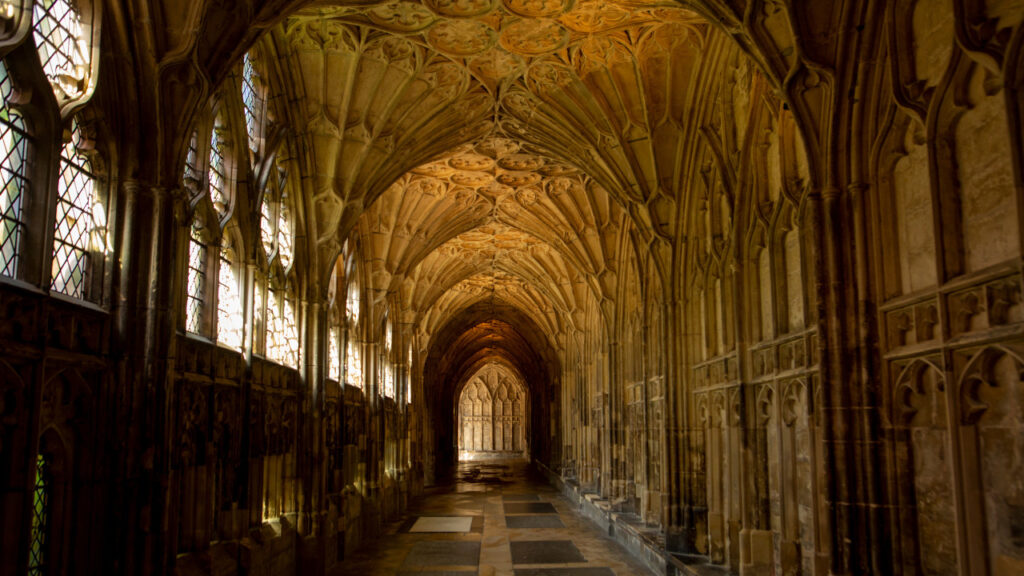 Visual Appeal
Cathedral ceilings are a treat for eyes if you want a peek into ancient architecture of medieval times. The fine detailing and engraving on the ceilings make this type profoundly appealing to visuals.
Ample Ventilation
Cathedral ceilings ensure ample ventilation of air in the living space. Moreover, they also brighten up the interior effortlessly and lessen the necessity of forced ventilation.
Disadvantages of Vaulted Ceilings
Excessive Vertical Space
These ceilings enhance verticality inside a building, most of the vertical space is an illusion because it is unusable.
Energe Waste
Vaulted ceilings are notorious for energy wastage and high electricity bills. This is because the ceiling height makes it arduous to easily heat or cool a living space and a greater energy expenditure is required for this.
High Maintenance
Cleaning and maintenance of the vaulted ceiling area can be difficult because of the elevated roof. Oftentimes, windows located at a greater height from the finished floor make it difficult to clean the crevices.
Disadvantages of Cathedral Ceilings
Energy Expenditure
Cathedral ceilings require too much energy expenditure because the spacious interior makes heating and cooling works difficult.
Monumental Importance
The choice of cathedral ceilings is usually limited to monumental structures and very few residential buildings possess this ceiling type.
Limited Use
The upper space inside an interior that has cathedral ceilings usually gets wasted and has little or no utilization except for the fact that it makes it difficult to cool the interior in summers and heat the same in winters.
Right Ceiling for the Right Place
Both cathedral and vaulted ceilings are the best type of ceilings that can enhance the overall look of your house. Both of the ceiling types have their own pros and cons. Before choosing one of these, make sure to consider all the aspects; from your existing interior to your budget considerations.
Other than the element of visual interest, these ceilings can bring along many other benefits such as better insulation, improved lighting, temperature control, However, it is recommended to consult a professional regarding the choice of ceiling that suits you the best.