Whether carpeted or made of hardwood, most people don't give their staircase much care when purchasing a home. The stairs flooring should complement one other, as stairs serve as a transition between the two levels.
But what should you do about the stairs that don't match your brand-new floors anymore? This is a conundrum with several potential solutions. We'll review several choices and show you what we chose if you encounter a similar issue in your house.
Continue reading to learn more about the safest flooring for stairs, how to utilize different wood flooring, and how to match stairs to laminate flooring.
Things To Consider Before Matching Stairs To Laminate Flooring:
Use Carpets To Cover Old Stairs

Commercial-grade carpet is extremely durable and can withstand this back hallway's abuse. Although the installation cost of these carpets is more than usual, you couldn't resist them because of their benefits.
Commercial carpets, however, take longer to dry. The carpet absorbs moisture, delaying the drying process for visitors entering your basement media room wearing socks to feel it.
Use Sheet Vinyl For Old Stairs
Regarding cost, it's a wise choice. If you're covering a tiny area, sheet vinyl is inexpensive and is frequently available in remnants. This will have been a lateral move if you wish to get upgraded. Additionally, rubber, vinyl, or metal stair edging, neither of which is appealing, would have been necessary.
Choose Hardwood For Stairs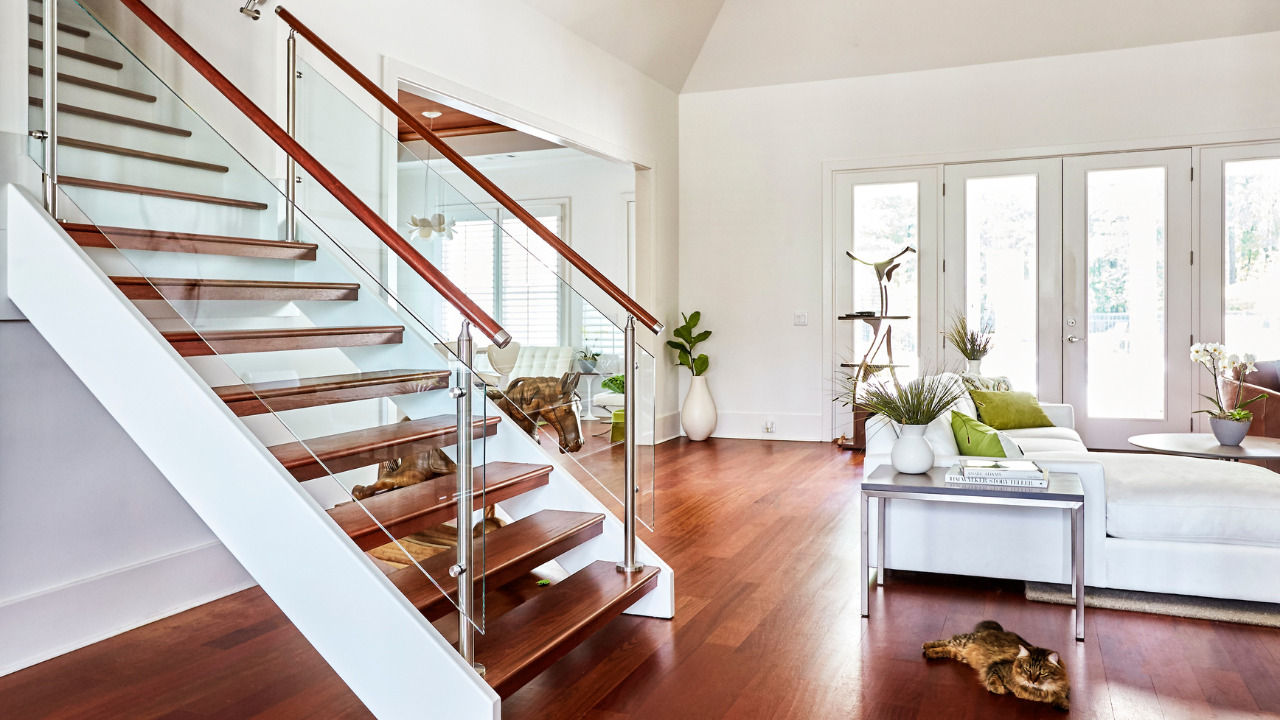 In the end, you have a choice to make. You desired a more upscale appearance and would be delighted to learn that hardwood treads are less expensive than vinyl treads for covering the old steps.
Different Options To Match Stairs To Laminate Flooring
It's pretty simple to combine hardwood floors above and downstairs by adding hardwood steps. A thin runner can be an alternative if you dislike plain steps.
Go For the Mixed Flooring Option
It gets a little difficult when the bathroom and downstairs flooring is different. Your stairs should ideally have a component from each floor to help you transition between the two. You might choose carpet to match the upstairs, but you might choose a color that most closely mimics the hardwood.
Another choice is to go with hardwood and add a runner that complements or matches the carpet. Change the flooring at a stair landing as a third alternative. The carpet might continue halfway down the stairs before changing to the hardwood at the landing.
Consider how prominent a focal point your steps will be. The stairs frequently take center stage downstairs. You should therefore ensure that they complement the flooring on the lower level. Ideally, you should combine the two floors at the stairs.
In cases when this isn't an option, remember to consider where the stairs will be the most obvious before making a decision.
Add Carpets To The Stairs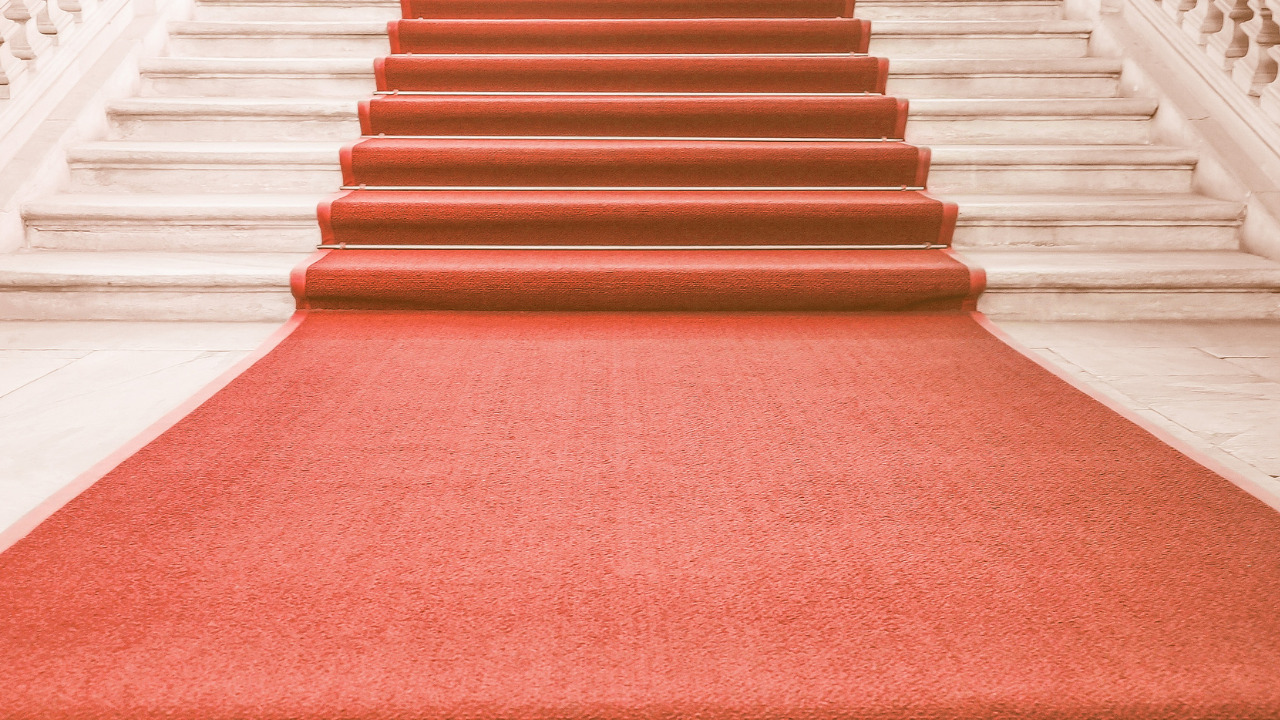 The best choice is typically to carpet the stairs in homes with carpeting in the upstairs and downstairs areas. Choose a carpet that combines both if the flooring below and upstairs does not match.
It's best to look at the most obvious where the stairs are if you're torn between matching flooring above and down the stairs. Ensuring the steps blend in with whatever décor is closest to the front door is important because stairs are frequently conspicuous.
In this manner, the steps at least look attractive from the perspective they are typically viewed from.
What Would Be The Best Flooring Option For Stairs?
The most secure flooring for stairs is carpet. The carpet offers traction, yet if you should fall anyway, it offers a comfortable and non-slip surface to reduce the chance of harm. The carpet can be just as dangerous as other forms of flooring; it's crucial to remember that. Because it offers the cleanest underfoot traction, you should choose one with a low pile.
If you have dogs, keep any looped carpeting away. Your four-legged pal could fall and get hurt if their claws caught in the looped carpet. If you choose, you can make simple alterations to make hardwood stairs safe.
Color Or Material Coordination Can Also Be Good Flooring Options
Coordinated but not identical floors might make your décor feel informal and less formal. Additionally, you have more freedom to choose your floors. This design uses repeated flooring components to create a sense of cohesion throughout the entire home.
In one area, a hardwood floor is put in, and in another, tile of a coordinating hue is used. These floors share a similar color. A different hardwood color may be used on another floor, sharing the same material as the first floor.
Even though nothing matches, these components operate well together since they share some characteristics. It's important to remember that if you switch between various flooring at a natural breaking point, the flooring will appear more uniform.
Frequently Asked Questions
Do you need to match the stairs with the floor?
Your flooring and staircase should coordinate more than they should match in importance. There are numerous ways to coordinate the two. There are other ways to achieve a unified and attractive design besides using similar materials and finishes.
How to choose the best stairs color?
Decide on the space's ideal color palette. Like most compact rooms, the preferred hues for stairways and halls are typically delicate and light. Instead of using cooler tones like grey, choose warmer neutrals like off-whites and creams to make the room feel cheerful, welcoming, and not overly harsh.
How to choose the best color for the stairs riser?
Many stairway trim and risers are painted white or off-white, with cloud white being the most common color. Black and other darker colors have recently been used with some amazing effects. The appearance is almost dramatic, so much so that the staircase becomes the center point by simply painting the stairway.
Conclusion
By only combining the two colors, you might be able to mix two different colored floors for steps. You can choose one color for the tread and another for the riser. Another option is to paint the steps one color and the handrail the accent color. Alternatively, you may use colored planks.
A home's first floor and second story are connected via stairs. For this reason, the flooring for the stairs should also be a transition that unifies the upper and downstairs floors. Wood stairs, carpeted stairs, or a combination of the two using wood stairs and a runner are some options.