Are you tired of seeing those outdated boring popcorn ceilings above your head? It may be the right time for a ceiling makeover. Whether you choose them for acoustic effect or visual appeal, the removal of popcorn ceiling can be taken care of. But first, you need to get rid of the old existing ceiling, especially once the ceiling tests positive for the presence of asbestos fibers. This is because asbestos has been affirmatively declared by researchers to negatively impact human health. This is why a safety check for asbestos popcorn ceilings is a good option. The removal cost of a popcorn ceiling containing asbestos is higher as well.
In this article, we will discuss the breakdown of popcorn ceiling removal cost and will also suggest an estimated projection of how much money you should keep aside for it.
Factors Affecting Popcorn Ceiling Removal Cost
The overall cost of popcorn ceiling removal work will depend on several factors and cannot be dictated with certainty. Let's break the total cost into several factors as explained;
1. Area of the Ceiling (Square Footage)
If your house has an area of 1500 square feet and it has a popcorn ceiling you want to get rid of by scrapping, you must expect to pay anywhere between $3000 – $4000 minimum for the main floor. If the overall popcorn ceiling removal cost per square foot is divided by the area that has been worked upon, the cost per square foot can range from $6 – $10. Projecting this estimate, the minimum cost of popcorn ceiling removal without scraping is between $1600 – $1800 (inclusive of material costs, setting up, and cleaning work).
However, the total popcorn ceiling removal cost should only be taken as a crude measure since it is variable and will depend on several factors that we shall discuss in a while
2. Scale of Removal Work
It takes a lot of effort to set up and clean up for popcorn ceiling removal. Therefore, the costs are likely to surge depending on how big a removal project it is. For instance, if you have a pending task of asbestos popcorn ceiling removal and you are stressing over the total money you must set aside for it because removal costs will increase. Also, the number of rooms or stories in your house can affect the removal cost.
3. Setting Up and Cleaning Cost
By now, you must be well aware of how messy this removal work can be. The entire furniture under the popcorn ceiling is first covered or wrapped up in plastic sheets and dragged toward the room center or sides. The setting up and cleaning works require manual labor and therefore, contribute to the overall project cost, too. Cleaning up the debris after the removal of the popcorn ceiling can cost between $0.30 to $0.35 per square foot. 
4. Skim Plastering Work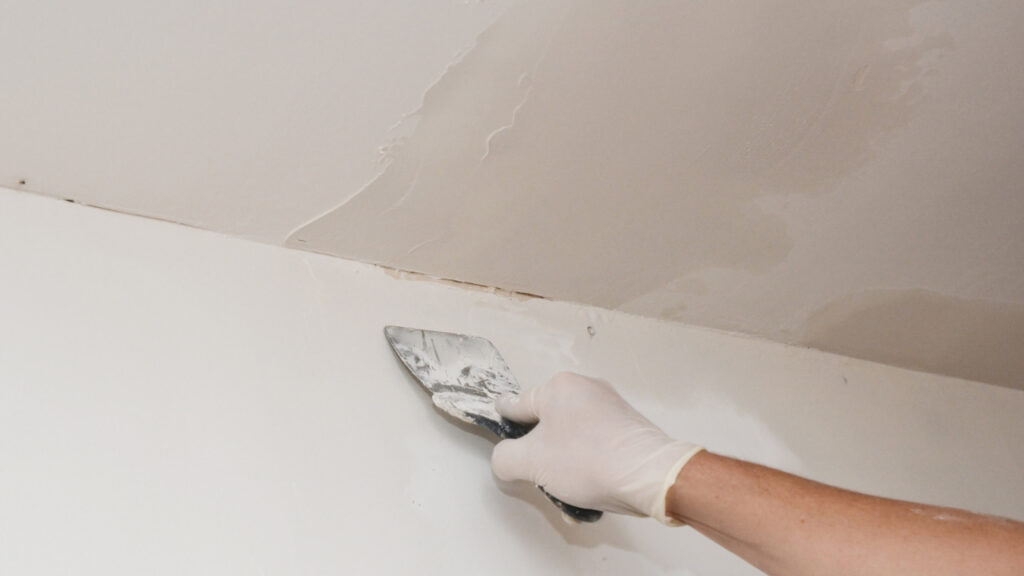 After scraping off the popcorn ceiling, two-third coats of skim plaster are to be applied. The material and labor cost of plastering work post removal are also added up to determine the final work charges. This stage of work may take several days to complete. After the skim coating work, the resale value of your house will also increase.
5. Building Location
The time frame of a removal job can be between 5-7 days. Therefore, if your building is located in a far-flung area where professionals would have to drive a long way to reach, the cost will increase accordingly. Mainstream locations can cost higher – as high as $2,847. Hence the competition can be fierce in this regard.
6. Hired Contractor
While working as a DIYer you can easily remove the popcorn ceiling costing around $30 to $200. However, every contractor follows his/her own set of regulations and safety precautions. This is because the task is messy with an increased chance for asbestos exposure. So, the testing and removal rates can fluctuate depending on the contractor or professional you hire. It is always the best option to get multiple quotes from reputable contractors in your area to better understand the job.
7. Added Finishing Work
Some homeowners require added finishing work after their ceiling has been wiped out of the popcorn texture. If you are one of them, you must ensure you have an ample budget for the job because this is an extra cost that you will have to bear. Thus adding to more complexity of the job means higher cost. However, the increased labor charges can vary between $1 to $2 per square foot.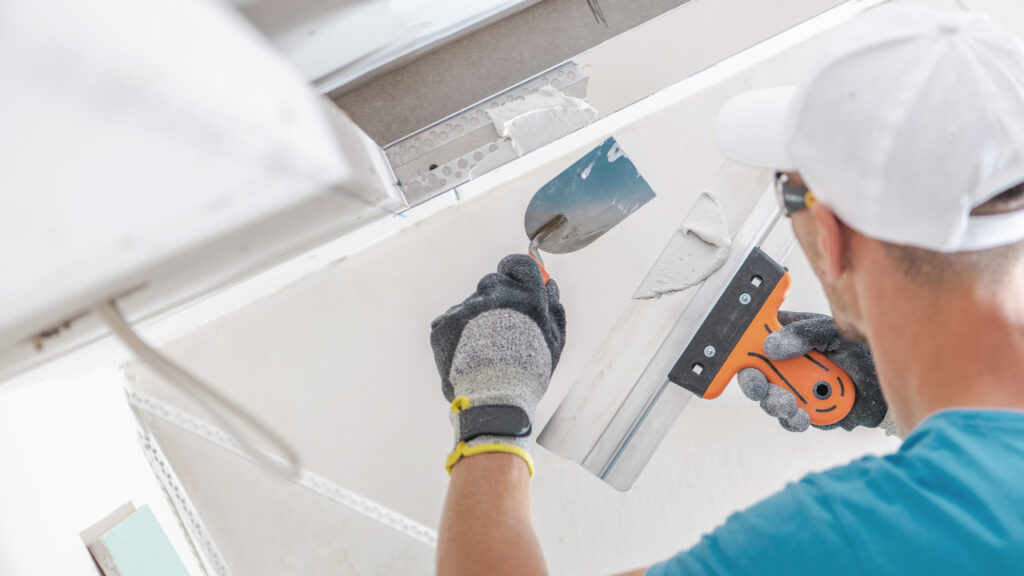 How Much Does it Cost to Remove Popcorn Ceiling
We have divided the cost to remove the popcorn ceiling according to three basic classifications.
Labor cost
Asbestos removal cost
Cost per square feet
Labor Price to Remove Popcorn Ceiling
Popcorn ceiling removal labor charges range from $15 to $50 per hour on average. If your rooms are very vast or have high ceilings, the process can take longer. If you reside in a location where the cost of living is high, labor costs could also be higher. Obtaining quotations from many local companies is a smart idea while searching for professional popcorn ceiling removal in order to compare costs and get the best bargain.
In the US, the typical range for a home is $925 to $2,962. The range of possible expenditures is $300 on the low end and $5,000 on the high end; nevertheless, the average is $1,920. The price range for a single-story home is typically between $900 and $2,840.
Asbestos Removal Cost in Popcorn Ceiling
Asbestos must be eliminated since it might have negative health effects. The price of removal can range from $5 to $20 per square foot, depending on the location, size, and contents of your room. The hourly rate will probably be between $75 and $200 in addition to the removal fee.
Popcorn Ceiling Removal Cost Per Square Foot
The cost of removing your popcorn ceiling will increase with the area's square footage. Experts frequently bill $1 to $2 per square foot, or $15 to $40 per hour, for their services. Larger rooms will cost more, while smaller bathrooms and bedrooms will be more reasonably priced. You should budget more if you want to remove the popcorn ceilings throughout your home. Removing this type of ceiling from a 2,000-square-foot home might cost anywhere from $2,000 to $6,000. The cost is estimated at $1 to $3 per square foot.
Ways to Reduce the Cost of Popcorn Ceiling Removal
If you don't want to do it yourself, there might still be some savings available. The project's overall cost can be decreased with the aid of the following advice.
Before the staff arrives, remove any furnishings from the room or rooms. The personnel will charge their usual hourly rate if they have to remove it.
Get tested for asbestos beforehand. Test kits, which cost approximately $100 for the kit plus the lab fee to process the results, can be purchased online or at home improvement stores.
You might want to paint the ceiling. DIYers have the option to paint the ceiling themselves after the removal is finished, which would cost $1 to $3 per square foot if a professional painter handled the job.
Say Goodbye to Popcorn Ceilings Now
Popcorn ceiling is a type of textured ceiling known for its acoustic properties and visual appeal. However, this ceiling type is considered out of trend and unsafe due to the possibility of asbestos (carcinogen) contamination. So, popcorn ceiling removal comes as a suitable option.
The removal process can be quite expensive as the process is labor intensive. If you don't want to pay this amount, you can either go for covering the popcorn ceiling or remove it on your own (if it doesn't contain asbestos). But for a neat finish, it is recommended to leave the removal process to professionals.