Efficiency is the key when choosing the perfect kitchen cabinet layout. Cabinets are a big game changer. Planning a kitchen remodeling always begins with a new cabinet layout to make the most impactful change. From the traditional to modern layout style, you have plenty of options to choose from. In this article, we have closely focused on the designer-approved cabinetry layouts that are easy to install and serve the purpose.
Importance of Kitchen Cabinet Layout
Cabinets shape the structure of a kitchen which is why they are the trickiest part of the remodeling project. Designers put a lot of emphasis on a functional cabinet layout because of the following reasons.
Maximum Storage Capacity
A cabinet layout will make or break the storage space. Therefore during a kitchen remodel design is being drawn a new cabinet layout is ideal for a better storage plan. Homeowners always want a maximum storage space even if it is a small galley kitchen remodeling. The type of cabinet you install will have an impact on the storage capacity. For example, a U-shaped cabinet style works best for a galley kitchen with ample storage space.
Easy Accessibility
Make everything easy to access with the right ergonomics. If the right cabinet layout style is installed, you will not need to bend or reach higher unnecessarily. You can place the appliances at the perfect height without straining your back.
Personalized Space
Every kitchen has a distinct layout based on its size and available space for modification. When remodeling installing a new kitchen cabinet layout gives you ample room to personalize it the best way you want. You can add or subtract the extra cabinets or change their placement that best suit your needs.
Better Organized
The right cabinet layout will make the kitchen space more organized. To avoid any clutter you need to store excessive cutlery and appliances inside the cabinets. You can add multiple racks inside a large cabinet to utilize the maximum space. Plus, for a growing family, it is safe to keep the kitchen organized so that no sharp utensils or other kitchen items are placed in the open.
8 Popular Kitchen Cabinet Layouts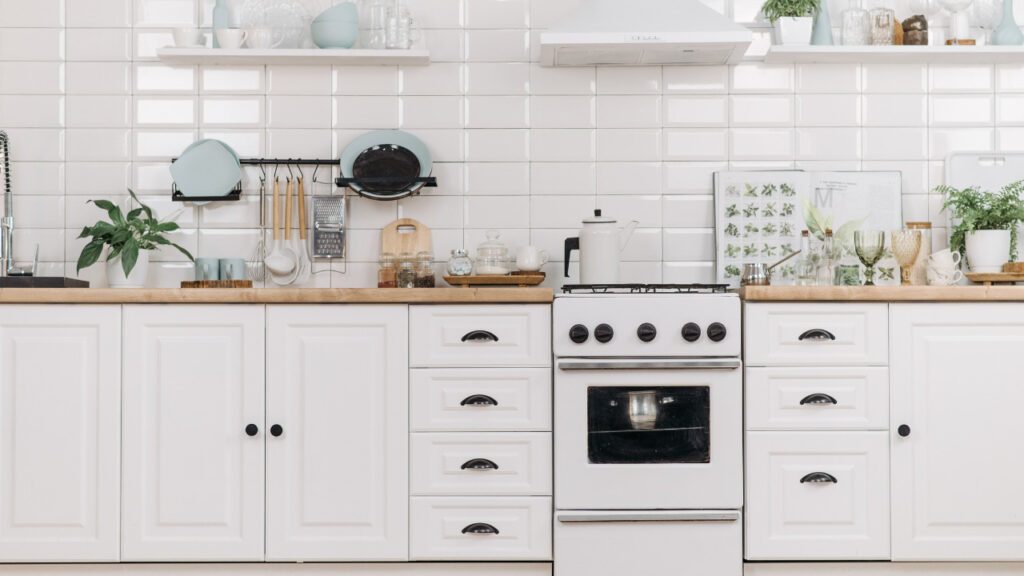 Let's take a look at some of the best layouts for kitchen cabinets that are used in a variety of kitchen designs.
One-Wall Design
For their uncomplicated design and simplicity, a one-wall design for kitchen cabinets is highly recommended for smaller spaces. Apartments, flats, lofts, and sometimes cabins too have a one-wall kitchen cabinet layout. They are easier to clean and ensure that the kitchen is fully functional within the limited space. However, these types of cabinet styles are also used for larger kitchens by designers.
Galley Design
To elevate the galley kitchen remodeling, two parallel walls of cabinets seem like a good choice. Galley design may have had a bad rap in the past, but as it turns out, small kitchens are best for it. You can install a mix of upper cabinets and open shelves to break down the cabinetry monotony.
L-Shaped Design
For a classic design, L-shaped kitchen cabinet layout is a nominal choice. Your working space is highly practical that includes the prepping and cooking section. They are versatile in design and adaptable to the large and small spaces alike. Homeowners prefer this style due to the open-plan layout which gives the feeling of more space.
U-Shaped Design
One of the most common kitchen cabinet layout is the U-shape design. It features built-in cabinets, countertops and appliances on three different sides. The fourth side is an open space where usually a sitting arrangement is added along the big kitchen island. Homeowners who want a sitting area in the kitchen promptly are in favor of U-shape design layout.
Island Design
Homeowners can also build a kitchen island with lower base cabinets. This gives them extra prepping space, storage and sitting too. For a casual dining purpose, kitchen island works the best. There are tons of options to choose from especially if you have a large kitchen.
G-Shaped Design
Homeowners familiar with U-shaped layout can easily envision a G-shaped ktichen cabinet layout. The only thing is – its G-shaped. With this layout, you get four sides instead of three. This kitchen layout will offer a spacious countertop space for greater efficiency while cooking. To install this style, a 10×10 feet floor space should be available. Its considered a quality choice for the medium and large kitchen spaces.
Double Island Design
Like two peas in a pod, a double island design allows you to dedicate one island for meal prep while use the other for a separate sitting area. It adds more flexibility to the existing kitchen island. However in this layout, one island is smaller than the other one.
Walk-In Pantry with Cabinets
If you have even seen a commercial kitchen layout, you already are aware of the walk-in pantry/freezer where all ingredients are kept. Now who wouldn't love to have a walk-in pantry with proper cabinets in their kitchen? Talk about the extra storage, and this is one of the best options to consider. You can store all the spices, and groceries in a separate space on the shelves and cabinets easily.
3 Best Layouts for Small Kitchens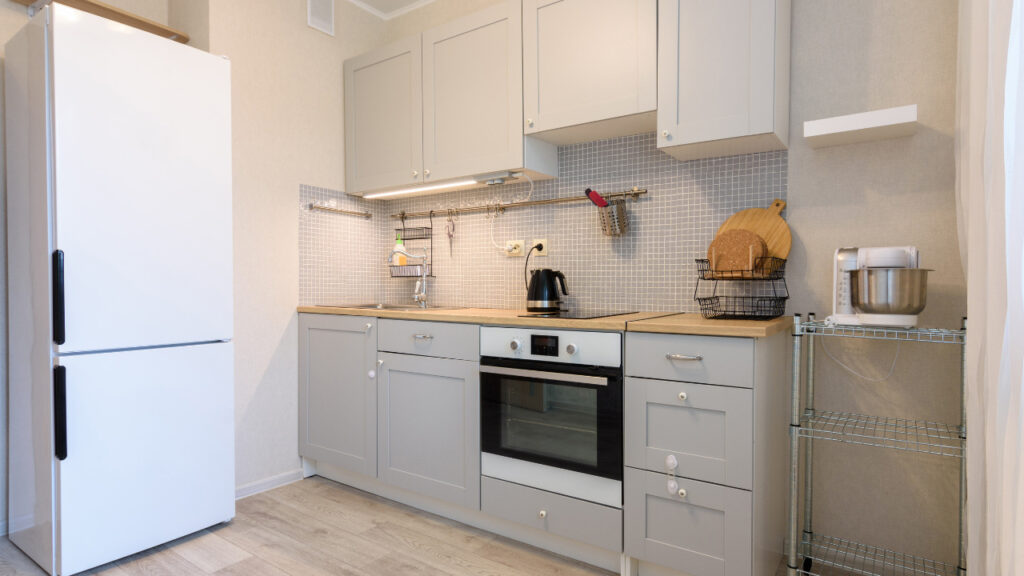 To make the most of limited space in a small kitchen, careful planning is required. Cabinet installation cost is primarily focused on small kitchens to keep the cabinet layout budget-friendly. Therefore here are some kitchen cabinet layouts that are ideal for compact spaces:
Pull-Out Pantry Cabinets
Commonly known as sliding or roll out shelves, this cabinet style is most preferable choice for a all types of kitchens. You can fit tall or base cabinets for maximum storage.
Wall-Mounted Cabinets
You can easily avoid the clutter on counter tops by hanging wall-mounted kitchen cabinets. These types of cabinet have multiple shelves inside so that you can place the culinary easily.
Under-Sink Cabinets
Its a clever the utilize the space under sink by installing under-sink cabinets. You can keep cleaning supplies for the kitchen inside a basket. Plus you can neatly store the garbage and recycling cans .
7 Kitchen Cabinet Layout Ideas for Modern Homes
Sleek lines, functionality, and minimalism are prominent in modern kitchen designs. Here are some popular cabinet layout options for a modern look:
Minimalist and Sleek Design
Contemporary houses with minimalist small galley kitchen layouts are a choice for many with limited space. These designs are sleek, simple, and based on flat-panel doors.
Two-Tone Cabinets
Contrasting will never disappoint a homeowner. Hence the reason two-tone cabinet look brings more room to play with the colors and textures for upper and base cabinets. You can choose a classy way to finish cabinet ends either making it glossy or matte look.
Glass-Front Cabinets
Tired of wood cabinets? Try installing glass-front cabinets. You can add a frosty look instead of a plan glass style to add more classy look to it.
Drawer Dividers
Create dividers for various kitchen tools and utensils to organize your drawers. Personalized drawer dividers keep everything tidy and accessible, encouraging a well-organized and useful kitchen.
Pull-Out Trash Bins and Recycling Centers
To maintain your kitchen eco-friendly and organized, use hidden waste and recycling solutions. Pull-out trash cans and recycling bins allow you to keep unsightly containers out of sight while still maintaining a tidy and eco-friendly kitchen.
Hidden Appliance Cabinets
Hide large appliances behind cabinet doors to maintain a sleek appearance. to keep a clean countertop. Designate certain cabinets to contain appliances like microwaves or coffee makers.
Floating Shelve
To give the kitchen a feeling of modernity and space, install floating shelves. Floating shelves provide the walls with a little extra visual appeal while creating a modern showcase for kitchen staples, decor, or cookbooks.
Design Your Dream Kitchen
A functional kitchen with modern upgrades is a dream come true. If you didn't pay attention to the kitchen cabinet layout before, now you'll surely do. You can change the entire layout of the kitchen just by adding the right type of cabinet layout – totally revamping the space. Keep the personal preferences and budget in your mind and you are good to go.