Split-level kitchen countertops are becoming increasingly popular due to their unique appearance and functionality. These countertops add storage space to the kitchen and make it more efficient. They're usually raised or lowered in different sections to provide different cooking levels. Hence these are fast becoming a favorite choice due to affordable kitchen renovation costs.
The countertop will be more adaptable for applications if it is trimmed down. Continue moving around the cabinet, scraping the adhesive between the tabletop and the cabinet with the paint scraper.
You must first remove the counters from a two-tier kitchen island before converting them to a single level. With a circular or reciprocating saw, cut down the breakfast bar area, fill the hole with lumber, and install a new counter.
Reasons to Cut Down a Split-Level Kitchen Countertop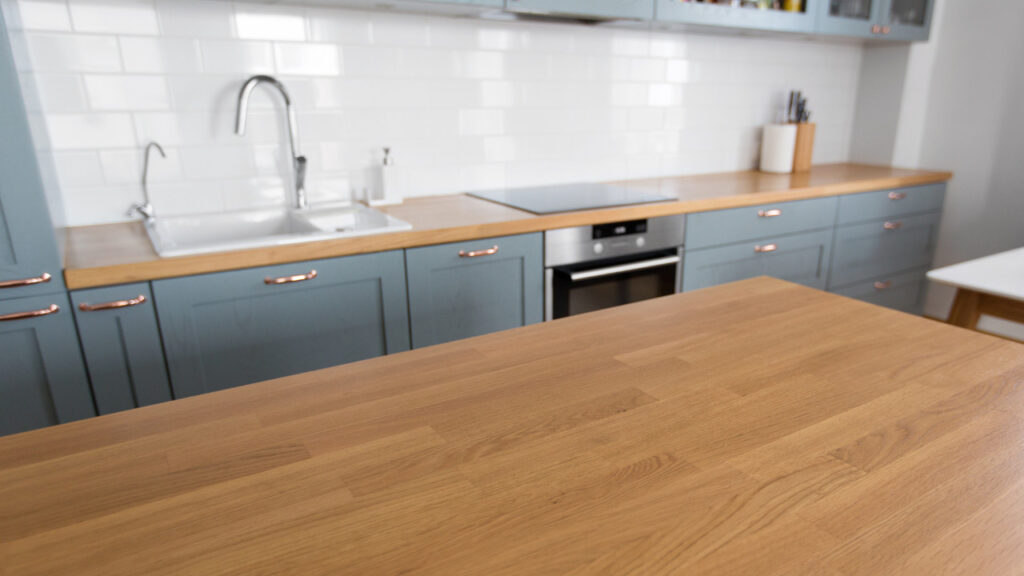 Homeowners want to make the most out of their kitchen style. Here are a few reasons why you might want to cut down a split-level kitchen countertop, whether it's for a small galley kitchen design or an open space kitchen.
Cost Effective
In the kitchen, a split-level countertop saves you money on the entire cost of the countertop. It has a lot of advantages. It's crucial for those on a low budget or trying to rebuild a kitchen at a shoestring price.
Counter Space
You have enough counter space if your countertop is at the right height. If you cook a lot or need more space for food preparation, this is a great option. From now on, you'll relish the opportunity to try new recipes.
Uniformity
A split-level kitchen countertop also has the added benefit of providing a more uniform appearance. It transforms the kitchen's tired, drab appearance. You will have more design flexibility if you use this kitchen countertop. You may quickly personalize the kitchen to meet your specific needs by doing these items.
Power Tools to Use for Cutting Split-Level Countertops
If you have previously worked on kitchen renovations, then using power tools is not something new. Cutting split-level kitchen countertops is rather simple, but if you use the right power tools to get the job done. Some of the power tools to use for a DIY approach are mentioned as follows.
Use Routers
Wood countertops are the most common part of any kitchen layout especially if you have built a kitchen island.
For wood material, you can use routers to make cuts with precision. You also have the flexibility to add more features like edge profiles, hotrod grooves, or drainage. It can cost you at least $150.
Use Circular Saws
If you want to cut down the kitchen countertop down to a size, using circular saws is the recommended power tool. When using a circular saw, consider the blade thickness as well. After you have cut the split-level kitchen countertop, it is advised to leave a small amount to sand down the ends of the countertops.
You can give a smooth finish to the countertop and laminate it while you work on the rest of the kitchen layout design.
Use Drill and Holesaw
While cutting down the kitchen countertop, you can face the issue of water leakage or sink drain pipe issues as well. You will need to fix the leaky faucet afterward.
To use the drill and hole saw, run them at a low speed to ensure you do not damage the countertop material and also to avoid any further leakage issues. The countertop material is not burnt or discolored while using this power tool at a low setting.
A drill can cost you at least $90. You will also need to get a separate hole saw that will cost you between $6 – $10.
While using the drill always use protective gear, like glasses and gloves, and a face mask.
Steps to Cut Down a Split-Level Kitchen Countertop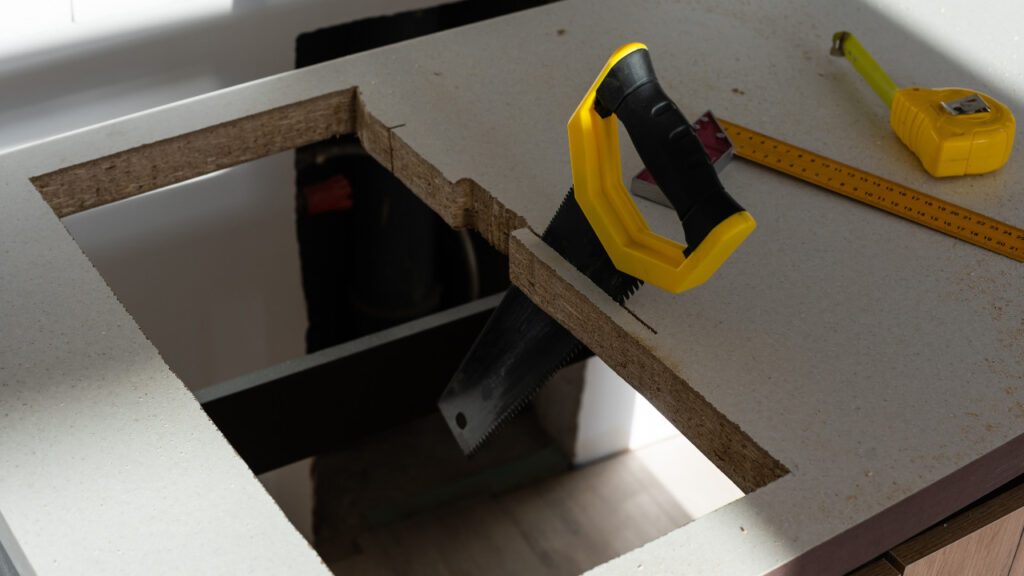 Depending on any plumbing or electrical work required, converting a two-tier island can be costly. The sort of counter you choose can also make or break the bargain – MDF or laminate counters are cheap, but marble or hardwood will set you back a bit more.
Change Countertop
When converting a two-tier island to a single-level island, you'll need to replace the countertop, and it'll be easier to deal with if you remove the old counter first. Most counters such as quartz countertops are held together with glue or silicone caulk, so use a utility knife to scrape away as much of the adhesive as possible.
Then, from underneath, whack the countertop with a hammer to dislodge it. Lift it with a helper and remove it once it comes loose.
Mark Line for Tier Cutting
On the outside of the tier, draw a line that corresponds to the main countertop, making sure it's straight with a level. Cut the tier using a circular or reciprocating saw, using this line as a guide.
Any electrical cables that may cross through the tier should be observed. If the tier has an outlet, remove it first, switch off the power, and finish the task with a manual saw.
Use Wooden Boards to Fill Gaps
When you cut the tier, you'll normally have a space that you'll have to fill to make a firm foundation for the new counter. Cut a 2*4 wooden board to size and use wood screws to attach it to the island's frame.
Sand The Area
With sandpaper, you may smooth and level the surface. Begin with coarse-grit sandpaper and work your way up to fine-grit until the surface is completely smooth.
Add New Countertop
Clean up the dust and add a layer of glue or silicone caulk after you've finished sanding. Tap the new counter into place on the island with a mallet. As a result, appropriate adhesion will be ensured. Allow a day for the caulk or glue to dry before using the island.
Advantages of Cutting Down Split-Level Kitchen Countertops
You may find that working with this sort of countertop is difficult and dangerous, so be cautious. Some of the common perks you can enjoy include the following.
You can appreciate it more and have more flexibility now that it is possible to trim it down.
When preparing dishes on the countertop, you should use a suitable height surface.
It won't be easy to stand comfortably while cooking if the height is too low. To remedy these issues, you should trim the split-level kitchen countertop. By cutting down certain parts, you can raise them to different heights.
Make Kitchen Work Easier
After completing the procedures above, you can return to using the kitchen. You can also assist the professionals because it is a DIY endeavor. To complement the mood, you can add some paint to the surface.
A textured surface will also look more appealing and entertaining, encouraging you to spend more time in the kitchen. Hopefully, you've mastered the techniques for cutting down a split-level kitchen countertop.